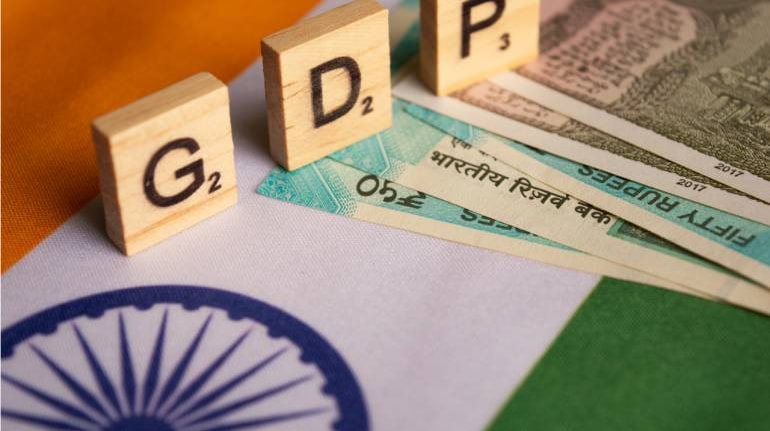 While GDP growth was expected to have declined in October-December on account of the fading away of a favourable base effect, it has come in lower than what economists expected
The Ministry of Statistics and Programme Implementation, on February 28, released gross domestic product (GDP) data for the quarter ended December 31. At 4.4 percent, the growth rate is in line with what the Reserve Bank of India (RBI) had forecast two months ago.
However, at the time, the central bank had forecast an annual growth rate of 6.8 percent, which was exceeded by the Statistics Ministry's first advance estimate — and reiterated by the second advance estimate of 7 percent — also released on February 28.
While GDP growth was expected to have declined in October-December on account of the fading away of a favourable base effect, it has come in lower than what economists expected. The problem is that the bad news does not stop there, even though growth has been higher than in other countries – the Chinese economy, for instance, grew by only 2.9 percent in the last quarter.
1. Manufacturing contracts again
The manufacturing sector contracted for the second quarter in a row in October-December, shrinking by 1.1 percent after a 3.6 percent decline in July-September.
According to Rahul Bajoria, Chief India economist at Barclays, "manufacturing remains the only area with visible weakness" for the Indian economy.
However, Chief Economic Adviser V Anantha Nageswaran is not too perturbed by the contraction of the manufacturing sector. In a briefing on February 28 following the release of the GDP data, Nageswaran told reporters that high-frequency data showed the sector is in "good health".
2. Consumption collapse
On the expenditure side, private final consumption expenditure grew by a mere 2.1 percent in October-December — less than a fourth of the 8.8 percent growth it had posted in July-September.
This collapse is reflecting the "waning momentum in domestic consumption demand, possibly coming from sectors that were laggards in catching up post the pandemic and as a result, had seen a surge in recent quarters," noted Dipti Deshpande, principal economist at CRISIL.
Economists have been warning that consumption will soon drop off. Is this the beginning of the ending?
3. Services chugs along
It wasn't all bad news, though. The services sector continued to crush manufacturing, growing by 6.2 percent in the last quarter, aided by 9.7 percent growth in trade, hotels, transport, communication, and services related to broadcasting.
"The data clearly validates that the services sector is a key driver of the domestic economy at the current stage," said Suman Chowdhury, chief analytical officer at Acuité Ratings & Research.
However, Madhavi Arora, lead economist at Emkay Global Financial Services, pointed out that services growth had moderated across the board. The trade, hotels, and transport category, for instance, had grown by 15.6 percent in July-September, while financial, real estate, and professional services posted a growth of 5.8 percent, down from 7.1 percent the previous quarter.
4. Big shock coming?
The October-December GDP data and the second advance estimate for the full-year GDP imply a growth rate of 5.1 percent for the ongoing quarter – something which economists can't quite digest.
According to Nikhil Gupta, chief economist at Motilal Oswal Financial Services, a growth rate of 5.1 percent in January-March is "highly unlikely".
Back in December, the RBI had forecast a growth rate of 4.2 percent for the first quarter of 2023. Should India's GDP end up growing by this 4.2 percent in January-March, it would result in a full-year growth rate of 6.7 percent – just 20 basis points higher than the Economic Survey's forecast for next year's growth .
5. Inadvertent fiscal slippage?
The many revisions to the GDP data – for the current as well as previous years – mean the finance ministry has to keep a close eye on its expenses.
As per the data released on February 28, the nominal GDP for 2021-22 is now estimated at Rs 234.71 lakh crore. This resulted in a 5 basis point increase in the fiscal deficit for last year to 6.75 percent of GDP.
The case is similar for 2022-23, with a nominal GDP of Rs 272.04 lakh crore — down from the first advance estimate of Rs 273.08 lakh crore — pushing up this year's fiscal deficit by 5 basis points to 6.45 percent. Round it off and the number is 6.5 percent.
The revisions to nominal GDP impact next year's deficit target too. While the Budget for 2023-24 had assumed a nominal growth rate of 10.5 percent — giving a GDP of Rs 301.75 lakh crore — the same growth rate assumption now results in a nominal GDP of Rs 300.6 lakh crore. Even if the Centre meets its absolute fiscal deficit target of Rs 17.87 lakh crore for next year, as a percentage of GDP, the deficit will be 4 basis points higher than the target of 5.9 percent.
Q3 GDP data: Services keep firing but manufacturing, consumption a worry have 967 words, post on www.moneycontrol.com at March 1, 2023. This is cached page on Business News. If you want remove this page, please contact us.