Written by: Amy R. Remo
An upscale membership superstore is rising in three prime integrated estates, where it is set to become a promising complement to these fast-growing, dynamic communities in the south.
The construction of of Landers' branch in Arca South estate is in full swing.
Landers Superstore signed an agreement with AyalaLand Estates to open new branches in Nuvali in Sta. Rosa, Laguna, Arca South in Taguig City, and Vermosa in Cavite. This expansion comes at a most opportune time as Landers Superstore will help provide for the growing needs of the communities within these progressive locales.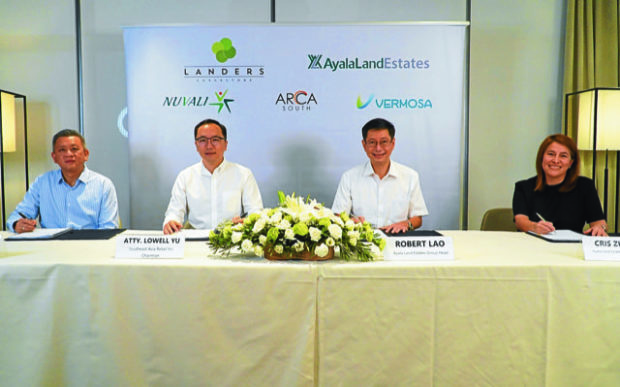 From left to right: SoutheastAsia Retail, Inc. COO Pieter Lukman, SoutheastAsia Retail, Inc. chairman Atty. Lowell Yu, Ayala Land SVP and estate group head Robert Lao, Ayala Land Estates Sr. estate development head Cris Zuluaga
Expanding in prime locations
"We are thankful and fortunate to be able to operate in prime locations within these Ayala Land estates that can enable us to cater to growing communities. With the projected growth in residential and locator base in these areas, these branch openings would definitely contribute positively to our business in a major way," said Atty. Lowell Yu, chairman of SoutheastAsia Retail Inc., which operates Landers Superstore.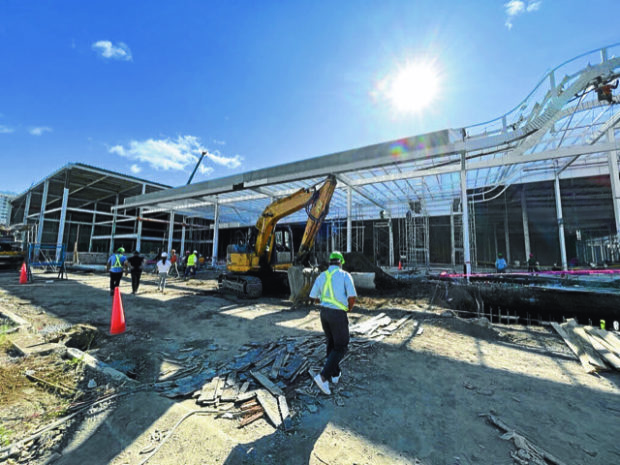 80,000 residents will enjoy the membership shopping experience at Landers Nuvali, which will be located right across Ayala Malls Solenad.
According to Yu, Landers Superstore aims to deliver top local and international finds, perks and exclusive services that would allow members exclusive, superior and convenient membership shopping experience. Their goal, he said, is to expand to more areas such as in Ayala Land estates to provide existing and new members easy access to their products and services.
This expansion thus signals Landers' strong vote of confidence in AyalaLand Estates, which has been a preferred partner of many investors and businesses who find value in the latter's mixed-use communities.
After all, estates established by this property giant offer a conducive, business-friendly environment that nurtures a strong symbiotic relationship among stakeholders. Having components such as residences, offices and commercial centers, businesses like Landers, for example, are assured of sustained growth.
Preferred partners
This is one of the reasons why Ayala Land, according to Yu, "is definitely one of our preferred partners to work with."
"It was very easy for us to decide and agree on a partnership with AyalaLand Estates for our three new store locations in Taguig, Cavite and Laguna—these sites are all strategically linked and located in fast-growing cities that will open up new markets for us. On top of all these, with Ayala Land's track record in building integrated mixed-use communities, we are confident and excited to open these new sites in a few months' time," Yu explained.
Landers Superstore's expansion in Nuvali, Arca South and Vermosa will enable it to provide for the growing needs of the communities within these progressive locales.
This early, Yu said they are already on the lookout for new geographies and market opportunities to explore and Ayala Land remains to be one of the partners they are eyeing.
Progressive estates
Landers Superstore has, no doubt, chosen well for its latest expansion.
Nuvali, for example, is one of the most established estates in Ayala Land's portfolio. This 2,290-ha estate, touted as the country's first and largest eco-city development, is already a bustling community replete with residences, offices, hotels, schools as well as retail and lifestyle hubs.
To date, Nuvali is home to 80,000 residents in 25 residential villages built by Ayala Land Premier, Alveo, Avida and Amaia. Essentials and lifestyle needs are also conveniently on hand as Ayala Malls Solenad hosts 243 merchant partners, while the 350-room Seda Hotel Nuvali offers a relaxing, tranquil getaway that could serve as your "home away from home".
Growing families are assured of nearby medical and educational institutions including the 100-bed Qualimed Hospital, as well as Xavier School, Miriam College and Everest Academy, where there are some 2,100 students currently enrolled.
What's great about Nuvali is that it keeps evolving as more establishments are being opened, while upcoming infrastructure projects are set to further boost accessibility of the estate. Last year, Uniqlo opened its biggest store in Laguna while McDonald's 700th store opened in Nuvali. Seda Hotel Nuvali likewise opened its second building while the LHK Square North office building is currently under construction.
Landers, which will be located along the main spine road of the Nuvali estate and across Ayala Malls Solenad, is meanwhile set to open by the first half of this year.
Arca South, a 74-ha integrated mixed-use estate, will also open its own Landers store right along the Arca Boulevard which is within walking distance to the estate parks and residential towers.
This emerging central business district—a highly connected gateway to the south that offers links to South Luzon Expressway and the upcoming Mega Manila Subway project—has already seen 20 residential towers launched, while the family and interactive parks are already completed for the community. Arca South will also have six commercial buildings, three of which are under construction and three are operational, while the Healthway Cancer Care Center is set to open this year.
Landers Superstore's expansion in Nuvali, Arca South and Vermosa will enable it to provide for the growing needs of the communities within these progressive locales.
The sprawling 725-ha Vermosa in Cavite, meanwhile, will have its Landers Superstore located also along the main spine road of the estate, visible from the bustling Daang-Hari Road. It will rise close to existing and upcoming stand-alone retail developments like Starbucks, McDonald's, Burger King, CBTL, Peri Peri Chicken, Jollibee and Petron gas station.
Landers can readily cater to residents and guests of the estate, which is home to De La Salle Zobel Vermosa, residential developments, a commercial district, and the Vermosa Sports Hub, which serves as a complete one-stop training and lifestyle destination for triathletes, sports enthusiasts and even for students.
Landers Superstore has, indeed, found the right home in Ayala Land's prime mixed-use estates, where it will prove to be an exciting addition that will benefit residents and guests, while generating meaningful employment and economic activities in the locale.
ADVT.
Your subscription could not be saved. Please try again.
Your subscription has been successful.
Landers to locate in Ayala Land Estates' three prime sites have 1215 words, post on business.inquirer.net at February 4, 2023. This is cached page on Business News. If you want remove this page, please contact us.