Gaurav Kapoor, a New Delhi-based stand-up comedian, has over a million subscribers on YouTube. His channel is full of daily vlogs and occasional stand-up videos.
Kapoor is usually the one cracking one-liners. But when it comes to promoting Mamaearth's products, he becomes the butt of jokes.
Kapoor and other influencers have promoted Mamaearth products extensively since the company was incorporated in 2016. For the average YouTube viewer, the sheer number of ads of the then-fledgling brand would easily have got on one's nerves.
Mamaearth is the flagship brand of Honasa Consumer, a beauty and personal care company that plans to come out with an initial public offering. The company filed its draft IPO papers on December 30.
The amount spent on advertising and influencer marketing stands out in the company's draft red herring prospectus. As of September 30, 2022, the company worked with 3,958 influencers.
In FY22, it spent about Rs 391 crore on advertising against net sales of Rs 932 crore – that's 40 percent of revenue spent on marketing. The quantum was similar for FY21, FY20 and the six-month period ended September 2022.
"This is way too high," tweeted Aditya Kondawar of Complete Circle Capital. Experts term this number high because the return on ad spend (ROAS) has not improved from 2.6 over the past three years. ROAS is a metric that measures the amount of revenue earned for every rupee spent on advertising.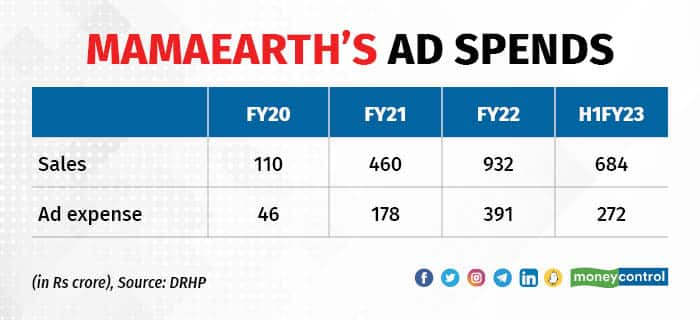 For Mamaearth, ROAS has ranged from 2.4 to 2.6 since FY20. The more repeat customers a brand has, the less has to be spent on advertising and marketing. Since Mamaearth's ROAS has not improved, it indicates few repeat customers, said experts.
In contrast, Nykaa's FY22 ROAS stood at 7.8 and big boy Hindustan Unilever's at 10.6.
Valuation makes little sense
The exorbitant ad spend takes a backseat when one looks at the valuation. The company plans to raise as much as Rs 400 crore through a fresh issue of shares, apart from an offer for sale of about 46.8 million shares.
The company became a unicorn in January 2022, with a valuation of $1.2 billion. Mamaearth is said to be looking at a target market capitalisation of $3 billion (about Rs 24,000 crore) with the size of its IPO.
The company reported a net profit of Rs 14 crore in FY22. That works out to a price-to-earnings ratio of about 1,714x.
'Ridiculous', 'disastrous' and 'extortion' – these are some of the words that have been used on social media to describe the valuation demand. Many investors have taken to Twitter to declare they will keep away from this IPO.
Moneycontrol 's email to the company and book running lead managers to confirm the valuation number has not received any response yet.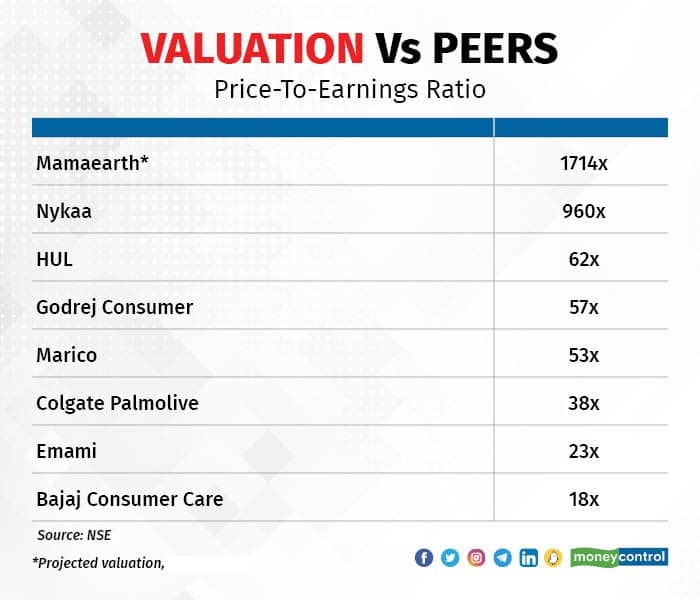 The company reported a net loss of Rs 1,332 crore in FY21 and Rs 428 crore in FY20, as per the draft prospectus.
"Initially, when new-age companies came out with IPOs, there was an element of fascination due to the hype created. For investors, that fancy preceded valuations in 2021 as everybody wanted a pie," said Ambareesh Baliga, an independent market analyst.
Things have changed now. Baliga compares Mamaearth with Nykaa – both are direct-to-consumer companies in the beauty and personal care space.
"Nykaa gave good returns initially, but its profits have not moved in the last four quarters. Investors have now realised that cashflow and growth in the bottom line are key to watch, so they will not make the same mistake twice," he added.
New-age tech stocks including Nykaa, Paytm and Zomato have all declined more than 50 percent since listing.
Honasa gets a chunk of its revenue from a limited number of products and it has flagged this as a key risk in its draft prospectus. Sales of its top 10 products contributed 38.4 percent, 30.38 percent and 30.17 percent to its overall revenue in FY20, FY21 and FY22, respectively.
"Any decrease in the sales of such products will adversely affect our business, results of operations, financial condition and cash flows," the company said.
The manufacturing of all products is outsourced to third-party producers, primarily under non-exclusive contract arrangements.
"We do not own any manufacturing facilities," Honasa said.
The company plans to spend the bulk of the IPO proceeds on advertising, on setting up exclusive brand outlets and on investing in subsidiary Bhabani Blunt Hairdressing (BBlunt). Investing in a manufacturing facility is not in the plan as of now.
Further, its sales commission to e-commerce marketplaces more than doubled to Rs 29 crore in FY22 from Rs 13.4 crore in FY21. Sixty percent of the company's sales come from third-party e-commerce marketplaces including Amazon, Flipkart and Nykaa.
"Marketplaces discount the selling expenses of such brands and artificially give them sales boost," Kush Agarwal, a businessman and angel investor, said on Twitter.
These factors make little sense to those who have followed the first season of Shark Tank India . Mamaearth's co-founder Ghazal Alagh would often refuse to invest in a startup citing high valuation or growth concerns. Netizens have pointed out that she is at the receiving end now.
"I wouldn't be surprised if they cut the offer size or withdraw the public issue completely," Baliga said.
Disclaimer: The views and investment tips expressed by investment experts on Moneycontrol.com are their own and not those of the website or its management. Moneycontrol.com advises users to check with certified experts before taking any investment decisions.​​​​
P/E of 1,000? Investors cautious over huge valuation of Mamaearth IPO have 1146 words, post on www.moneycontrol.com at January 5, 2023. This is cached page on Business News. If you want remove this page, please contact us.