Representative image
India collected Rs 1.46 lakh crore as Goods and Services Tax (GST) in November, the finance ministry said on December 1.
At Rs 1.46 lakh crore, the GST collections for November are up 10.9 percent compared to the same month last year, but 3.9 percent lower from October.
The gross GST collection was Rs 1.52 lakh crore in October 2022 and Rs 1.32 lakh crore in November 2021.
Despite the fall in GST collections in November, they have now exceeded Rs 1.40 lakh crore for nine months in a row.
"The sequential dip in collections in November 2022 relative to October 2022, reflects the boost from quarter-end payments in the latter month, as the inflows in each month pertain to the activity in the previous month," noted Aditi Nayar, ICRA's chief economist.
"Moreover, while festive spending is assessed to have been high in October 2022, the generation of GST e-way bills had moderated sequentially given a higher number of holidays in that month," Nayar added.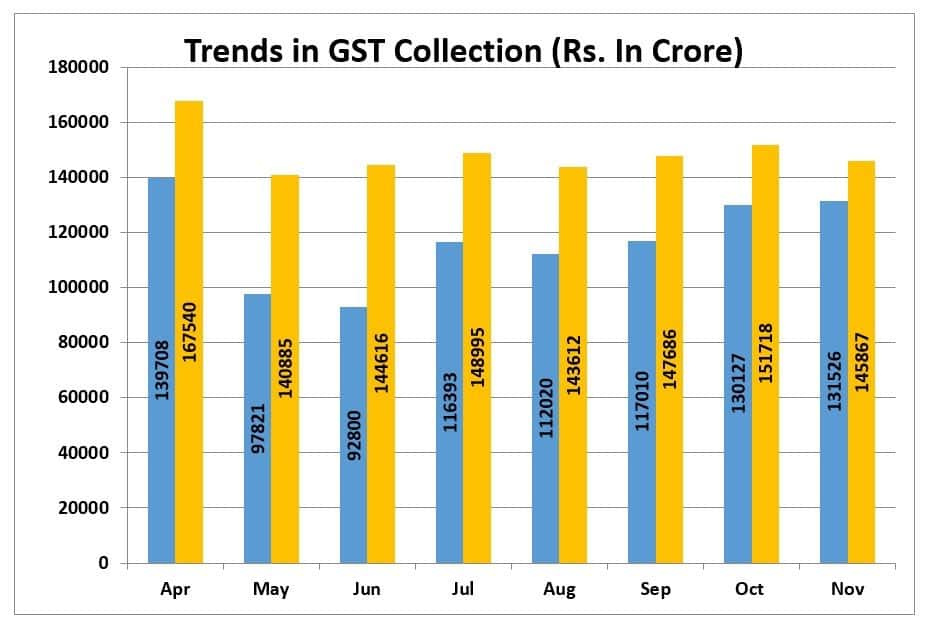 Source: Ministry of Finance (Yellow is for FY23, Blue for FY22)
In November, Central GST was Rs 25,681 crore, while State GST was Rs 32,651 crore. Integrated GST was Rs 77,103 crore and cess was Rs 10,433 crore.
The government settled Rs 33,997 crore to Central GST and Rs 28,538 crore to State GST from Integrated GST. As such, post-settlement, the total revenue of the Centre and the states in November was Rs 59,678 crore and Rs 61,189 crore, respectively.
While total GST collections continue to post robust year-on-year growth, November saw all but eight states and Union Territories (UTs) witnessing sub-14 percent growth in their revenues.
Only Bihar (28 percent), Arunachal Pradesh (55 percent), Manipur (42 percent), Damn and Diu (67 percent), Maharashtra (67 percent), Puducherry (22 percent), Andhra Pradesh (14 percent), and Ladakh (273 percent) saw their GST revenues rise by 14 percent or more in November.
With the protected GST revenue period having ended on June 30, states are no longer compensated if their collections are not 14 percent or higher compared to the corresponding month of last year.
November GST collections at Rs 1.46 lakh crore, down 3.9% from October have 568 words, post on www.moneycontrol.com at December 1, 2022. This is cached page on Business News. If you want remove this page, please contact us.