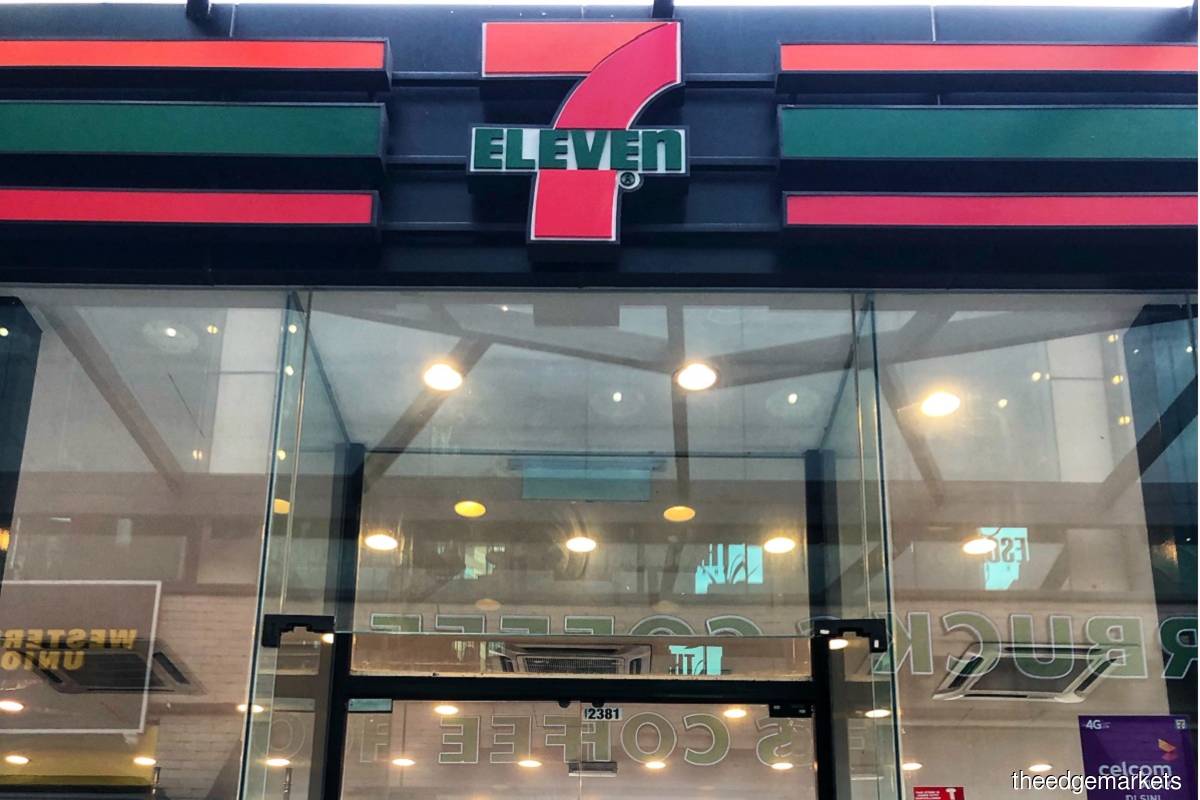 KUALA LUMPUR (Nov 29): Convenience store operator 7-Eleven Malaysia Holdings Bhd's net profit swelled more than nine-fold to RM13.66 million for the third quarter ended Sept 30, 2022 (3QFY2022), from RM1.44 million a year earlier.
In the same period last year, the country was still transitioning out of a full movement control order to the initial phases of the National Recovery Plan.
As a result, earnings per share rose to 1.21 sen from 0.13 sen, according to the group's Bursa Malaysia filing on Tuesday (Nov 29).
Revenue for the quarter surged 45.28% to a record high of RM988.21 million from RM680.22 million in 3QFY2021, carried by higher revenue contributions from both its convenience store and pharmaceutical segments.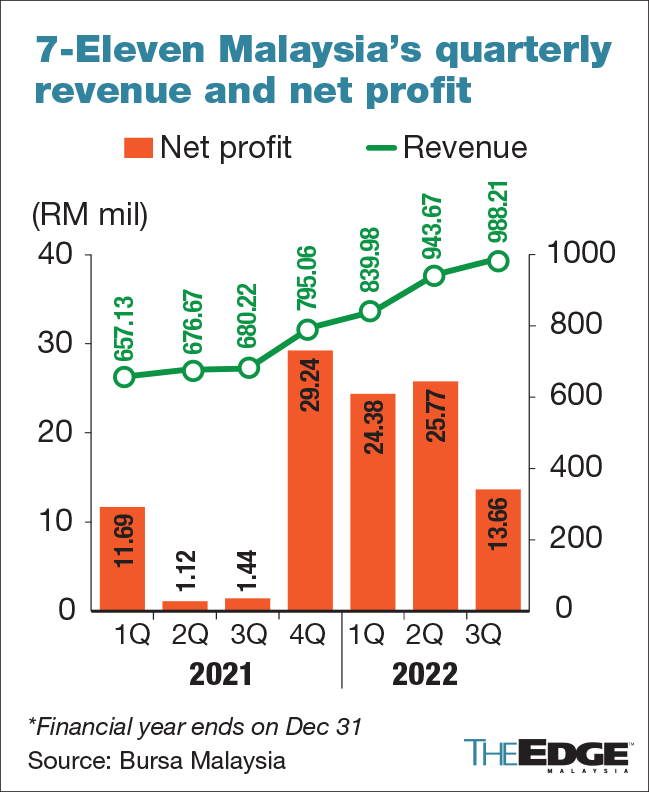 With this, the group has posted back-to-back record-high quarterly revenues following the prior record-high it posted for 2QFY2022 of RM943.67 million.
"The convenience store segment recorded higher APSD (average per store day) and customer count as consumer spending and trading activities remained buoyant in the current quarter, leading to a positive SSSG (same-store sales growth) of 58.7%," 7-Eleven noted. This, it said, led to the segment's revenue rising 62.7% to RM658.49 million from RM404.61 million.
The convenience store segment posted a core profit after tax of RM15.26 million versus a core loss after tax of RM1.16 million, due to the higher revenue, but was curbed by a 42% increase in operating expenses as a result of higher store operations.
"Total store count stood at 2,446 stores, a net increase of 41 stores," it added.
Meanwhile, 7-Eleven said the group's pharmaceutical segment posted a higher revenue of RM329.72 million as compared to RM275.61 million in 3QFY2021, due to lower off-take of higher margin products such as Covid-19 test kits and face masks.
"As a result, core profit after tax decreased by RM9.5 million or 55.6% to RM7.59 million [from RM17.1 million]. Total store count stood at 212 stores, a net increase of 29 stores," the group said.
It also noted the corporate exercise expenses of RM6.9 million, which primarily consists of finance costs for the acquisition of Caring Group. "The group's consolidated profit after tax for the current quarter after corporate exercise expenses is reported at RM15.9 million, an increase of RM7 million or 79.1%," it added.
For the nine months ended Sept 30, 2022 (9MFY2022), 7-Eleven's net profit surged by 348.3% year-on-year to RM63.81 million from RM14.23 million, while cumulative revenue jumped 37.63% to RM2.77 billion from RM2.01 billion.
Looking forward, 7-Eleven said that despite the continued positive turnaround in trading conditions and retail sentiment, the group is cognisant and will remain steadfast in monitoring potential headwinds arising from global supply chain disruptions, workforce supply constraints and cost pressures on the back of minimum wages, rising interest rates and will take appropriate measures to mitigate the impacts.
"The convenience store segment will continue to focus on the roll-out of its new 7-Café store format, which entails much-improved product offerings and in-store customer experience,' the group said, adding that the 7-Café format is to contribute positively to its perishable and fresh food offerings.
Meanwhile, touching on its pharmaceutical segment, 7-Eleven said the division will continue to strengthen its market share together with The Pill House and Wellings group.
It said to date, Wellings had successfully opened nine stores in Indonesia via 7-Eleven's joint venture with PT Era Caring Indonesia.
Shares in 7-Eleven ended three sen or 1.73% lower at RM1.70, giving the group a market capitalisation of RM1.89 billion.
7-Eleven's 3Q earnings up more than nine-fold to RM14m have 661 words, post on www.theedgemarkets.com at November 29, 2022. This is cached page on Business News. If you want remove this page, please contact us.