This article first appeared in City & Country, The Edge Malaysia Weekly, on
September 26, 2022
– October 02, 2022.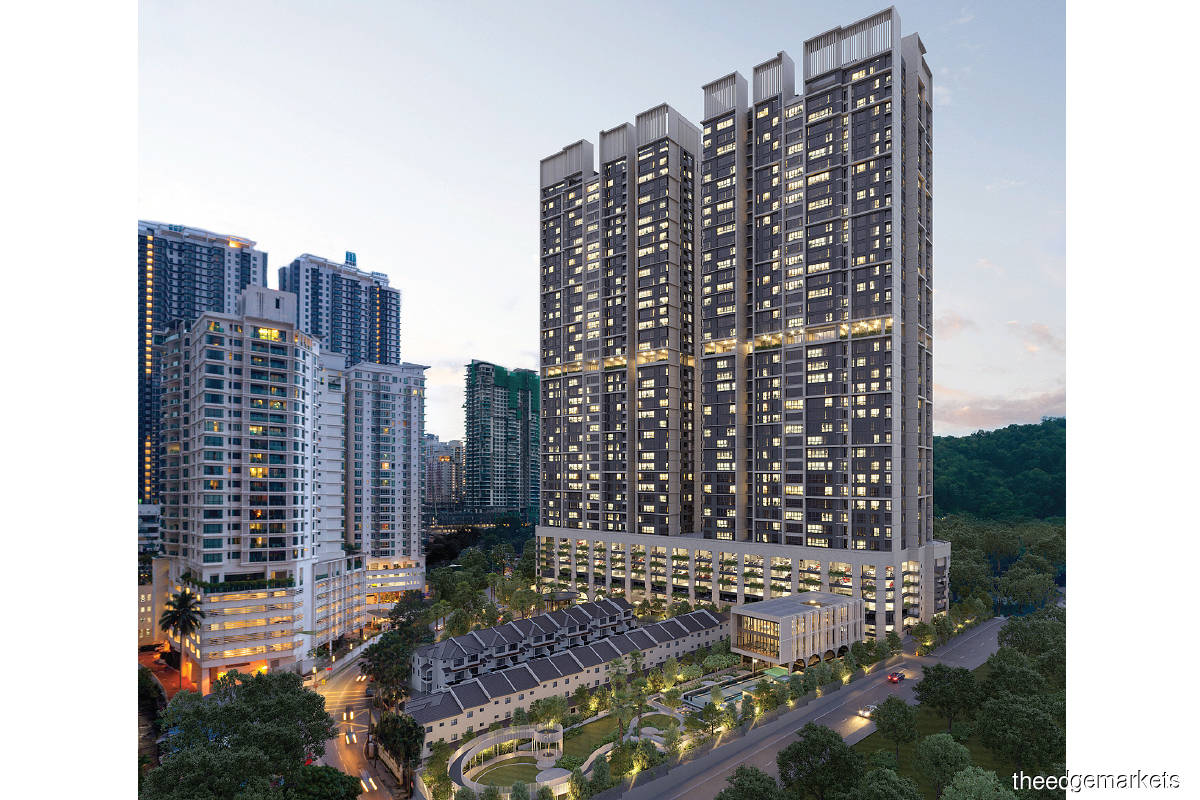 The Mediterranean-­inspired Bon Kiara offers units that are larger than average to cater for families (Photo by Bon Estate)
When Bon Estate Development Sdn Bhd CEO Chan Jin-Wy was young, he lived in a housing area with a "big padang " in front of his house. He recalls the neighbourhood children gathering at the field to play in the evening and older folk strolling there in the early morning.
"The community hosted festive celebrations and activities in the padang . It was more than just a recreational space. It was the element that created a close-knit community," shares Chan.
It was this experience that inspired him to allocate more than  a quarter of the total land size at Bon Estate's upcoming residential development project, Bon Kiara, for a central park and a clubhouse.
Located along Jalan Kiara 3 in Mont'Kiara, Bon Kiara is a freehold residential development on a 4.15-acre, C-shaped piece of land. The low-density project will house 410 units, spread across two 46-storey residential towers. The built-up sizes for the units range from 2,081 to 6,226 sq ft, with the selling price starting at RM1.2 million.
"The fact is, land is scarce in the city. Development land with no slope, the right shape and [that is] flat is rare. Anyway, no land is perfect. So this C-shaped land was really a challenge for us when we tried to allocate the buildings [in the right position] in order to maximise the built-up and [number of] units. [But] the good thing was, the land has pushed us to be more innovative in planning the development," Chan says with a smile.
He says that the decision to have a good-sized central park in Bon Kiara was made at the project planning stage. As such, a 1.5-acre open green space was allocated for features such as an elevated jogging and walking track, lawn and double-storey Social House, which will house active facilities that promote community living, such as a swimming pool, gym, multipurpose hall and BBQ area.
"Do we have a padang in Mont'Kiara? I don't think we do. Mont'Kiara is a melting pot. Its housing density is one of the highest in the Klang Valley. Yet we do not have a park for the community to gather and meet each other, to learn each other's culture.
"While we can't actually build a public park here, we really wish to allocate an open space where our residents can have a picnic, kids can run and play, and residents can even host a starlight cinema if they like to. We want to create a place that brings our residents together," Chan envisions.
Space a new luxury
Besides the central park, there will also be a small open green space that is dedicated to fur kids, located next to the main entrance of Bon Kiara.
"The authorities now allow pets in high-rise residential [units]. We understand that pets are a part of the family for many today, so a green open space for them is necessary. We make sure everyone [in the family] is well taken care of in this family-oriented development," Chan says.
Indeed, the Mediterranean-­inspired Bon Kiara offers units that are larger than average to cater for families. "We learnt from The Estate in Bangsar that people do look for these larger unit properties with a reasonable price tag in the market. They may not be the super rich, but they are willing to pay more for the space for their family."
The Estate is Bon Estate's first high-rise residential project in the Klang Valley. Launched in 2017 and handed over to buyers in 2021, the mid- to high-end condominium has 328 units with built-ups from 2,349 sq ft. The launch price started at RM800 psf.
For Bon Kiara, the developer is targeting mid- to high-income professionals, upgraders and foreigners.
"Looking at the general [property] market, many developers have gone into the smaller-size unit segment to cater for the affordable home market. There will be an oversupply [of smaller-size units] in the future. If buying for own stay, that is fine. However, if buying for investment, it may be risky because, how many people are renting? It will create very high competition post-completion of these units," Chan reasons.
He believes that the main reason for building a niche product is to help people live better lives, which is aligned with the company's mission.
"I would like to emphasise that it is true that a lot of us have gone through tough times during the pandemic, but we cannot deny that there are also people who found new ways to increase their wealth and income during the pandemic too. The saying, 'when there is crisis, there is opportunity' is also true and really happening among us," he says. "And these people may want to upgrade their living environment and live better. They are the buyers we are looking for for Bon Kiara."
Chan points out that a unit built-up of more than 2,000 sq ft is rare for the recent new launches in Mont'Kiara, which is an advantage for Bon Kiara.
"Mont'Kiara has [projects with] larger unit sizes, but most of them are older developments. They [residents of the older developments] may be looking to move to a newer development but do not wish to downsize or leave the neighbourhood. Our project could be a good option for them," he adds.
Chan says that buying a property today is more than buying into the lifestyle that a project can offer. It is also about the additional spaces that the residents can make use of and how these can enhance their quality of life.
"I believe useable and practical space is the new luxury, not extensive facilities. This is why we designed the central park and the larger unit sizes in Bon Kiara."
Besides the active facilities on the ground level of Social House, Bon Kiara also offers passive facilities on level 24 of each tower — including a co-working space, a family lounge and a studio that can be used for yoga, dance, tai chi and others — to cater for the needs of the residents.
Practical layout
In an effort to provide buyers with a practical layout, Bon Kiara has a lanai in each unit (except for the penthouse units) in place of a balcony.
"The idea is simple. We want to make sure every square foot of the unit is practical and useable. The fact is, not everyone likes a balcony because they do not know how to use it. So we replaced the typical balcony design with a semi-open lanai. Imagine that you still have your sliding door, but you go out to a lanai with a full glass window, which you can keep shut or open for fresh air when you like.
"It is a sizeable lanai of about 6ft by 27ft because we want it to be a functional space that our residents can turn into a home office, yoga area or planting area, since it still receives plenty of sunlight through the full glass window," Chan says.
Aside from that, the units also have a larger wet kitchen with a door.
"The kitchen is the heart of the home but the dry kitchen often steals the limelight. In Bon Kiara, we decided to let the dry kitchen take a step back and put the focus on those who are cooking. We want to provide a comfortable space for those who are preparing meals for the family. That's why we chose good-quality wet-kitchen cabinets and appliances — the sink and tap, hood and hob are all from a well-known brand, and they are included in the unit," he says.
The units also come with an air-conditioner in every room and a heater in each bathroom, except for the maid's room.
Every unit will come with two to six car park bays, depending on the unit size. Each unit will have an electric vehicle isolator in one of its allocated car park bays.
Looking ahead
Chan is eyeing a 50% to 60% take-up rate for Bon Kiara by the end of the year. Its official launch will be held next month.
"I'm quite optimistic on the overall property market. Yes, there are still some market challenges such as material cost and labour cost rising, but let's not neglect the positive vibes — all the economic sectors and international borders have reopened, we ­[Malaysia] are getting more FDI [foreign direct investment], tourists have started coming in, malls and tourist spots are packed. These are signs of the market recovering," he points out.
Chan foresees the economy picking up in the second or third quarter of next year, and says the property market will be one of the biggest beneficiaries as real estate is still one of the most favoured investment tools.
"Real estate is a conventional and long-term [investment tool] that can provide decent returns. I don't think we can be any worse than in the past two years. Once
China's borders reopen, [there will be] a lot of opportunities [for the property market to grow]," he reckons.
Commenting on the company's business direction, Chan says it will focus on urban niche products. "Bon Estate has always been singing a different tune in the market. We offer something different from the mainstream; that is why we position ourselves as a boutique developer.
"But having said that, we listen to the market and build to fill the market gap. Building something above the market's average price point is not our intention for both The Estate and Bon Kiara, but we believe different locations have different DNA, market needs and pull factors. We design and position the project for the best of every aspect — the community, the address, the buyer and the market.
"We will continue with our belief and direction. Meanwhile, we are open for exploration and experimentation. In short, we may have something new for the market in the future. Let's wait and see."
Cover Story: Expansive living at Bon Kiara have 1992 words, post on www.theedgemarkets.com at October 3, 2022. This is cached page on Business News. If you want remove this page, please contact us.