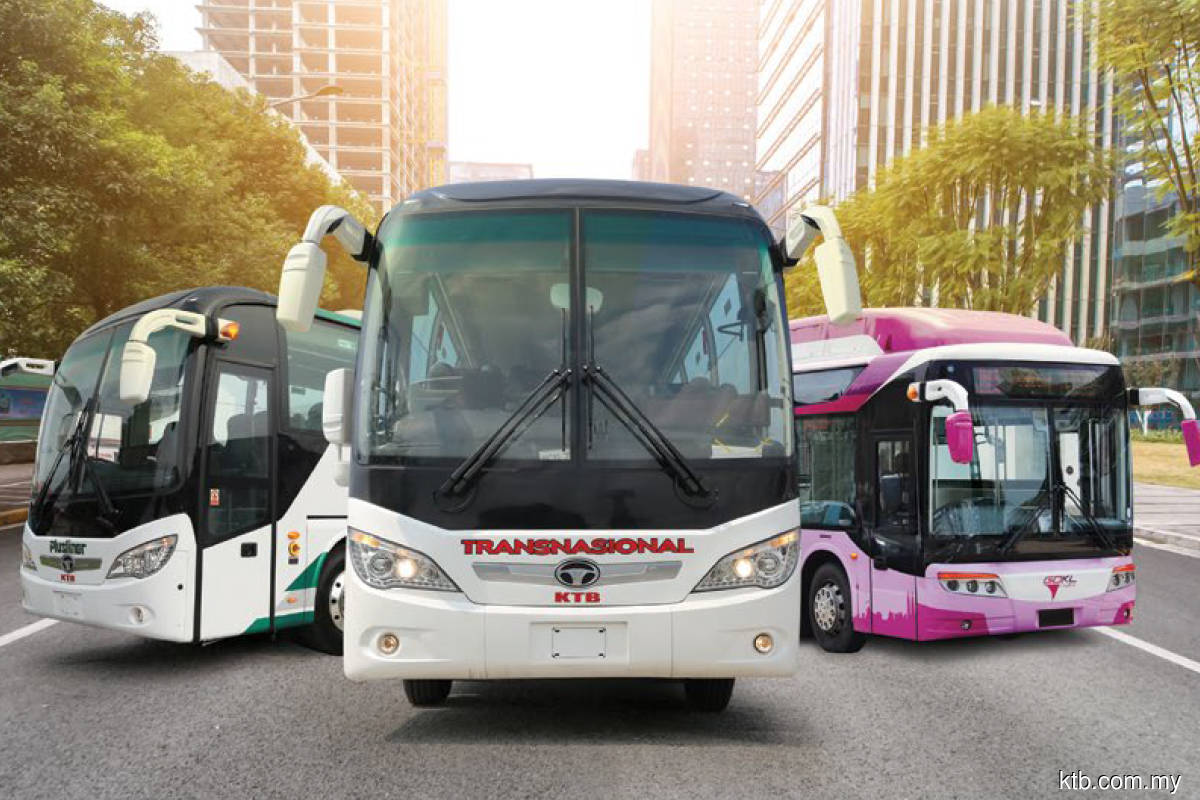 KUALA LUMPUR (Sept 27): Konsortium Transnasional Bhd (KTB) has proposed to dispose of its express bus business as part of the group's plan to regularise its financial condition to address its Practice Note 17 (PN17) status.
The group said it is disposing of wholly-owned Park May Bhd to Nadicorp Holdings Sdn Bhd, a company with interests in transportation, manufacturing, agro-business and property, for a nominal sum of RM1 as prospects of the express bus business remains uncertain.
KTB added that the parties have also agreed that a sum of RM51.46 million owed by KTB and its unit Citiliner Sdn Bhd to Nadicorp and Park May be waived as part of the deal.
The major shareholder of Nadicorp is Tan Sri Mohd Nadzmi Mohd Salleh, who, together with a related firm, Lengkap Suci Sdn Bhd, were previously the major shareholders of KTB, with a total stake of over 10%.
They ceased to be major shareholders of KTB on Aug 17, with their collective shareholding decreasing to 9.57%, said KTB in a bourse filing.
KTB's regularisation plan also includes a private placement of 125 million new shares, representing 26.61% of its existing shares to independent third parties at an issue price of 16 sen per share.
The third parties are SWC Capital Sdn Bhd, AJK Hartanah Sdn Bhd, Supreme Home Appliances Sdn Bhd, Ho Teik Suan, Shin Kam Sun, Foong Kah Heng, Loy Chee Jin, Ong Tong Pheng @ Eng Ah Toon, Mohd Afizan Mohd Ariff, Lim Chin Kean, Andy Woo Weng Kok, Rondy Yunanda Yong, Datuk Chan Wah Kiang and Darren Cheong Hao Yuan.
Based on the issue price of 16 sen per placement share, KTB is expected to raise gross proceeds of RM20 million, which will be used for working capital of the group's construction business. Currently, KTB said it has seven construction projects comprising six projects amounting to RM375.83 million, and another one amounting to RM109.61 million.
Another measure proposed by KTB is a share capital reduction, entailing a reduction of the share capital from RM54.49 million to RM5.45 million.
KTB said the RM49.04 million credit arising from the cancellation of the share capital will be applied to eliminate the group's accumulated losses.
Through the regularisation plan, the group would be able to exit from its loss-making business, hence stemming any further potential losses to the group, KTB said.
At the same time, this can reduce its liabilities and strengthen the group's financial position, as well as obtaining additional funds to undertake its ongoing projects, in order to return to profitability.
This will assist in addressing KTB's PN17 status by reducing accumulated losses and improving the shareholder's fund position. The group is expected to record a proforma gain of RM43.03 million from this exercise.
KTB triggered the PN17 criteria in April 2020, after its auditors highlighted a material uncertainty in the group's ability to continue as a going concern in its audited financial statements for the financial year ended Dec 31, 2018 (FY18).
The group, which has been loss-making since FY18, reported a net loss of RM11.81 million for the first half of FY22, on revenue of RM36.77 million.
Shares in KTB closed unchanged at 20 sen on Tuesday (Sept 27), valuing the group at RM93.96 million.
Konsortium Transnasional to exit express bus business as part of regularisation plan have 759 words, post on www.theedgemarkets.com at September 28, 2022. This is cached page on Business News. If you want remove this page, please contact us.