CATALYST FVR pushed for the merger of the Makati and Manila stock exchanges to create what we now know as the Philippine Stock Exchange – PSE file photo
His presidency was credited with a number of meaningful reforms that sped up economic liberalization, put the Philippines back on the radar of investors, promoted infrastructure building through the Build-Operate-Transfer scheme, addressed the power crisis and unified two rival stock exchanges, to name a few.
Not even the 1997 Asian currency turmoil that erupted at the tail end of his presidency could diminish the rare kind of respect that Edsa Revolution icon Fidel V. Ramos, aka FVR, commanded. Business leaders mourn with the nation his passing at the age of 94.
The Management Association of the Philippines (MAP) cites FVR as an "epitome of management excellence for nation-building," adding that the country has lost a "great Filipino leader, statesman, peacemaker and stabilizer."
"His administration was distinguished by impressive reforms on energy, economic liberalization, infrastructure and social reform, among others, which fueled an engine for national progress built on his twin themes of people empowerment and global competitiveness," MAP says.
"We remember President Ramos for his strong efforts to promote foreign investment into the Philippines, to create jobs for Filipinos, and to reduce poverty in the country as a partner in all our chambers' advocacy initiatives, from his visits in our capitals in Asia, Europe and North America, and through reform legislations which he championed through the Philippine Congress," says the seven chambers of the Joint Foreign Chambers of the Philippines (JFC).
JFC is a coalition of the American, Australian-New Zealand, Canadian, European, Japanese, Korean chambers and Philippine Association of Multinational Companies Regional Headquarters, Inc. This alliance represents over 3,000 member companies engaged in around $100 billion worth of trade and have brought $30 billion worth of investments to the Philippines.
It was during his term that the government sealed big privatization deals, including the sale of the sprawling Fort Bonifacio military land to the Metro Pacific group, which later on ceded the estate to a consortium led by the Ayalas. This estate is now known as Bonifacio Global City, which rivals Makati as a premier central business district.
The Ramos administration also liberalized the telecom, shipping, banking and water utility sectors. During this watch, the Philippines graduated from a 35-year supervision of the International Monetary Fund.
FVR was likewise an architect of the merger of the Manila Stock Exchange and Makati Stock Exchange into the entity we now know as the Philippine Stock Exchange (PSE).
"This is a proud tribute to his administration, now that we stand united as a stronger member of the capital market. He will always be considered a pillar and a vital part of PSE's history. His demise is a great loss not only to our nation but to the Philippine business community as well," says PSE chair Jose Pardo.
Some business tycoons also turned to social media to share their fondest memories, including vintage photos, of FVR.
FVR receiving the Arangkada Lifetime Achievement Award from Joint Foreign Chambers of the Philippines in 2013. —JFC PHOTO
Ramon S. Ang San Miguel Corp. president
"President Fidel V. Ramos was a great Filipino leader, public servant, visionary and peacemaker. His presidency laid the foundation on which our country's economic revival firmly stands. He also showed us that with unity, purpose and determination, we can do great things. Our nation has lost a remarkable man. But to us who have been lucky enough to know him personally, we lost a great friend and mentor. His legacy will live on in the hearts and minds of the many people whose lives he touched and changed for the better. My thoughts and prayers are with his entire family and friends. May your soul rest in peace, sir."
A youthful Jaime Zobel de Ayala with FVR in a 1997 photo – Facebook of Jaime Zobel de Ayala
Jaime Augusto Zobel de Ayala Ayala Corp. chair
"The Ayala Group joins the country in remembering the immense contributions of former President Fidel V. Ramos to the Filipino nation. FVR dedicated his life to serving Filipinos—as chief of the Philippine Constabulary, chief of staff of the Armed Forces of the Philippines, National Defense secretary and the 12th President of the Republic of the Philippines.
Of his remarkable contributions to the country, the private sector will remember FVR for bringing about a new climate of economic optimism and openness during his presidency. He liberalized the Philippine economy and embraced private-public partnership, which enabled nation-building-partners like the Ayala Group to improve access to basic services from water infrastructure to telecommunications. To this day, such partnership continues to improve the lives of Filipinos and advance the greater good.
Our hearts and prayers are with FVR's family and friends during this difficult time."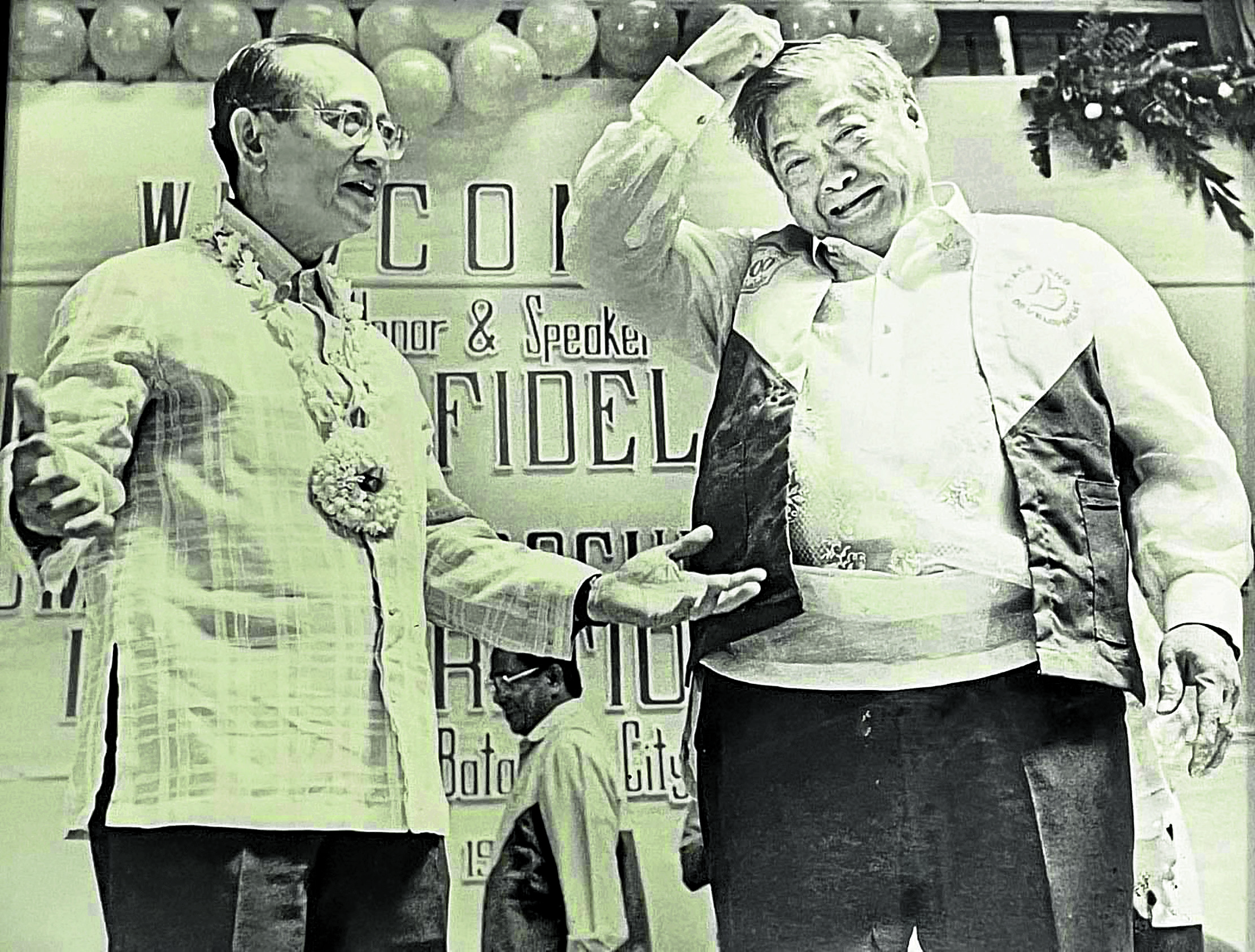 GOOD GROOMER FVR lent John Gokongwei his own comb out of his pocket to fix the latter's disheveled hair during the 1998 inauguration of JG Summit Petrochemical plant in Batangas – Facebook of Robina Gokongwei-Pe
Robina Gokongwei-Pe Robinsons Retail Holdings Inc. president
"Former President Fidel V. Ramos graciously attended the inauguration of our JG Summit Petrochemical Plant in Batangas in April 1998. My dad, John Gokongwei Jr., founder of JG Summit, was always known for attending events with a crumpled shirt and a folded newspaper in his suit pocket. This time, he arrived with his hair all disheveled. FVR saw my dad's hair, took a comb out of his own pocket, and lent it to my dad. My dad laughed, took the comb, and thankfully fixed his hair in time for the photo opportunity. This was to the delight of the crowd in attendance. No wonder FVR's hair was always well groomed.
Rest in peace dearest FVR! May flights of angels sing thee to thy rest. Most gracious of you! If you see my dad up there, I hope you can still lend him your comb."
ALLIES Manny Villar entered politics during the Ramos presidency; FVR recruited him to join Lakas – Manny Villar's Facebook
Manny Villar Villar Group founder
"FVR was a competent and visionary President, and he was a dear friend. The year I entered politics was the same year he was elected President. I ran as an independent but it was FVR who convinced me to join Lakas. Of course, I would leave the party years later in order to revive the Nacionalista Party.
I guess we hit it off because we had many things in common. He was a resident of Muntinlupa which, at that time, was part of the district I represented, so I used to joke that he was my most important constituent.
We had the same passion for infrastructure development, probably due to his civil engineering background.
FVR was the original champion of what we now call Build, Build, Build; he pushed for the modernization of our infrastructure through the Build-Operate-Transfer scheme.
I remember he would call me and ask me to join him in inspecting roads and highways. I can still recall the bounce in his steps whenever he talked about infrastructure.
He was the perfect President at the perfect time for the country. His vision of Philippines 2000 was exactly what we needed at the time, and his contagious positive energy and "Kaya Natin Ito" attitude was the perfect ingredient to unite the country toward one goal.
He had a simple and meaningful existence and I want to thank him for letting me be a part of it.
Paalam FVR. Two thumbs up for a life well-lived!"
Tycoons pay tribute to FVR have 1537 words, post on business.inquirer.net at August 7, 2022. This is cached page on Business News. If you want remove this page, please contact us.