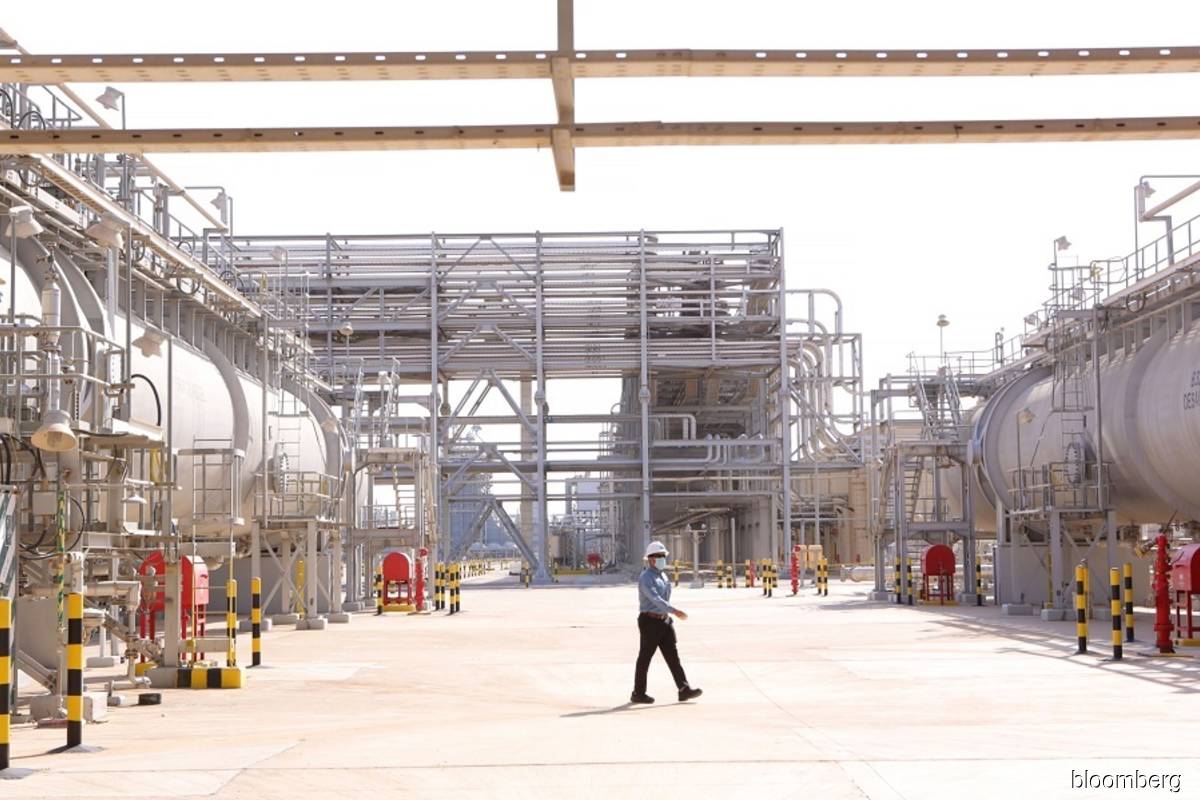 DUBAI (Aug 15): The Saudi government's oil income almost doubled in the second quarter, even as state-controlled producer Aramco held dividends unchanged.
The oil giant made payments to the government – its 94% shareholder – of more than US$65 billion in the period, up from US$35 billion a year earlier, according to financial statements on Monday. That's a combination of dividends, income taxes and royalties on oil production.
Despite efforts to diversify the economy, crude oil is still the major source of Saudi Arabia's revenue. Soaring prices are set to give the country its first budget surplus in almost a decade, even without Aramco boosting shareholder payouts.
Under a system introduced in January 2020, Aramco pays a royalty of 80% on Brent crude prices above US$100 a barrel, and 45% at US$70 to US$100. Benchmark futures jumped above US$100 a barrel in late February following Russia's invasion of Ukraine, and stayed above or near that level until the end of July.
Aramco has stuck to annual dividend payments of US$75 billion a year through oil's crash in 2020 and subsequent recovery, in contrast to some of the other biggest oil companies which slashed payouts as prices crashed during the pandemic. Some analysts are preparing for a boost later this year.
"They probably will up the dividends in the second half," Aarthi Chandrasekaran, director of investments at Shuaa Asset Management, said in a Bloomberg Television interview. With Aramco likely to reduce gearing — a measure of debt to equity — to its 5% target by the fourth quarter, "they might open up the taps for the dividend".
Chief Executive Officer Amin Nasser left the door open to just such an increase by the end of the year, though he stressed the need to maintain spending plans.
"We don't compromise long-term value for short-term gains," Nasser said on an analyst call with on Monday. "We aim to deliver a sustainable and progressive dividend policy, no change on that plan. The company will review the dividend with full-year results in March 2023 and, based on the results of 2022, will consider the dividend requirement."
Aramco is also using record profits to finance what it calls the "largest capital programme in our history". The company is working to expand output capacity to 13 million barrels of crude a day by 2027, from 12 million now, as it sees oil demand continuing to grow for the rest of the decade.
Capital expenditure this year will be at the low end of the US$40 billion to US$50 billion range it announced in March, up from about US$32 billion last year. While the higher spending may give Aramco less room to boost dividend, the Saudi government could keep boosting revenue if oil prices stay high.
Saudi oil windfall tops US$65 bil without dividend rise have 669 words, post on www.theedgemarkets.com at August 16, 2022. This is cached page on Business News. If you want remove this page, please contact us.