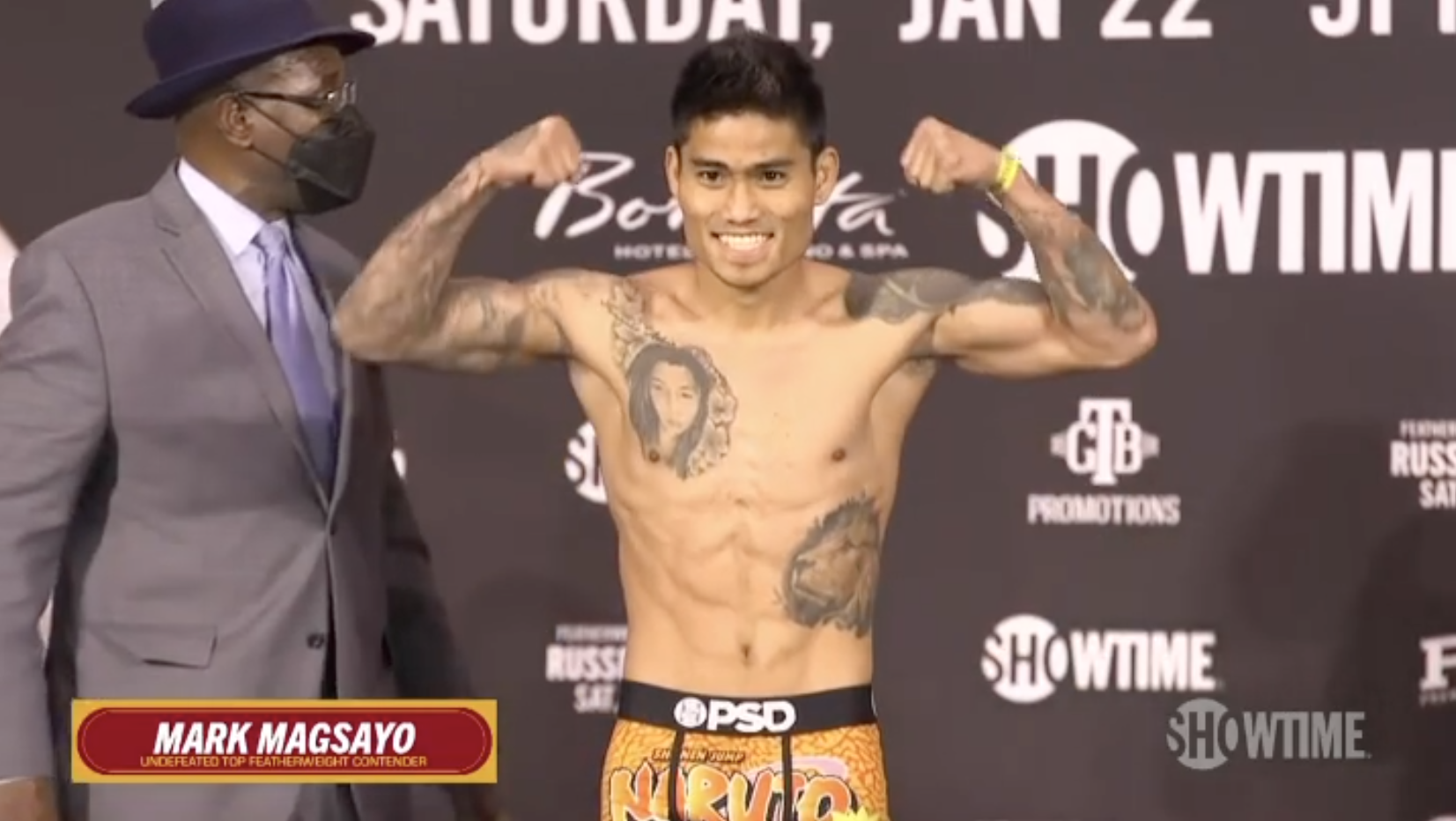 Mark Magsayo after making weight ahead of his WBC featherweight fight vs Gary Russell. Jr. SHOWTIME
MANILA, Philippines—Styles make fights as the old boxing adage goes. And two warriors from the Philippines and Mexico pitted against each other produce fireworks more often than not.
Filipino champion Mark Magsayo hopes to add to that long list of epic Philippines vs Mexico bouts when he clashes with Mexican Rey Vargas on July 9 in San Antonio, Texas.
Facing a fellow undefeated fighter in Vargas who is also a former champion, Magsayo has a golden opportunity to make a strong statement.
He finds himself in the right place too.
"I'm excited to be fighting in the same venue where my idol Manny Pacquiao fought Marco Antonio Barrera. That was the first fight I ever saw and the reason I started boxing," said Magsayo as posted on Boxing Scene.
Magsayo, who is defending the WBC featherweight title for the first time, is referring to the Alamodome where Manny Pacquiao stunned Mexican legend Marco Antonio Barrera back in 2003. The fight was one of the most iconic wins by Pacquiao throughout his celebrated career.
"We are preparing for a strong Mexican fighter in Rey Vargas. Everyone knows what the Philippines vs. Mexico boxing rivalry brings to the ring and I'm excited to display my talents for the boxing fans in Texas and watching around the world," he added.
Vargas (35-0, 22KOs), a former champion at super bantamweight, also sees a thrilling encounter against Magsayo (24-0, 16KOs).
"This is going to be exciting combat from start to finish. We know that he has great power, but we'll be ready to counter that, and anything else he brings to the ring. This is going to be a magnificent fight and I can't wait to step in there and compete."
RELATED STORIES
Get the hottest sports news straight into your inbox
Mark Magsayo looks to make strong statement vs Mexican foe have 630 words, post on sports.inquirer.net at June 29, 2022. This is cached page on Business News. If you want remove this page, please contact us.