This article first appeared in The Edge Malaysia Weekly, on
June 20, 2022
– June 26, 2022.
LAST week, CTOS Digital Bhd made a bold move to raise its stake in RAM Holdings Bhd (RAM), in which it already owns a 19.225% stake. This is the third acquisition that CTOS has undertaken within a year.
CTOS, which bought into RAM shortly after it was listed in July last year, launched a general offer last week to buy out the remaining shares that it does not own in the credit rating agency (CRA) soon after it got the green light from the Securities Commission Malaysia (SC) to own more than 51%.
CTOS has so far spent the bulk of the RM173.8 million raised from a private placement in March on mergers and acquisitions (M&A).
RAM will be the first local CRA to have a controlling shareholder upon the completion of the takeover offer.
Dollars and cents aside, the takeover bid has prompted some quarters to question whether the independence of RAM's rating process would be affected once a single party holds a majority stake.
Against this backdrop, CTOS' largest shareholder, Creador Sdn Bhd, is open to selling its 19.9% stake in RAM, held via Oscar Matrix Sdn Bhd. Creador owns 30.26% in CTOS through Inodes Ltd.
It is understood that CTOS' shareholding is likely to exceed 51%, considering that Creador is looking for an exit, while a number of minority shareholders holding less than 5% each may take up the offer. The other large substantial shareholders are expected to stay on.
Apart from CTOS and Oscar Matrix, other substantial shareholders are S&P Global Asian Holdings Pte Ltd with 19.2%, Tunku Ali Redhauddin Tuanku Muhriz's vehicle Dragonline Solutions Sdn Bhd (15.65%), Hong Leong Bank Bhd (5.8%) and Public Bank Bhd (5.325%). The remaining seven minorities collectively own 14.9% (See table).
Board and rating guidelines
The independence of CRAs is crucial as the rating and assessment of bonds issued are essential information for institutional funds to make investment decisions.
The concern over the independence of RAM when the single largest shareholder holds a majority stake is understandable, considering that the bond market plays an important role in the country's capital market development.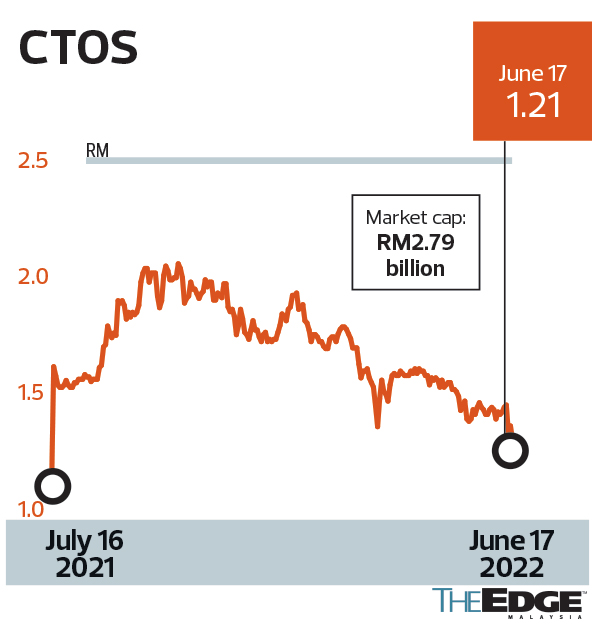 However, there are those who hold the view that the independence of a CRA relies on its independent board members, who should ensure that its rating committee functions without interference from its shareholders, whose priority is earnings. In other words, the quality of the independent directors and the members of the rating committee would be the main determinant.
When CTOS unveiled the takeover bid, it stated "unequivocally that CTOS will respect the independence and integrity of RAM in all matters.  We will not be involved in any rating-related decisions," it says.
The SC's Guidelines on Registration of CRAs states that ratings are assigned and decided by a CRA's rating committee, which, in the case of RAM, comprises seven members.
Under the guidelines, the SC's approval is required for any appointment to the board and rating committee, as well as the chief executive of both the CRA and its holding company — in this case, RAM and its rating services unit RAM Rating Services Bhd.
The regulator also requires at least one-third of the board and rating committee to be independent, including the chairperson of the rating committee.
The SC has also expressed its intention to require a majority of both the board and the rating committee to be independent in the upcoming review of the guidelines.
In the past, the appointments of RAM directors were done by shareholders nominating candidates to the board, which would then deliberate and assess their suitability, before seeking the SC's approval.
Currently, apart from RAM group CEO and executive director Chris Lee, the other board members are independent non-executives. They comprise former Maybank CEO Tan Sri Amirsham A Aziz as chairman, former Malaysian Bar president Christopher Leong and Datuk Kamaruddin Taib, who has been appointed chairman of HSBC Bank Malaysia Bhd. HSBC Malaysia holds 3.5% equity interest in RAM.
At the RAM Ratings level, apart from Amirsham and Lee, other independent board members are Datin Mariam Prudence Yusof, former investment banker Fong Seow Kee and Datuk Lee Kok Kwan, who is a board member and former deputy CEO of CIMB Group.
Between 2019 and 2021, other RAM Holdings board appointments included Royal Selangor chairman Tan Sri Yong Poh Kon and lawyer Bhartidevi R C Seth, whereas the RAM Ratings board included OCBC Al-Amin Bank Bhd director Ng Son Hoon and Choy Khai Choon, who in 2019 was a director in Deutsche Bank (M) Bhd, which has a 0.8% stake in RAM.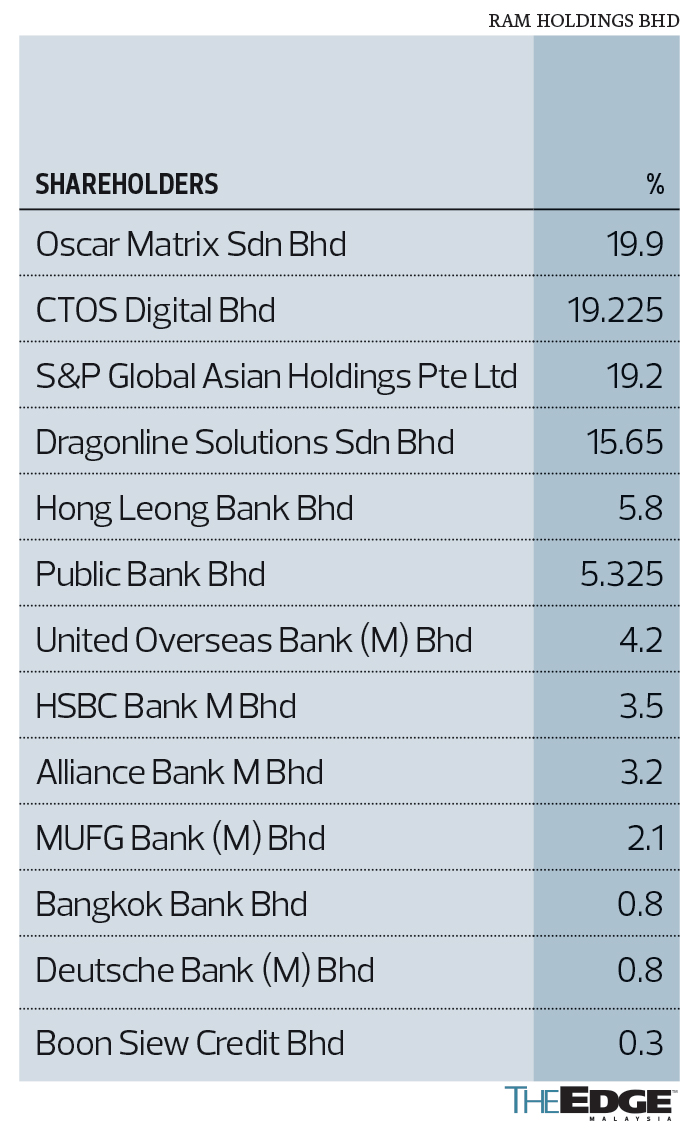 Likewise, Malaysian Rating Corp Bhd's (MARC) six-member board was made up of five independent directors in 2021.
On M&A spree
CTOS has been aggressively pursuing M&As since listing a year ago. It spent RM205.8 million for a 49% stake in financial software solutions firm Juris Technologies Sdn Bhd (JurisTech), and RM26.8 million to raise its stake in Thai-based Business Online Public Ltd by 2.65% (BOL).
In the first quarter ended March 31, 2022 (1QFY2022), CTOS' net profit jumped nearly 71% to RM12.48 million, or 0.6 sen per share, from RM7.31 million or 0.4 sen per share, helped by earnings from its associates and higher contribution across its customer base.
A controlling stake will help CTOS to consolidate RAM's annual earnings of around RM8 million and revenue of roughly RM40 million. Furthermore, the acquisition will strengthen its presence along the entire credit reporting value chain, says an analyst tracking the company.
"But it makes more sense to first have a working relationship and collaboration with RAM," the analyst opines. "Valuation (of RAM) is good (at 30 times PER) and accretive to CTOS (at 50 times PER), but it is best for CTOS to digest the recent acquisitions first," the analyst adds.
According to CTOS' filings, it spent RM42.77 million to acquire a 17.225% stake in RAM from CIMB Bank Bhd, Standard Chartered Bank Malaysia Bhd, OCBC Bank (M) Bhd, Affin Bank Bhd and Affin Hwang Investment Bank Bhd.
On that basis, a back-of-the-envelope calculation shows that the entire 100% stake in RAM was valued at RM248.3 million then.
As at end-March, CTOS' cash balance stood at RM16.415 million against long-term borrowings of RM69.212 million. The company is still left with RM13.39 million cash raised from the recent private placement that was priced at RM1.58 per share. Its share price closed at RM1.21 last Friday, giving it a market capitalisation of RM2.79 billion. The stock has been on a decline, falling 33% or 60 sen year to date. Its public offer price was at RM1.10 per share.
A head of research, when contacted, says CTOS "can gear up" to fund the takeover bid for RAM given its low gearing of 0.1 times.
"But, more importantly, CTOS has to prove that it can build synergy from all these acquisitions. Are you buying talent, systems, data or market share?" he asks.
CTOS-RAM synergies?
Apart from credit rating and bond pricing services, RAM launched RAM Analytics last year, which offers general credit assessments of non-financial companies in the corporate and mid-market segments.
In 2019, Creador competed against Experian (M) Sdn Bhd to acquire a 33.15% stake in RAM Credit Information Sdn Bhd (RAMCI) from RAM. The stake went to Experian Malaysia for RM95.06 million. In the same year, CTOS bought a 26% stake in RAMCI, then renamed Experian Information Services (M) Sdn Bhd (EIS).
RAM Analytics, which caters to a similar segment, was launched following the disposal of RAMCI. "CTOS might be interested in RAM Analytics," says an industry observer.
RAM group CEO Chris Lee, in his reply to The Edge, points to the CRA's credit rating expertise and solutions for ESG analytics, as well as CTOS' market leadership position as a credit reporting agency.
"[RAM has] credit rating methodologies and calibrated credit rating engines that work for local companies. Our historical rating transition and default data provides us with the analytics to develop such rating models," Lee says.
"The CTOS's database of Malaysian and overseas companies provides an avenue for RAM to work with CTOS in growing analytics solutions and assigning ESG risk ratings (score).
"We anticipate that SMEs will need to demonstrate their commitment to ESG enhancement in the future, be it to grow their businesses and/or to obtain new financing," it adds.
Meanwhile, CTOS sees both parties leveraging on each other's expertise in "credit assessment, data and analytics" to develop solutions for SMEs that will allow them to access broader forms of credit.
"In addition, we see opportunities to help drive RAM's regional expansion and the further development of Islamic-based ratings products," says CTOS.
CTOS also allays concerns about access to RAM's database and information sources. "We do not subscribe to any data from RAM and we do not serve their clients as a third-party provider. We work independently," it says.
"We will not access privileged/confidential information from RAM as we abide by the highest standards and regulations from government entities that define data access and management," it adds.
When RAM shareholders agreed to remove the 20% shareholding ceiling, CTOS clarified that it had "commenced this investment application" since April 2021.
That said, this is not the first time CTOS has swooped in to acquire a stake in a company that has piqued the interest of its largest shareholder Creador.
What SC says about approval for CTOS to hold a controlling stake in RAM Holdings
In evaluating applications pertaining to changes in shareholdings in credit rating agencies (CRAs), the SC considers, amongst others, the value proposition by, as well as the ability and commitment of the applicant, in holding a significant stake in the CRA to grow the CRA's business in the increasingly competitive environment that CRAs are operating in whilst ensuring the CRA's compliance with regulatory requirements.
A similar value proposition assessment was undertaken in the case of CTOS Digital's proposal to acquire a controlling stake in RAM Holdings.
In this regard, it is envisaged that by virtue of the significant stake in the CRA held by the shareholder, the shareholder will ensure all necessary efforts are undertaken to drive the growth of the CRA's business, including the integrity of its rating process and decision.
More diversified shareholdings as financial landscape evolves
In 1990, RAM Holdings Bhd, previously Rating Agency Malaysia Bhd, was established by Bank Negara Malaysia as the country's first credit rating agency (CRA) to support the country's emerging corporate debt market.

RAM's original 51 shareholders were from the private sector, comprising commercial banks, merchant banks, finance companies, as well as two institutions — the Asian Development Bank and UK-based CRA, IBCA Ltd.
Malaysia's second credit rating agency, Malaysian Rating Corp Bhd (MARC), was incorporated in October 1995, with shareholders comprising major life and general insurance companies, stockbrokers and discount houses in Malaysia.
Initially, each shareholder held no more than a 4.9% stake. Over the years, however, changes took place in the financial industry landscape, such as bank mergers and the decline of discount houses, as investing regulations tightened amid the financial crisis. This partly contributed to existing shareholders holding a higher stake in the CRAs.
The 20% shareholding cap was introduced under the Securities Commission's first Guidelines on the Registration of CRAs in 2011. Six years later, in 2017, CRAs with full foreign ownership were allowed into the Malaysian market, as the country sought a third domestic rating agency.
Prior to the SC's approval to allow CTOS Digital Bhd to raise its stake in RAM to above 51%, the CRA had six substantial shareholders (see main story) including Creador's Oscar Matrix Sdn Bhd (19.9%), Dragonline Solutions Sdn Bhd (15.65%) plus a number of minority shareholders with less than 5% each.
In the case of MARC, among its 24 shareholders, two hold substantial stakes, namely Moody's Asia Pacific Ltd (19.45%) since 2020; and India-listed rating firm CARE Ratings Ltd (10%) from 2013. In the years before that, insurance companies Etiqa Insurance Bhd and MSIG Insurance (M) Bhd also held substantial stakes.
Current MARC shareholders also include public-listed Apex Equity Holdings Bhd subsidiary JF Apex Securities Bhd (4.9%), TA Enterprise Bhd (4.9%), investment banks and insurance companies.
In comparison, Fitch Ratings Inc — one of the big three international CRAs — is part of Fitch Group, which is in turn is 100%-owned by information and media company Hearst Corp.
Moody's Investors Service is part of US-listed Moody's Corp, whose largest shareholders include Berkshire Hathaway Inc (13.37%), The Vanguard Group Inc (7.38%) and BlackRock Inc (6.71%).
Vanguard and BlackRock are also the largest shareholders of US-listed S&P Global Inc with 8.64% and 7.96% respectively. The listed entity, in turn, owns credit rating agency S&P Global Ratings.
With the help of local CRAs, Malaysia's corporate debt market has grown from just a few billion ringgit in the 1990s to around RM800 billion currently. However, it is not a preferred market for small- and medium-sized enterprises (SMEs) to tap into for various reasons, such as costs and competition for investors.
As CTOS has alluded to collaborating with RAM to better serve the SMEs from a credit assessment perspective, market watchers will be keeping watch on what impact this development will bring.
Making sense of CTOS' venture into RAM have 2479 words, post on www.theedgemarkets.com at June 27, 2022. This is cached page on Business News. If you want remove this page, please contact us.