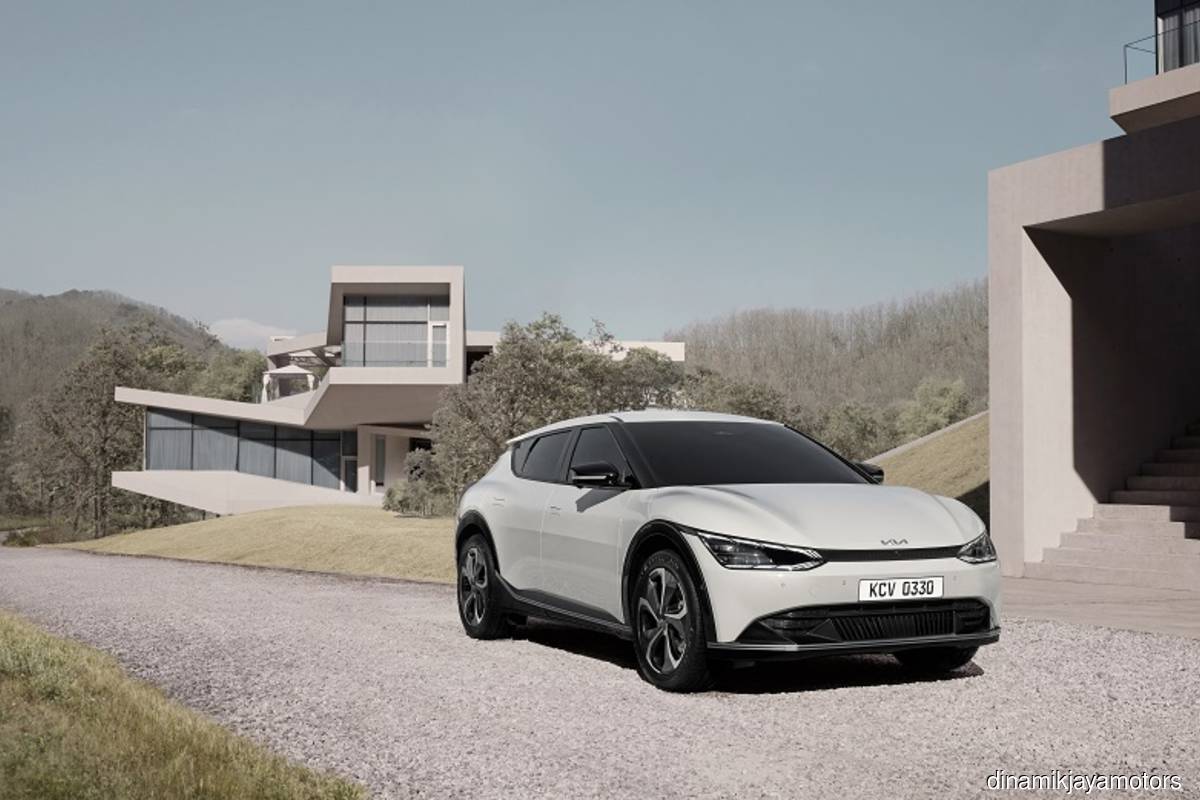 KUALA LUMPUR (June 24): The official distributor of KIA vehicles in Malaysia, Dinamikjaya Motors has launched its Europe Car of The Year, the KIA EV6 at a starting price of RM300,688.
Dinamikjaya, a subsidiary of Bermaz Auto Bhd (Bermaz), highlighted that the EV6 — KIA's maiden electric vehicle (EV) — is equipped with a dual-motor AWD power delivery and 77.4 kWh battery that delivers up to an estimated driving range of up to 506km per full charge.
"The AWD EV6 can travel up to 506 kilometers* on a single charge, with a maximum 605 Nm torque and top speed of 185 km/h, and can accelerate from 0–100 km/h in just 5.2 seconds. The 77.4 kWh battery pack is paired with a dual electric motor powering the front and rear axles of the vehicle.
"In addition, the flexibility of its Integrated Charging Control Unit (ICCU) charging system enables the vehicle-to-load (V2L) function, which is capable of discharging energy from the vehicle battery. The V2L function can supply up to 3.6 kWh of power and is capable of operating lifestyle electronic accessories," it said.
Commenting on the EV launch, Dinamikjaya Managing Director Datuk Wong Kin Foo said more than 10,000 units of EV6 were sold globally last year.
"The EV6 signals the future of KIA's design and technical philosophy.
"In addition, apart from launching the EV6, we like to introduce the new 3S KIA brand identity and outlook right here in Glenmarie.
"This outlet can display up to four vehicles at any one time in front of the showroom and another 4 cars at display gallery situated at the 1st floor of this facility," he said at the EV6 launch event.
KIA Asia Pacific President and CEO, Ted Lee shared that the EV6 was awarded the Car of the Year in Europe and expressed his confidence in Malaysia achieving a good take up rate on the vehicle.
"EV6 is just the beginning for KIA's long term vision to become the industry leader in Malaysia.
"We will work closely with Bermaz and Dinamikjaya team to expand the product line up, (and) improve after sales services in order to enhance the overall customer experience for the Malaysian market," he said.
KIA unveils maiden electric car EV6, price begins at RM300,688 have 573 words, post on www.theedgemarkets.com at June 25, 2022. This is cached page on Business News. If you want remove this page, please contact us.