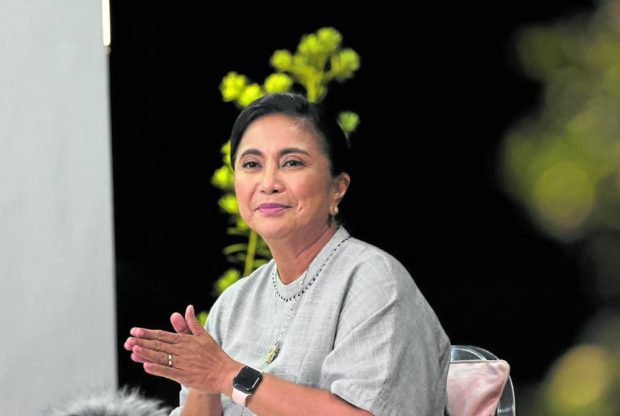 Vice President Leni Robredo gives a post-election statement from her home in Magarao, Camarines Norte in the early hours of Tuesday, May 10, 2022. (File photo from VP Leni Media Bureau)
MANILA, Philippines — Even as Vice President Leni Robredo is set to step down from office this June 30, she argued one last time in favor of opening a public debate about giving a bigger mandate to the Office of the Vice President (OVP) — usually seen as a mere ceremonial office — so that whoever sits there can do more for the Filipino people.
In the final episode of her weekly "BISErbisyong LENI" radio show on Radio Mindanao Network , which she co-hosted with radioman Ely Saludar for five years every Sunday, Robredo said there was a need to rethink how the OVP operates "because it would be such a waste."
"We need to think up ways to expand the mandate of the vice president because it would be such a waste, especially if you're not that creative," Robredo said.
Ceremonial position
"As I have mentioned several times, when I first entered the OVP, I realized that the office is really just ceremonial," she said. "It really doesn't have a clear mandate. [But] I told my staff that we cannot just waste the next six years if we do not maximize the opportunity to help."
Several observers credit Robredo, who before running for office was a development worker and lawyer, for changing the way the OVP traditionally functions.
Normally, the vice president is seen as a mere ceremonial position to keep the line of succession intact.
After being pushed out of her Cabinet office in 2017 for criticizing President Rodrigo Duterte's war on drugs, Robredo launched several projects, including her flagship Angat Buhay program, to provide far-flung communities with livelihood and housing.
At the height of the pandemic, Robredo opened up an e-teleconsultation service for outpatients and set up vaccine expresses and swab cabs in high-risk communities.
Despite a meager budget
Robredo had accomplished all these despite a meager budget and a hostile administration that has always undermined her recommendations and suggestions.
"Looking back, I think every challenge thrown at us was what made us good at our jobs," she said. "Of course, we would have wanted that whenever we sought help, we would be helped. But because we were not seen as allies or as part of the government, we learned to find ways and that was what made us great."
In opening up public debate about the OVP's mandate, Robredo said it would also open up a pathway for the OVP to become a checks-and-balance office to the president.
"If the president becomes authoritarian, there would be balance. If they are not allies, the vice president can serve as a check because they have their own mandate," she said.
But looking back now, Robredo said she had "absolutely no regrets" about her stint as the 14th vice president of the Philippines.
"We had gone through so much [but] we consider that a blessing," she said. "It strengthened our resolve to launch Angat Buhay because our experience about having almost no help from the government has sharpened us."
RELATED STORIES
Robredo hopes Sara Duterte will continue her programs at OVP
COA gives OVP highest audit rating for third successive year
Guarding Sara: Why next VP is getting own security team
Give OVP a bigger role – Robrebo have 816 words, post on newsinfo.inquirer.net at June 27, 2022. This is cached page on Business News. If you want remove this page, please contact us.