This article first appeared in The Edge Malaysia Weekly, on
June 20, 2022
– June 26, 2022.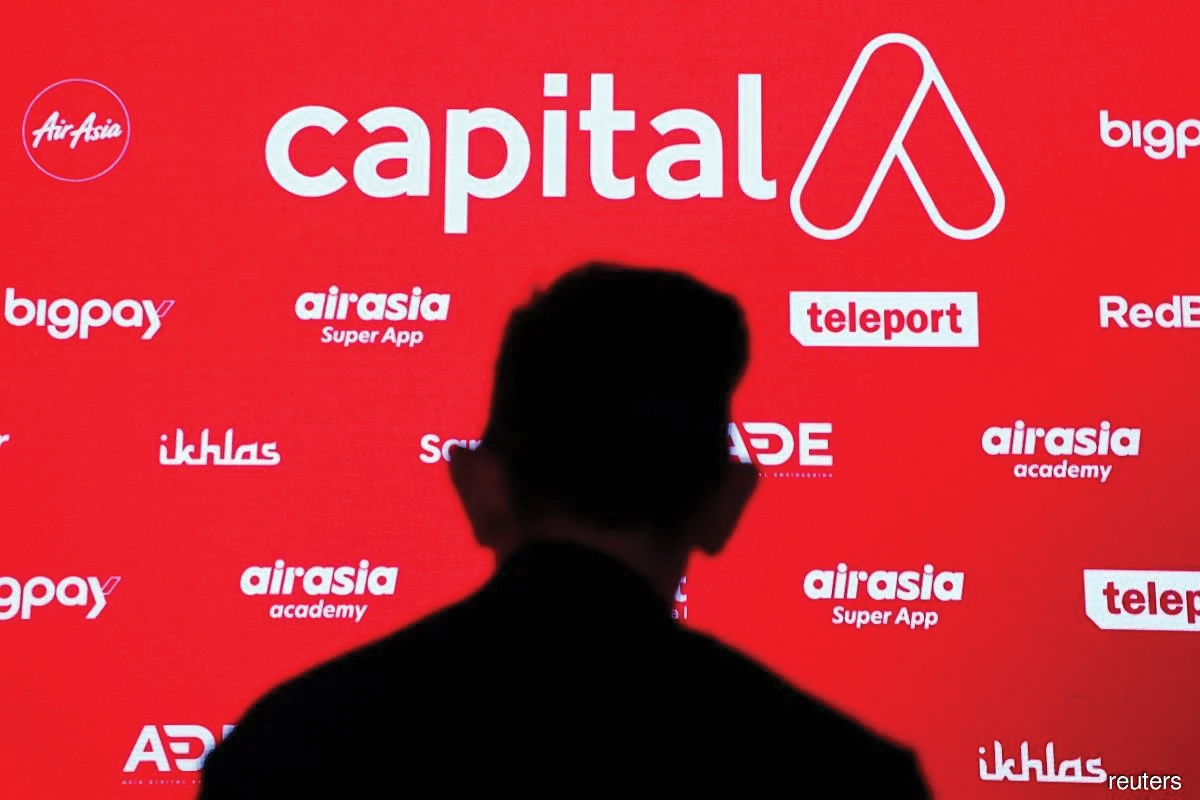 GIVEN that investors accept higher valuations for technology companies going public in the US, aviation analysts say it is not surprising that Capital A Bhd (CapA) is considering listing its low-cost AirAsia airline and digital businesses on the New York Stock Exchange. They believe, however, that now is not the right time.
On June 12, the Financial Times reported executive director and CEO Tan Sri Tony Fernandes as saying that CapA was considering two separate listings in the US, one for AirAsia "sometime next year", followed by its super app, which offers services from travel to takeaways.
A senior investment banker who asked not to be named says while there is a rebound in air travel amid the easing of travel restrictions and rising demand — a trend experts term "revenge travel" — airline stocks are not fetching the kind of valuations that Fernandes believes they deserve, particularly CapA, which has transformed in recent years from a pure airline operation into a wider services company that offers, among others, ride-hailing and food and express delivery services.
"[Fernandes] always feels that AirAsia's stock has long been undervalued. In fact, the name change [to CapA] was to step away from being branded as an airline stock. However, higher interest rates and recession fears continue to weigh on high-growth tech stocks, especially service-related ones like Grab Holdings Ltd, Indonesia's PT Bukalapak.com Tbk and their US counterparts, whose valuations have dropped heavily this year," he tells The Edge.
Grab's stock has tumbled 77% from its December 2021 initial public offering (IPO) price of US$11 to close at US$2.50 (RM11) last Thursday, for a market capitalisation of US$9.6 billion. Shares in e-commerce operator Bukalapak have lost 67% to close at IDR278 (eight sen) last Thursday from its August 2021 IPO price of IDR850, valuing the company at IDR28.65 trillion.
The investment banker says, given how some of the tech companies that went public in 2021 have performed poorly, he does not think now is a good time for CapA to list its shares on the US market.
"If [Fernandes] is talking about a listing two to three years down the road, then it could happen, but not in the next six to 12 months. First, they have to show that they can deliver the CapA business model, where the airline business is just one small part of the equation and the rest comes from other services, such as ride-hailing and food delivery. However, looking at the bigger players like Uber and Grab that have yet to make a profit, how can AirAsia's super app make money?" he says.
The investment banker believes the party is over for tech start-ups rushing to go public at ever higher valuations, as volatile US stock markets have dampened investor appetite for high-growth stocks. So far this year, the Nasdaq has lost 33% of its value.
"The special-purpose acquisition company (SPAC) boom of 2020 and 2021 has also fizzled [out]. There doesn't seem to be much positivity in the short to medium term," he says.
A check on SPAC Research's website shows that US SPAC IPOs are decreasing. So far this year, there were only 69 blank-cheque companies that raised a total of US$11.8 billion compared with 613 in 2021 and 248 in 2020, which raised US$162.5 billion and US$83.4 billion respectively.
Last July, Fernandes had said the group was mulling a listing of its digital arm via a SPAC in the US to raise at least US$300 million. It appears that aspiration still remains. Elaborating on his plans to list AirAsia or its digital businesses in the US, Fernandes said in a statement after CapA's annual general meeting last week that the group was "evaluating all fundraising options, including private placement, direct listing or listing via a merger with a SPAC".
"Listing in the US market would be attractive, given the liquidity and the diverse investor reach that it can provide," Fernandes added.
An aviation consultant says: "The New York and London markets allow companies to seek access to growth capital. The liquidity and free float requirements are lower there. For fintech companies, the valuations are the most generous in the US. You make a good story, investors believe it and they will value it high.
"A New York listing will also give CapA an opportunity to be heard by new investors, as some of the large institutional investors in Malaysia may be more conservative and may not have had a good experience [with airline stocks] in recent times, owing to the haircut on debts they took and the impact on their share prices."

Aviation consultancy Endau Analytics founder and analyst Shukor Yusof concurs. "It's still very early days. [A New York listing] may or may not happen because listing is not easy to do in a foreign country. If you look at what happened to Grab and Sea Ltd, both listed in the US, they have not been doing well after their listing. But [Fernandes] is clearly drawing on his own personality behind AirAsia. CapA is in fact capitalising on him."
Khair Mirza, associate director at Canadian transport infrastructure consultancy Modalis Infrastructure Partners Inc, tells The Edge: "We understand that, like any company in the post-pandemic era, CapA is now looking at moving forward. I would say that all countries are reporting a rebound in travel recovery. This could portend to steady recovery in bookings and travel. It is still [too] early to fully understand what CapA's options are in the US or elsewhere, but the fundamental operating environment is surely stabilising and recovering."
Pivot to digital still in 'investment mode'
In the statement, Fernandes says the group will continue to forge ahead with its ambitions to become the leading super app of choice in Asean, with Teleport to be the leading logistics provider and BigPay to be the neobank that provides the best value across its suite of financial products. Last August, BigPay announced it had secured up to US$100 million in financing from South Korea's SK Group. It suffered a major setback recently, however, when it failed to secure a digital banking licence from Bank Negara Malaysia.
CGS-CIMB Research aviation analyst Raymond Yap points out that CapA's digital businesses remain in investment mode, and says he lacks the confidence to attribute to them significant equity values, given that competitors in the space remain in the red.
"We have assumed a RM2 billion valuation for the digital businesses. Our RM2 billion digital valuation is pegged to roughly half of the valuation implied by the Gojek Thailand transaction," he says in a May 27 report.
CapA announced last July that it would acquire 100% of two Gojek Thailand entities, in return for the sellers owning 4.76% of AirAsia Superapp Sdn Bhd, in which CapA will retain 95.24% equity interest. CapA had announced then that the deal valued AirAsia Superapp at US$1 billion. Subsequently, CapA completed the acquisition of only one Gojek Thailand entity, in exchange for a 3.81% stake in Air­Asia Superapp, in which CapA retains the rest of the shareholding, says Yap.
On Aug 18, 2021, CapA announced that its Singapore-registered wholly-owned subsidiary Teleport Everywhere Pte Ltd had signed an agreement to acquire Malaysian online food delivery platform Delivereat for US$9.8 million, paid in both cash and Teleport shares. The deal valued Teleport at US$300 million.
"We consider CapA's digital businesses to be in the investment stage, where they may consume significant amounts of cash resources, which is also because they are competing against established and well-funded competitors. Some of the losses could be mitigated in the future by volume growth and economies of scale. We have decided to include some of the digital valuation into CapA's RNAV [revised net asset value] and target price to reflect the amount of work that has been done to build the platforms and to market them to users regionally," says Yap.
According to Hong Leong Investment Research aviation analyst Daniel Wong, CapA's super app is expected to achieve positive earnings before interest, taxes, depreciation and amortisation (Ebitda) in 2QFY2022.
"Key risk is its Practice Note 17 (PN17) status, affecting the attractiveness of the counter — management is confident in resolving the issue without capital dilution or equity raising. We believe the plans involve corporate reorganisation and partial disposal of subsidiaries or investments," he says in a May 27 note.
CapA fell into PN17 status in January after its external auditor Ernst & Young PLT (EY) issued an unqualified audit opinion with material uncertainty relating to a going concern in respect of its financial statements for the year ended Dec 31, 2019 (FY2019), and its shareholders' equity on a consolidated basis was 50% or less of its share capital. The group has a negative shareholder equity of RM7.35 billion while its share capital stood at RM8.65 billion at end-March 2022.
Fernandes says CapA has received a clean audit report from EY and is confident of meeting the deadline to submit a plan to Bursa Malaysia by early January 2023. It has six months from then to complete its regularisation.
Given that CapA's cash balance fell to RM364.42 million at end-March 2022, from RM1.26 billion at end-December 2021, Nomura Global Markets Research analysts Ahmad Maghfur Usman and Divya Thomas believe fund-raising will be a highly significant issue for the group in 2Q2022, as operating cash flow remains negative, despite improvement in passenger numbers and the reasonably high load factor of 76% in 1Q2022.
"At its analysts' briefing call on May 26, CapA management noted that it expects to raise RM1 billion for the airline business (debt) and RM600 million for the non-airline business (debt and equity) by June. We think this could be highly significant, as a failure to raise capital could put the airline operations at risk," they say in a May 27 report.
Travel is bouncing back, but is it sustainable?
CapA has been loss-making since FY2019. It posted a bigger net loss of RM903.79 million in 1QFY2022, up 18% year on year. This was despite revenue for the quarter growing 153% y-o-y to RM811.78 million.
While analysts expect CapA to experience a strong air travel recovery domestically and in Asean in 2022 and 2023, they are maintaining their loss estimates for now. A Bloomberg consensus estimate of analysts projects the group to post a net loss of RM1.48 billion in FY2022 and a net profit of RM198.5 million in FY2023.
"Although we expect better passenger numbers for 2H2022, we think rising fuel and maintenance costs as planes are put back into the sky could offset the benefits from rising passenger numbers. Furthermore, the company also plans to rehire furloughed staff by the end of the year, in tandem with capacity addition," say Ahmad Maghfur and Thomas. Energy information provider Platts' price data shows that the jet fuel price has risen 128% over the past year to US$176.6 per barrel as at June 10.
Endau Analytics' Shukor believes the worst is not over for all airlines and that 2H2022 will be "incredibly challenging" for the airline industry, owing to a combination of high fuel prices, geopolitical and economic uncertainties, inflation and high interest rates that look set to crimp consumer spending.
He says: "While we see the summer peak travel demand, where people talk about pent-up or revenge travel, my view is that this is only temporary. I don't think it will last beyond summer.
"The airline business is very dependent on the health of the global economy and consumers' discretionary spending. But if life is going to be more difficult because things are going to cost more and become more unstable, and airfares are through the roof, [then travel demand won't be sustained].
"Also, this strong push for sustainability is going to come into play. If airlines are serious about achieving net-zero carbon emissions by 2050, then they can't continue to talk about pent-up and revenge travel because how is that going to reconcile with reducing carbon emissions? The airline business is about wanting people to travel, but at the same time, how do you achieve the net-zero carbon emission goals?
"Because when you push for new tax credits for sustainable aviation fuels (which cost more than conventional jet fuels), there is a cost to this. And consumers are usually the ones having to shoulder this cost. My fear is that air travel will get more expensive to a point where the higher airfares, coupled with the global economic uncertainty, are going to put people off from flying."
CapA has lost 44% of its value since Covid-19 hit in early 2020 as borders closed and people spent more time at home. It fell to a one-year intra-day low of 55 sen on Jan 14, 2022, after Bursa Malaysia dismissed its appeal against being classified as a PN17 company. The counter closed at 58 sen last Friday, which translates into a market capitalisation of RM2.39 billion.
Capital A could fetch higher valuations in US markets have 2437 words, post on www.theedgemarkets.com at June 28, 2022. This is cached page on Business News. If you want remove this page, please contact us.