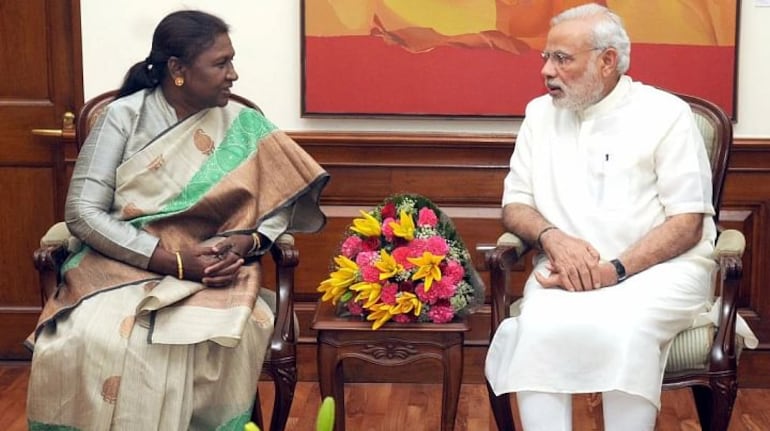 Draupadi Murmu with PM Modi (File Image)
The Bhartiya Janata Party (BJP)-led National Democratic Alliance (NDA) has named former Governor of Jharkhand Draupadi Murmu as its candidate for the presidential elections. Murmu, 64 , will be up against former union minister Yashwant Sinha, the Opposition's candidate for the July 18 polls.
The decision to field a woman tribal leader, announced by BJP president JP Nadda, was taken in the party's parliamentary board meeting chaired by Prime Minister Narendra Modi at party headquarters in Delhi.
READ | Yashwant Sinha announced as Opposition's joint candidate for presidential polls
"For the first time, preference has been given to a woman tribal candidate. We announce Draupadi Murmu as NDA's candidate for the upcoming Presidential elections," Nadda said after the meeting.
Smt. Droupadi Murmu Ji has devoted her life to serving society and empowering the poor, downtrodden as well as the marginalised. She has rich administrative experience and had an outstanding gubernatorial tenure. I am confident she will be a great President of our nation.

— Narendra Modi (@narendramodi) June 21, 2022
If Murmu wins, she will be the first tribal President of India and the second ever women President. Pratibha Patil who served as the 12th President of India from July 2007 to July 2012 was first women President of India.
As many as 20 names were discussed at the meeting, Nadda said.
Murmu's candidature came hours after Opposition parties, including the Congress, picked Yashwant Sinha , a veteran politician and former union minister, as their candidate for the presidential polls. The BJP, Nadda said, would have wanted a common candidate by the ruling NDA and Opposition for the top post. "Since Opposition has announced its candidate, we had to pick a name, " he said.
The last date for filing nominations for the Presidential polls is June 29. The polling will take place on July 18 and the votes will be counted on July 21. The term of the current President Ram Nath Kovind ends on July 24 and an election for the next president has to be held before that day.
Murmu was Governor of Jharkhand between 20015 and 2021. She has also been National Executive member of BJP's ST morcha until April 2015. She has been member of Odisha legislative assembly twice and was also a minister of state in the Odisha government under Naveen Patnaik between 2000 and 2004.
Congratulations Smt #DraupadiMurmu on being announced as candidate of NDA for the country's highest office. I was delighted when Hon'ble PM @narendramodi ji discussed this with me. It is indeed a proud moment for people of #Odisha .

— Naveen Patnaik (@Naveen_Odisha) June 21, 2022
The BJP may not have the numbers to get the NDA candidate as the next President of India . So, the role of parties like Biju Janata Dal (BJD), and YSRCP will be key. And with Murmu, a leader from Odisha, the BJP had ensured BJD's support.
Odisha chief minister Naveen Patnaik hailed the move. "I  was delighted when Hon'ble PM Narendra Modi ji discussed this with me. It is indeed a proud moment for people of Odisha," Patnaik wrote in a tweet.
Murmu has served as junior assistant in irrigation and power departments in Odisha government between between 1979 and 1983. She has also worked as assistant teacher at Shri Aurobindo Integral Education Centre, Rairangpur, Odisha between 1994 and 1997. She started her political career by becoming a Councillor in Rairangpur district of Odisha in 1997 and went on to become the vice- chairperson of Rairangpur in the same year
Also, read | Explained: How is the President of India elected?
The presidential election is conducted indirectly through an electoral college consisting of Members of Parliament and legislative assemblies of states and Union Territories.
Apart from PM Modi and BJP president JP Nadda, other members of the board who attended the meeting included Home Minister Amit Shah, Defence Minister Rajnath Singh, Union Minister for Roads Transport and Highways Nitin Gadkari, Madhya Pradesh Chief Minister Shivraj Singh Chouhan and party general secretary (organisation) BL Santosh.
BJP-led NDA names Draupadi Murmu, former governor of Jharkhand as candidate for presidential polls have 852 words, post on www.moneycontrol.com at June 21, 2022. This is cached page on Business News. If you want remove this page, please contact us.