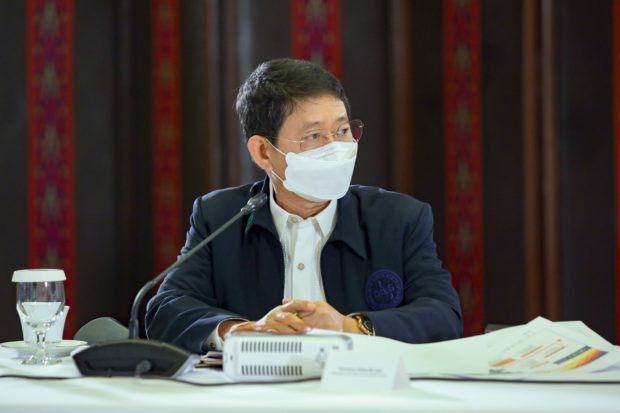 Interior Secretary Eduardo Año (File photo by the Facebook page of PCOO)
MANILA, Philippines — A total of 4,801 personnel of the Department of the Interior and Local Government (DILG) personnel and local chief executives have COVID-19,  Interior Secretary Eduardo Año said during the taped weekly "Talk to the People" that aired Monday night.
According to Año, the total number of active cases consist of the following:
DILG central and regional offices – 98
Philippine National Police – 4,015
National Police Commission –  60
Bureau of Fire Protection – 471
Bureau of Jail Management and Penology – 91
Local Government Academy – 10
Philippine Public Safety College – 13
Philippine Commission for Women – 13
National Commission for Muslim Filipinos – 1
National Youth Commission 4
governors – 4
mayors – 21
Año assured the public, however, that the DILG would continue to fulfill its mandate.
Earlier, the Department of Health reported 37,070 new infections, bringing total active cases to 290,938.
RELATED STORIES
PH logs 37,070 more COVID-19 cases; over 33K others recover
DOH confirms community transmission of Omicron variant in Metro Manila
ATM
Subscribe to our daily newsletter
4,801 DILG personnel, chief execs infected with COVID-19 – Año have 201 words, post on newsinfo.inquirer.net at January 18, 2022. This is cached page on Business News. If you want remove this page, please contact us.