Tax reductions, exemptions likely to amount to VND60 trillion next year
The Government has proposed to the National Assembly (NA) a package worth over VND60 trillion to reduce and exempt taxes for residents and enterprises next year, said Minister of Finance Ho Duc Phoc.
In October, the NA's Standing Committee issued a package worth VND21.3 trillion to reduce and exempt taxes, including cutting 30% of the corporate income tax for firms with a revenue of less than VND200 billion per year each, reducing and exempting personal income tax and value added tax for business households and individuals in pandemic-hit areas, and reducing 30% of the value added tax for production and service enterprises.
As for the results of policies to reduce and exempt taxes and land rentals and delay the deadlines to pay fees and taxes, tax agencies have reduced and exempted land rentals totaling some VND3.5 trillion as of November, according to a report by the General Department of Taxation.
Tax agencies have also reduced taxes worth VND19.7 trillion. Moreover, the deadlines to pay taxes and land rentals valued at VND92.9 trillion have been rescheduled for enterprises, organizations, business households and individuals this year.
CAAV suggests more flights to Japan, RoK, Taiwan (China)
The Civil Aviation Authority of Vietnam (CAAV) has suggested increasing the frequency of flights to Japan, the Republic of Korea (RoK) and Taiwan (China).
In a report recently sent to the Transport Ministry, the CAAV proposed holding seven weekly flights between Vietnam and Japan in the first stage starting from January 2022.
It also asked the Transport Ministry to suggest the Foreign Ministry work with representative agencies of countries and territories that are yet to offer opinions about the plan, including the RoK, China, Thailand, Singapore, Laos and Taiwan (China).
So far, Vietnam Airlines has sold tickets for flights from Japan and the US while Vietjet Air offers tickets for flights from Japan.
Data from the Foreign Ministry showed that over 140,000 overseas Vietnamese are wishing to return home so that existing regular commercial flights only meet a small part of their demand.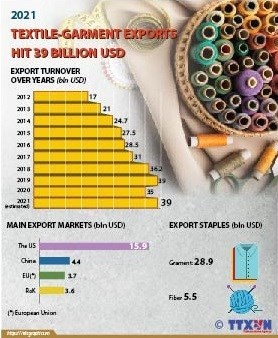 CAAV suggests more flights to Japan, RoK, Taiwan (China)
Lang Son seeks ways to facilitate exports to China
The northern border province of Lang Son has held a working session regarding COVID-19 preventives measures at border gates so as to create optimal conditions for exports-imports.
The local health sector is asked to propose the People's Committee issue a document requesting those who ship their products abroad through Lang Son to show certificates on COVID-19 prevention and control.
The province also plans to urge Chinese agencies to accept the results of disinfection in Vietnam, which is believed to facilitate customs procedures.
The selection of prioritised export items and suitable control methods must be drafted and submitted to the provincial People's Committee by January 10, 2022.
Competent agencies and local authorities are urged to take the initiative in holding talks and exchanging information with the Chinese side to tackle difficulties in customs procedures.
Fishery exports projected to near 8.9 billion USD this year
Shipments of fishery products are estimated to rake in 8.89 billion USD in 2021, posting a year-on-year rise of 5.7 percent, said Nguyen Quang Hung, deputy head of the Ministry of Agriculture and Rural Development's Directorate of Fisheries.
Demand for shrimp imports was on the rise this year, notably in major markets of Europe, the US, Japan, China and the Republic of Korea (RoK). Free trade agreements have helped ensure stability in Vietnam's shrimp production and processing, contributing to the sector's growth.
Many Vietnamese exporters were allowed to ship tra fish (pangasius) to the US. More firms received permission to export products to other leading markets of Russia, the RoK and China this year.
Of note, nearly 780 out of about 900 fishery companies of Vietnam are eligible to ship their products to the Chinese market, signalling a rosy prospect for the sector in 2022.
Vietnam targets further digital transformation in 2022
The new year will be one of promoting digital transformation across all industries on a national scale. It will be the first year of implementing new strategies on digital infrastructure, data, technology industry and technology enterprise, said Minister of Information and Communications Nguyen Manh Hung at a recent conference.
A report from the ministry showed that the ranking indicators in many fields of the information and communication industry are highly regarded by international organisations. In 2021, the revenue of the information and communication industry reached 3.4 quadrillion VND, hitting all set targets and representing a nine percent year-on-year increase.
The largest contribution to the industry's revenue came from the ICT industry, with this year's revenue estimated at more than 136 billion USD, an increase of more than 11.4 billion USD compared to 2020. The main contributor was FDI enterprises with more than 117 billion USD.
This year also marked a strong growth in the number of ICT businesses. Vietnam currently has 64,000 digital technology enterprises, adding 5,600 enterprises since 2020.
RoK, Japan look to boost agricultural exports to Vietnam
The Republic of Korea (RoK) and Japan are eyeing bigger shares of Vietnam's agricultural product and food market, given that the festive season is approaching with growing customer demand.
In a recent promotion event in Ho Chi Minh City where various agricultural products made in the RoK were introduced, Uiseong province has showcased to Vietnamese consumers its signature products, including kimchi, black garlic, red ginseng, ginseng, grapes, apples, and fermented fruit drinks.
Similarly, the Japan External Trade Organisation (JETRO) in HCM City has launched an exhibition of Japanese food products called "TASTY in all of JAPAN" at Sofitel Saigon Plaza Hotel in the southern city's District 1. The ongoing exhibition features about 300 agricultural products from across Japan.
HCM City seeks to boost support industries
The investment in the industrial sector and support industries in Ho Chi Minh City needs consultancy from the social community, heard an international workshop on December 24.
Vo Van Hoan, Vice Chairman of the municipal People's Committee, said HCM City's industrial production value accounts for about 32.3 percent of the number recorded in the southern key economic region, and 16 percent of the country's total.
The city has rolled out multiple solutions to support industrial firms in terms of land, capital, science-technology, personnel training, trade promotion and brand building.
Through investment promotion programmes, HCM City has mobilised diverse resources to serve the development of the sector, he added.
Experts pointed out that potential for the industrial sector and support industries in the locality has yet to be fully tapped, saying support industries have not intensively joined the global value chain yet.
Virtual exhibitions introduce Vietnamese products to Australians
The Vietnamese Trade Office in Australia is running a series of virtual exhibitions displaying key products of Vietnam between December 10 and 31 in a bid to boost exports next year.
The sourcing expos feature 350 stalls showcasing a range of goods classified into different sectors such as garment-textile, footwear, farm produce, seafood, and woodwork products.
The event will continue in January next year on the website www.vietnamsourcingexpo.com.
According to the General Department of Vietnam Customs, in the first 11 months of 2021, trade between Vietnam and Australia neared 11.18 billion USD, up 50.23 percent year-on-year. Of the sum, the value of Vietnam's shipments to Australia exceeded 3.97 billion USD, with growth recorded for many key export earners such as apparel, footwear, aquatic products, farm produce, and rice.
Vietnam has 320 food product codes licensed for export to China
Vietnamese businesses had 320 codes of agricultural and food products licensed to be exported to China as of 11am on December 24, according to the Vietnam Sanitary and Phytosanitary Notification Authority and Enquiry Point (SPS Vietnam).
SPS Vietnam said the Chinese General Administration of Customs is still updating the list of the licensed codes and businesses on https://ciferquery.singlewindow.cn/, so enterprises can check information on this website.
It added the food exporters that haven't applied for licenses can submit applications to competent agencies of China or via the websites http://cifer.singlewindow.vn/ and http://singlewindow.cn/.
From January 1, 2022, foreign businesses producing food for export to China will have to print the commodity codes granted by China Customs or authorised agencies of Vietnam both inside and on the product packages.
SPS Vietnam recommended enterprises stay updated with information about the codes so as not to affect the shipment to China.
Demand for Tet goods starts to rise gradually
Demand of goods in HCM City is increasing gradually before the Tet (Lunar New Year) holidays thanks to promotions and the greater diversity of products than last year.
Though there is more than a month to go for the year's biggest festival, Saigon Co.op's retail chains Co.opmart, Co.opXtra, Co.op Food, and Co.opSmile have started offering Tet discounts already.
Products such as cosmetics, cleaning products, personal care and beauty products, and foods that can be stored for long without spoiling are sold at discounts now so that customers only need to buy fresh foods or ready-to-eat dishes before Tet.
The city has called on distributors and manufacturers to launch promotions and prioritise online sales and non-cash payments.
Tax collection exceeds estimate
The total State budget revenue managed by the tax authorities reached nearly VND1.3 quadrillion this year, exceeding the estimate by over VND177 trillion (US$7.7 billion).
The General Department of Taxation said that State budget collection task was significantly affected by economic difficulties and challenges, especially since the end of April when the COVID-19 pandemic broke out again.
Many key economic areas have implemented prolonged social distancing; production and business activities of enterprises have stalled; supply chains have been disrupted; and the economy has gone down, the department said.
According to the report on revenue estimates of tax departments for the year, 60 of 63 localities assessed exceeded the estimate of State budget revenue for the year.
It is estimated that there will be nearly 140,000 applications for tax payment extensions his year. The total amount of tax and land rent to be extended is VND92.9 trillion.
HCMC sets aside over 300 hectares to develop supporting industrial park
HCMC is set to develop a supporting industry park with an area of over 300 hectares in the coming months to form a community of hi-tech supporting industry enterprises.
Speaking at an international conference on December 24, HCMC Vice Chairman Vo Van Hoan said that establishing a hi-tech-based supporting industry park is vital, especially during the current post-industrial period.
The supporting industry park, meant to accommodate manufacturers of hi-tech components, is expected to feature modern infrastructure and gather all hi-tech firms, contributing to boosting the development of the supporting industry and moving toward joining the global supply chain.
The establishment of a supporting industry park will stimulate the city's economic growth, said Hoan.
Hi-tech supporting industry parks are popular in many countries, including Japan, Malaysia and Thailand, but remain scarce in Vietnam due to issues related to operation mechanisms, investment attraction and management, said the vice chairman of HCMC.
Ben Tre, Vinh Long to jointly build new bridge over Co Chien River
Ben Tre and Vinh Long provinces have held talks to discuss the development of a new bridge – Dinh Khao Bridge – spanning over the Tien River to link the two Mekong Delta localities and replace the existing Dinh Khao ferry services, said a local transport official.
Under the first plan, the project will stretch six kilometers. The main bridge will be 1.8 kilometers long, 12 meters wide and have two lanes. It will be 1.2 kilometers away from the Dinh Khao ferry terminal and require over VND2 trillion in investment.
Under the second plan, the project will have a total length of over 11 kilometers. The length of the main and auxiliary bridges will be 1.5 kilometers, with four lanes and around VND2.4 trillion in investment. It will be 5.5 kilometers away from the ferry terminal.
For the third plan, which costs some VND3.1 trillion, the project will be 17 kilometers long. Of this, the main bridge will be 1.6 kilometers long and 11 kilometers away from the ferry terminal.
The bridge project is scheduled for completion in 2030.
US$1.3 bln invested into North-South overhead road
The two projects are on the list of works in Ho Chi Minh City calling for investments in the period of 2021-2030 under BOT contracts.
Vietnam's retail banking forecast to boom by 2026
Digital transformation in banking is indispensable to providing products and services to the Vietnamese population, especially the vulnerable.
The Covid-19 pandemic has lasted from the beginning of 2020 with extremely complicated developments, causing serious impacts on people and businesses.
With support from the proactive application of technology, credit institutions, financial companies, and intermediaries have launched many modern banking products and services such as mobile banking, internet banking, contactless payment, and QR code.
After being approved by the State Bank of Vietnam, local banks have applied new technology to identify customers (electronic Know Your Customer – eKYC), banking products and services that meet people's needs, ensuring safety, saving time, and supporting customers in remote areas who find it difficult to access banking services.
In which, online banking services, such as internet banking and mobile banking, have a remarkable growth rate, accounting for more than 40% of transactions, especially those with banks reaching more than 80% of the total. The growth rate of payment via QR code was up to 200% compared to 2020.
Export turnover may fetch over US$335 billion by year-end
Viet Nam's export turnover is expected to reach US$335.23 billion in 2021, representing a year-on-year increase of 18.6%, according to the Ministry of Industry and Trade.
The forecast growth rate of 18.6% surpasses the Government's preset goal of 13.6% by 4-5%.
Total trade turnover is projected to rise by 22.4% to US$ 667.5 billion, said the ministry.
In December alone, import turnover was estimated at US$ 32 billion, representing a month-on-month increase of 4.5% and a year-on-year growth of 14.7%.
Meanwhile, the nation's import value is estimated at US$ 332.27 billion this year, up 27.9%.
The total trade volume was forecast at 667.5 billion in 2021, representing a year-on-year increase of 22.4%.
Source: VNA/VNS/SGT/SGGP/VOV/VIR/VGP
VIETNAM BUSINESS NEWS DECEMBER 26 have 2548 words, post on vietnamnet.vn at December 26, 2021. This is cached page on Business News. If you want remove this page, please contact us.