This article first appeared in The Edge Malaysia Weekly, on
October 4, 2021
– October 10, 2021.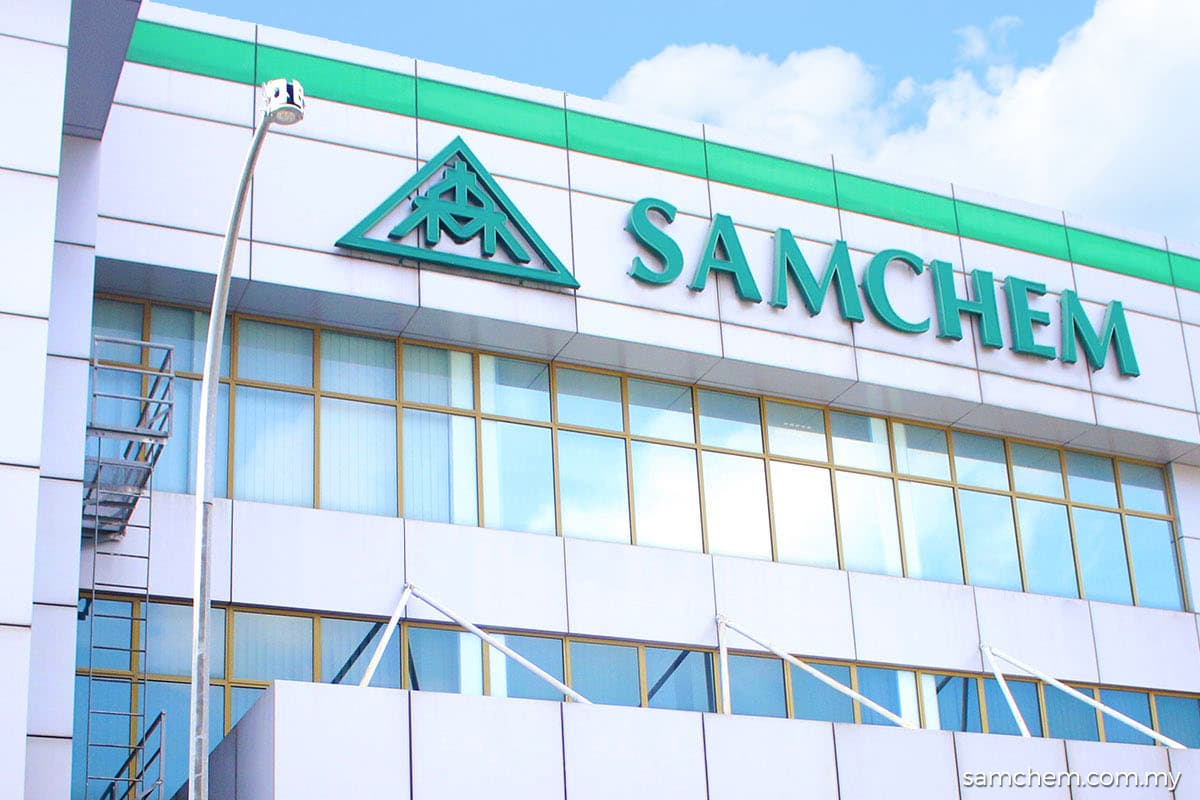 AFTER delivering a stellar financial performance last year with a revenue of RM1.05 billion and record profit before tax (PBT) of RM60.29 million, integrated chemicals and lubricants distributor Samchem Holdings Bhd looks to be on cruise control to deliver another bumper year, the Covid-19 pandemic notwithstanding.
Its performance in the first half of 2021 has already surpassed its full-year performance in 2020 — a quick check on Samchem's financials for the first half of the year ended June 30 (1HFY2021) shows that the group delivered a PBT of RM62.66 million.
In view of this, Samchem executive director Ng Ai Rene says the group is confident of delivering another record year. "We are seeing a rebound in demand with the reopening of most [economic] sectors in Malaysia and our customers, which are manufacturers, are trying to play catch-up as there is a lot of pent-up demand and backlog of orders to fulfil.
"[Although] margins may taper down slightly in the third or fourth quarter, we expect to maintain healthy margins. We have also expanded our product portfolio and obtained new agencies (product lines), so we actually have a much larger earnings base."
Samchem represents some of the region's largest producers of petrochemicals, such as ExxonMobil Chemical, BASF, Shell Chemicals and Petronas Chemicals. The group is also an authorised distributor of Shell lubricants for the central, eastern and northern regions of Malaysia.
It is also a distributor of speciality chemicals for a large number of speciality chemical manufacturers such as Momentive, Venator, Evonik and Shin-Etsu. Altogether, the group has more than 7,000 clients.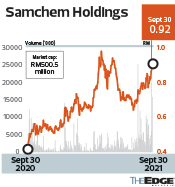 Strengthening foothold in Vietnam
Samchem has been operating in Vietnam since 2006 via its 63.25%-owned subsidiary Sam Chem Sphere Joint Stock Company, and has been strengthening its foothold in the socialist republic. The other shareholders of Sam Chem Sphere are Singaporean businessman Dennis Ho (35.75%) and Vietnamese businesswoman Nguyen Thi Thu Thao (1%).
In 2018, the group announced to Bursa Malaysia that it was exploring the possibility of listing Sam Chem Sphere on the Ho Chi Minh Stock Exchange.
Samchem founder and executive chairman Ng Thin Poh, who is Ai Rene's father, says the group's Vietnamese listing is on track.
"We are ready, we are just waiting for the legislation for listing to be finalised there, as there have been some changes to the listing requirements. We want to list in Vietnam as we have an agreement with [the other shareholders] to do so," he tells The Edge.
"However, after listing, [Sam Chem Sphere] will continue to be our subsidiary, and we will still hold more than 51%. The listing will help us raise capital more easily moving forward."
At the start of this year, Vietnam saw a revamp of its listing rules, including those pertaining to limitations on foreign ownership in public companies and new conditions for public offerings.
Thin Poh is confident about the group's prospects in Vietnam. In fact, Vietnam's contribution to group revenue even exceeds that of its home country, Malaysia. In 1HFY2021, Samchem reported a group revenue of RM702.25 million, of which Vietnam contributed 48% and Malaysia, 39%.
"We expect [Vietnam's contribution to group revenue] to grow exponentially. The population in Vietnam is more than 90 million, and Malaysia's is only one third of that. Vietnam's economy is mainly based on manufacturing for exports, so the amount of chemicals needed is about three times that in Malaysia," he says.
"It is said that Vietnam is the next China in terms of being the factory of the world. So, the consumption of chemicals there is expected to grow and that is why we place a lot of importance on Vietnam."
As for its expansion into other Indochinese countries such as Myanmar, Thin Poh says the group has put that plan on hold for a while given the political uncertainty there after the military seized control in February.
Meanwhile, Indonesia contributed 11% to group revenue in 1HFY2021 while Singapore contributed 2%.
Ai Rene says the group plans to be in "every industrialised country in this region". "So, that will include the Philippines and Thailand. It may be a bit difficult right now in Thailand because of the regulations that [prohibit] foreigners from taking up a majority stake in companies there.
"As for the Philippines, in the past, we had identified a partner there. But after some due diligence, we realised that the partner was not that strong. So, we decided to wait until a better time rather than go in unprepared. [Going into these countries] are in the pipeline, but we have to wait for the pandemic to be over."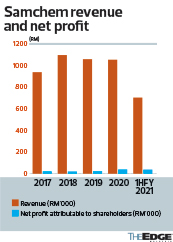 Strength in diversification
Ai Rene says the group's strength lies in its diversified chemicals portfolio base and clientele. "For example, during the Movement Control Order period, the construction industry was shut down for quite some time. If we had just focused on that sector alone, we would have been in really big trouble. So, having a diversified client base helps."
Thin Poh concurs, saying that the group sees exciting growth prospects two to three years from now. "As Covid-19 infections around the world subside, we don't expect the demand for travel to really pick up. But what will pick up is the demand for physical goods — mattresses, furniture … and all these goods need chemicals.
"Also, the exorbitantly high freight costs seen this year, which has curtailed exports to places like the US and Europe, is expected to come down next year. So, we expect our customers in Malaysia and Vietnam to start shipping more goods next year, and hence a higher demand [for chemicals]."
The group is in the midst of constructing a new warehouse in Pulau Indah, Klang, which is expected to be completed by 3QFY2022. The new facility will help consolidate the group's warehousing operations in the central region.
"Currently, our warehouses in the central region are at overcapacity. So, once the new warehouse is operational, it will double our warehousing capacity in the region. This will allow us to take on more roles (blending storage, drumming and other services) from our customers as we will have the space," says Ai Rene.
Samchem's share price has gained positive traction in the past two months. Since closing at 72 sen on July 30, the stock has gained 28% to close at 92 sen last Thursday, giving the company a market capitalisation of RM500.5 million.
Thin Poh is the largest shareholder of Samchem with 45.8% equity interest, while private investor Tan Teck Beng has a 5.03% stake.
In a Sept 15 note on Samchem, Rakuten Trade, which has a "buy" call on the stock with a target price of RM1.25, says the group has been paying dividends constantly over the past three years, with a payout ratio of 29.1% to 47.4%.
Based on the dividend per share (DPS) of 2.1 sen paid out for FY2020, the stock has a dividend yield of 2.28% based on last Thursday's closing price. Rakuten forecasts a DPS of 4.1 sen and 4.7 sen for FY2021 and FY2022 respectively, for a dividend yield of 4.45% and 5.1%.
"The company also has a healthy balance sheet, with a gearing ratio of 0.54 times as at 1HFY2021. Our 'buy' recommendation is premised on pent-up consumer demand for petrochemicals and lubricants following the relaxation of the standard operating procedures, capacity expansion plan and attractive dividend yield," says the brokerage.
Samchem banks on Vietnam for future growth have 1473 words, post on www.theedgemarkets.com at October 14, 2021. This is cached page on Business News. If you want remove this page, please contact us.