Ministry: 24 cities, provinces offer online, television teaching
As many as 24 cities and provinces nationwide are offering online and television teaching to students, reported the Ministry of Education and Training.
Such localities are An Giang, Bac Lieu, Ben Tre, Binh Duong, Binh Phuoc, Can Tho, Da Nang, Dak Nong, Dong Nai, Dong Thap, Hanoi, Hau Giang, Hung Yen, Kien Giang, Long An, Phu Yen, Quang Binh, Quang Ngai, Soc Trang, Tay Ninh, Ho Chi Minh City, Tien Giang, Tra Vinh and Vinh Long.
Other 25 localities are organising in-person classes to all students, comprising Bac Giang, Bac Kan, Binh Dinh, Cao Bang, Dien Bien, Gia Lai, Ha Giang, Ha Nam, Ha Tinh, Hai Duong, Hai Phong, Hoa Binh, Kon Tum, Lai Chau, Lao Cai, Nam Dinh, Ninh Binh, Phu Tho, Quang Ninh, Thai Binh, Thai Nguyen, Thanh Hoa, Tuyen Quang, Vinh Phuc and Yen Bai.
The provinces of Ba Ria – Vung Tau, Bac Ninh, Binh Thuan, Ca Mau, Dak Lak, Khanh Hoa, Lang Son, Lam Dong, Ninh Thuan, Nghe An, Quang Nam, Quang Tri, Son La and Thua Thien-Hue combine online, offline and television teaching.
The ministry also issued guidelines for the implementation of primary, secondary and high school education for the 2021-2022 academic year in response to COVID-19 pandemic, making it easier for educational establishments to build their own teaching plans, considering pandemic developments in their localities while ensuring education quality./.
World Tourism Day 2021 to focus on tourism for inclusive growth
World Tourism Day 2021, which is observed on September 27 annually, will focus on "Tourism for Inclusive Growth" this year, according to the Vietnam National Administration of Tourism (VNAT) at the Ministry of Culture, Sports and Tourism.
The United Nations World Tourism Organisation (UNWTO) re-affirmed a commitment that nobody is left behind as the world begins to open up again and look to the future, in a bid to build a more prosperous and peaceful world through tourism.
Deputy Minister of Culture, Sports and Tourism Doan Van Viet recently attended a ministerial session on re-opening ASEAN tourism destinations for international tourists held within the framework of Global Tourism Indonesia 2021.
Viet said that in September, the Prime Minister ordered studying a pilot programme to welcome international tourists to Phu Quoc island offshore southern Kien Giang province.
The Ministry of Culture, Sports and Tourism is mulling over the plan and working to choose suitable group of tourists and step up vaccinations in Phu Quoc before the launch of the pilot programme scheduled for October.
In the projected procedures, before arrival, visitors will be asked to install the "Vietnam Safe Travel" app to fill in vaccination status and necessary medical information. A QR code will be generated to each holidaymaker.
The VNAT over the time has strived to update, improve and complete functions of the app so as to serve international tourists, including display in English language and the integration of COVID-19 vaccine verification system in line with European standards./.
VN feature films screened free on YouTube
The Việt Nam Film Institute (VFI) is offering nine State-funded Vietnamese films made during different periods for free screening on YouTube.
The work aims to bring Vietnamese films closer to audiences, especially younger generations, and help them learn more about the country's history.
Among the films are two biographical productions about President Hồ Chí Minh, including Nhà Tiên Tri (The Prophet) directed by Vương Đức and Nhìn Ra Biển Cả (Reaching out to the Open Sea) by Meritorious Artist Vũ Châu.
Nhà Tiên Tri was released in 2015 to mark the 125th birthday of President Hồ Chí Minh (May 19). It follows the President's life and activities from 1947-50 during the resistance war against French invaders.
Nhìn Ra Biển Cả, released in 2010, focuses on the President's youth. It is set in the early 20th century before he moved to Sài Gòn and worked as a kitchen hand on a French steamer travelling to Marseilles.
In addition, VFI has presented works praising the country's resistance wars, patriotism, humanity, and lifestyle.
Dòng Sông Hoa Trắng (River of White Flowers), a 32-year-old production by late director Trần Phương, revolves around the life of four beautiful female commandos who devoted their youth to protecting the country.
It features People's Artists Trà Giang and Lê Khanh, and actress Diễm My.
Meanwhile, Cuộc Đời Của Yến (Yến's Life) directed by Đinh Tuấn Vũ is about the life of a 10-year-old girl whose marriage was arranged by her parents.
The film won the Grand Festival Prize at the World Premieres Film Festival in the Philippines in 2016.
It also won the Silver Lotus Award, best actress in a leading role, best music score, best cinematography and best production design, at the 19th Việt Nam Film Festival in 2015.
The screening also features other award-winning films like Lương Tâm Bé Bỏng (Innocent Conscience) from 1993, Chung Cư (The Building) 1999, Mùa Ổi (Guava Season) and Mặt Trận Không Tiếng Súng (Battle Without Gun) 2000, and Đừng Đốt (Don't Burn) 2009.
All the movies have attracted more than 500,000 views on VFI's YouTube channel.
YouTube user Trung Giang Tran said young people need to watch more classic films to understand the country's history, and asked VFI to upload more and more films.
According to VFI, the nine films are outstanding works of Việt Nam's cinema industry. They were sent to compete at film festivals in the country and abroad, but have not been widely screened at local cinemas.
In the near future, VFI will add more works on its YouTube and other video streaming platforms to popularise Vietnamese films.
Hanoi's medical facilities required to raise COVID-19 alert to highest level
Hanoi's Department of Health has urgently requested both public and private medical facilities to raise their COVID-19 alert to the highest level as part of efforts to curb the spread of the virus in the community.
All medical facilities, public and private alike, were asked to remain highly vigilant and continue with strict COVID-19 prevention and control measures.
The capital city has four times extended its social distancing order to half the spread of the virus, and the latest order is to expire on September 21. Though the outbreak is showing sign of abating, several community cases have been detected daily through random testing or test screening at medical facilities.
In a dispatch signed by Nguyen Dinh Hung, deputy director of the Municipal health Department, all medical facilities were required to test patients, caregivers, and healthcare workers if they who flu-like symptoms such as a fever, a cough, a shortness of breath.
They were asked to monitor the implementation of COVID-19 prevention and control measures in their units to early detect and quarantine suspect cases and to avoid cross transmission.
Hanoi has so far recorded more than 4,100 coronavirus cases since the virus recurred in late April. It has recently eased social distancing measures in green zones, enabling people to travel and resume business services.
Dak Lak: legal proceeding started against man for infringing on State interests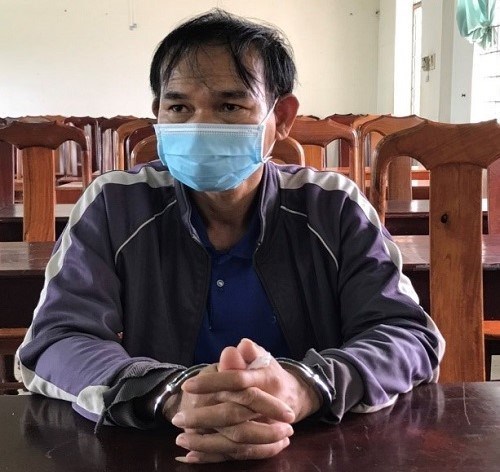 Y Wo Nie (Source: nld.com.vn)
The Investigation Police Agency of Cu Kuin district in Dak Lak province has started legal proceedings against Y Wo Nie, a resident in the district, to investigate the act of "taking advantage of the right to freedom and democracy to infringe upon the interests of the State and the legitimate rights and interests of organisations and individuals" in accordance with Article 331 of the Penal Code 2015.
The decision was approved by the district's People's Procuracy agency.
Accordingly, from the beginning of 2021, the district's police found that Y Wu Nie, born 1970, used a WhatsApp account to publish contents that distort and oppose the Party's guidelines and policies and the State's laws.
The district police summoned Y Wo Nie for investigation, and the man admitted to his illegal acts. Conducting a search of his residence, the Investigation Police Agency seized many documents with untrue contents and images, which slander, insult and defame the Party, State, and local authorities and police forces in Cu Kuin district and the Central Highlands province of Dak Lak.
The case is being handled in accordance with the law./.
Women's team ready for Asian Cup qualifiers
The Vietnamese national football team has arrived in Dushanbe, Tajikistan, ready to vie for their best results at the 2022 AFC Women's Asian Cup's qualifiers.
As the Afghanistan team have officially withdrawn, only three teams remain in group B.
Vietnam will first play the Maldives on September 23 and face the hosts six days later at the artificial grass Pamir Stadium.
Only the top team from each group will advance to the finals. The Asian Cup is also a qualification for the 2023 World Cup.
Vietnam is considered the strongest one among the three due to its higher ranking in the world but coach Mai Duc Chung is still careful when talking about his team's chances.
"Vietnam respect all teams although there are big gaps between us," said Chung who brings 23 players to the tournament.
"We will do our best in every match and hope for good results to advance to the finals."
Vietnam is ranked 33 in the world, Tajikistan is at 135 and the Maldives, 44.
Hours after landing in Dushanbe on Saturday, Chung and his assistants researched the destination's conditions and set up a training programme for the squad.
He said: "We had six test matches to review our preparations at home. After three losses, we won two and drew one with beautiful goals from great combination play. We appreciated the players' spirit, smoothness, tactical mind and technique. They ensure their fitness for whole match with a number of dribbles, passes, runs off the ball, tackling and finishing."
Chung said his players have not competed internationally for a long time but they are ready for the Asian Cup tournament.
He added: "We have been professional in our preparation. We also worked on lifting players' spirits and confidence. Now it is up to them on how they perform in the games."
"We have worked really hard and are determined to win a place at the World Cup," said deputy captain Nguyen Thi Tuyet Dung who has watched the Tokyo Olympics carefully and learnt a lot for herself.
Confident skipper Cu Thi Huynh Nhu added: "We come to Tajikistan and we will make our World Cup dream come true"./.
Tien Giang exerts every effort to combat IUU fishing
The fight against illegal, unreported and unregulated (IUU) fishing in the Mekong Delta province of Tien Giang has seen progress. The localities have considered this one of the key tasks to help the fishery industry achieve sustainable development and integration.
Tien Giang, located in the downstream of Tien River, has a coastline of 21 km, adjacent to large estuaries. The traditional fishery industry has developed strongly, creating jobs for more than 10,000 locals, and reaching an output of between 120,000 and 130,000 tonnes of seafood of all kinds annually.
The province has stepped up the combat against IUU fishing by setting up a IUU fishing steering committee, intensifying dissemination to raise fishermen's awareness, installing and operating vessel monitoring equipment for offshore fishing ships, and closely inspecting and monitoring fishermen's compliance with laws.
In 2021, the Department of Agriculture and Rural Development and relevant sectors and localities have organised 36 communication campaigns, attracting the participation of thousands of fishermen and ship owners and providing them with 1,080 documents to popularise guidelines, policies, directives and regulations on combating IUU fishing in the province.
As of September 15, all 961 operating offshore fishing vessels had been equipped with monitoring devices.
Since 2020, the provincial Department of Agriculture and Rural Development has conducted dozens of specialised inspections, checking 1,484 fishing vessels. Thereby, it made 33 records of administrative violations with a total fine of 250.5 million VND (10,900 USD) against 33 individuals who committed administrative violations related to IUU fishing.
In 2021, the provincial People's Committee also issued a decision on administrative violations. Accordingly, a fine of 1.8 billion VND is imposed on a private enterprises with two ships seized for violating foreign waters.
Thanks to these drastic measures, the fight against IUU fishing in the province has made positive changes. The number of fishing boats in the province that are seized by foreign countries has decreased remarkably, from 12 in 2017 to only one in 2021. Tien Giang pledges to continue its efforts to help remove the European Commission's "yellow card" warning so as to help the local fishery industry integrate and develop sustainably./.
COVID-infected nurses take care of other patients in quarantine
A nurse who tested positive for SARS-CoV-2 in Đắk Mil District, the Central Highlands province of Đắk Nông, has volunteered to assist COVID-19 patients in quarantine areas.
Võ Thị Thanh Truyền, 31, was infected with coronavirus while taking samples and tracing positive cases in late July.
Giving up COVID fighting tasks, she went into the quarantine area for treatment where she met a seven-year-old boy who was away from his family to be quarantined alone.
Seeing him cry and say goodbye to his mother, Truyền volunteered to stay with the little boy at the quarantine site to take care of him.
Truyền became a mother who provides every meal for the boy and also a doctor who encourages him to overcome pain.
From a stranger, now she is called 'Mother'.
Nguyễn Thị Minh, the boy's mother, said: "Truyền and my son were very close when they stayed with each other. Now when he has recovered, he usually tells me to call Truyền. Thanks to her help, my boy has been released from hospital."
When Truyền recovered, she met two children, one eight years old and another only seven months old, who were in hospital with their mother and aunt.
The children recovered from the virus infection more quickly than their mother and aunt and were transferred to a separate area.
Truyền volunteered to return to the treatment area to take care of the two.
Despite the fear of being infected again, Truyền continued to act as a mother to the two children.
She said: "I decided to stay to take care of the children because I used to be infected with the virus, experienced and understood treatment process so it is easier for me than my colleagues to take care of COVID patients."
She said upholding an optimistic attitude was very important to COVID patients.
To fight the virus, she encouraged other patients to improve their fitness and instructed them to clean their areas. Sometimes she forgot she herself was also a patient and was ready to help and share difficulties with any patient in need.
"There were six healthcare workers infected with COVID-19. All of them are like me, always take care of other patients because of our responsibility to our work," she said.
"We hope our work will reduce stress on patients. Out assistance in the quarantine areas also reduces infection risks for other colleagues out there."
Lê Bảo Trung, 29, a COVID-19 patient, was worried when he spread the virus to his wife who is six-months' pregnant.
"At the quarantine site, Truyền inspired everyone. Without her psychological assistance, I might have collapsed. Now everything is stable. Myself and my family members have recovered," he said.
Dr Nguyễn Đăng Trung, director of Đắk Mil District's healthcare centre, said the centre treated 62 COVID-19 patients including four children aged seven months to 15 years old.
The successful treatment was thanks to the efforts of the medical forces including nurse Võ Thị Thanh Truyền.
After her recovery, Truyền has returned to work. Every day she still encourages patients because she said her happiness was to be able to see smiles of recovered patients.
HCM City, Dong Nai and Binh Duong provinces wait for further vaccine allocations
HCM City and its neighbouring provinces of Đồng Nai and Bình Dương are waiting for the Ministry of Health to allocate further vaccines.
Although HCM City received 54,700 doses of AstraZeneca vaccine on September 19 and 500,000 doses of Vero Cell vaccine on September 18, the city still lacks more than 1.9 million of doses for use in the next 10 days, according to the city Department of Health.
Nearly 515,000 people need the first shot and 1.78 million people need the second shot by September 30.
Gò Vấp District, for instance, has nearly 142,000 people who need the second shot of AstraZeneca vaccine.
According to District 8, it temporarily stopped vaccination for locals on September 19 because the vaccines ran out. During the afternoon on that day, it received an additional 3,000 doses of Pfizer and 4,000 doses of AstraZeneca.
The doses are only enough for Monday. It will continue to wait for the next provision from the city Centre for Diseases Control and Prevention (HCDC).
Vaccinations in District 4 were suspended on Sunday because of a shortage of vaccines. On the same day, it received an additional 2,000 doses of AstraZeneca. However, they were used for only one day.
Dr Trần Văn Khanh, head of Lê Văn Thịnh Hospital, told Tuổi Trẻ (Youth) newspaper, said the hospital was allocated an additional 3,200 doses of Pfizer vaccine in September. This amount was only enough to vaccinate women who have been pregnant for more than 13 weeks and who breastfeed their children.
The hospital is asking for an additional 3,000 doses to give the second vaccine dose to people with underlying medical conditions such as diabetes.
According to HCDC, more than 90 per cent of people aged 18 and over in the city have received the first shot and more than 20 per cent the second shot.
Like HCM City, the neighbouring provinces of Đồng Nai and Bình Dương are waiting for the Ministry of Health to allocate more vaccines.
According to the Đồng Nai Province Department of Health, the province is waiting for 500,000 doses of Vero Cell vaccine from the Ministry of Health to give to locals without the first shot.
It has only around 24,000 doses left for pregnant women. More than 1.7 million of its are vaccinated, including 98,234 with the second shot.
The Bình Dương Province's Department of Health said it needs an additional 2.7 million of doses for people getting the second shot and those aged 12-18.
As of September 18, the province had received more than 2.2 million doses.
According to the Ministry of Health, more vaccines will be sent to the country by the end of this month. The ministry will allocate these to HCM City and provinces as soon as possible.
In October, more AstraZeneca vaccines and 10 million Pfizer doses are expected to be sent to the country under the ministry's purchase contracts.
Health ministry asks to focus on testing during social distancing
The Ministry of Health has asked localities to pay attention to COVID-19 testing and prevention and control measures when implementing social distancing.
That is part of the dispatch issued by the ministry which also required localities to focus on extremely high risk areas and high risk areas with regular examinations and supervision to quickly detect and handle issues.
The ministry asked steering committees in localities to follow the guidelines issued in Dispatch No 1409/CĐ-BYT to decide loosing restrictions gradually, step by step, following a specific plan.
In areas with risks (yellow zones), and new normal areas (green zones) testing will be carried out for groups of people at risk in order to adjust prevention and control measures properly, including shippers, medical workers, the elderly or those having symptoms such as cough, fever and breath difficulty.
On September 15, the ministry issued the Dispatch No 1409/CĐ-BYT, stressing that it is needed to try to minimise the scope and scale of social distancing as narrow as possible when applying social distancing. Social distancing should be applied within a village, hamlet, residential groups or streets in stead of the whole province, city, district or commune.
The goal of social distancing is to control the pandemic as soon as possible (within 14 days) and resolutely implement prevention and control measures, including seriously executing social distancing measures, ensuring food for people, carrying out comprehensively medical solutions such as testing, vaccination and treatment to ensure people to get early access to health services; and ensure security and social order while mobilising people to join the pandemic prevention and control tasks.
The 1409 dispatch also stressed that rapid testing is key and an important measure to help control the pandemic. All people in extremely high risk areas (red zones) and high risk areas (orange zones) will be tested three times a week to detect and treat F0 patients quickly. People in remaining areas will be tested once every 5-7 days.
The ministry asked to mobilise workforces to help take samples for COVID-19 testing in extremely high risk and high risk areas.
Prevention reinforced at medical facilities
The Hà Nội Department of Health has requested both private and public medical establishments and health centres in districts and communes take measures to intensify and put COVID-19 prevention and control at the highest alert.
They are also asked to regularly check the implementation of the model of hospitals and clinics to make sure they are safe from COVID-19 in line with guidelines of the Ministry of Health and report results to the department once a month.
The department required to continue providing early COVID-19 testing for patients, those who take care of patients at medical establishments and medical workers who have suspected symptoms such as coughing, fever and difficulty breathing.
It is necessary to screen patients with underlying diseases for COVID-19 testing for early detection, isolation and treatment.
Medical establishments are ordered to regularly supervise the implementation of COVID-19 prevention and control measures at all their facilities.
They are also required to not decline to receive any patient who comes from pandemic-hit areas or patients suspected of getting COVID-19.
Northern provinces warned of flash floods, landslides
Northern mountainous provinces have been alerted about high risks of flash floods and landslides due to current torrential rains.
The provinces at risk are Lai Châu, Điện Biên, Lào Cai, Hà Giang, Yên Bái, Tuyên Quang and Phú Thọ.
The National Centre for Hydro-meteorological Forecasting said that torrential rain hit the provinces from Sunday midnight.
Some locations saw high rainfall, such as: Tân Uyên District in Lai Châu Province (92.6mm), Bắc Hà District in Lào Cai Province (84.6mm), Lục Yên District in Yên Bái Province (92.4mm) and Vị Xuyên District in Hà Giang Province (72.4mm), the centre said.
Early Monday morning, the heavy rain continued, with rainfall of 85mm in Mường Tè District, Lai Châu Province; 71mm in Mường Nhé District in Điện Biên Province; and 113mm in Trấn Yên District, Yên Bái Province, the centre said.
The centre warned that downpours of up to 70mm would continue until Tuesday.
Heavy rain also blanketed the central, Central Highlands and southern provinces since Monday morning and were forecast to continue until Tuesday, the centre said.
The National Steering Committee for Natural Disaster Prevention and Control said that people should be very vigilant, carefully observe geological phenomena and quickly move away from areas where landslides may occur.
To stay alert for landslides, it is necessary to watch for changes that occur, such new cracks in walls, ceilings or floors; extensive cracks in the ground or walkways; the ground blisters, water gushes out from the ground at many new locations; fences, walls, power poles and trees are tilted.
People are advised to notice changes in water flow. If the water is turning from clear to cloudy, this is also a sign that a landslide is about to happen.
Flash floods often happen very quickly and unexpectedly. Therefore, people need to limit travel by rivers and streams after floods.
The committee also said the provinces where torrential rains occurred should check on residents in high-risk areas of flash floods and landslides and move them to safe places; arrange traffic police to instruct people to safely move in inundated areas; prepare both human resources and equipment to ensure smooth traffic on the main roads during heavy rains.
The national centre for hydro-meteorological forecasting also warned that the ultraviolet (UV) index will be at a very high level between Tuesday and Thursday in Cà Mau Province and central localities of Thừa Thiên – Huế, Đà Nẵng, Hội An and Nha Trang.
The UV index will be also at very high level on Wednesday and Thursday in HCM City while it will be at high level between Tuesday and Thursday in Hà Nội.
A UV index of 2.5-5.4 is moderate, 5.5-7.4 is high risk, 7.5 -10.4 is very high, and more than 10.5 or higher is considered dangerous.
Health experts recommend people wear protective clothing, including long-sleeved shirts, collared jackets, long trousers, and wide hats to cover their face, neck and ears.
People should wear sunglasses to protect their eyes, and choose lenses with UV protection.
Mid-Autumn Festival organised for Vietnamese children in Ostrava
The Vietnamese community in North Morara and Ostrava, the capital city of the North Morava region in the Czech Republic, has held an entertainment programme for children on the occasion of the Mid-Autumn Festival, which falls on September 21 this year.
This is an annual activity organised by the community with the purpose of preserving the Vietnamese cultural traditions and helping Czech friends understand more about the Vietnamese culture.
Addressing the event, Deputy Mayor of Ostrava Prazak Zbynek lauded the smooth integration of the second and third generations of the Vietnamese community into the host society. He underlined the importance of preserving the traditional culture of Vietnam among the Vietnamese youth in the country, which he said contributes to strengthening the Vietnam-Czech Republic's traditional friendship.
For his part, Vietnamese Ambassador to the Czech Republic Thai Xuan Dung thanked the Government of the Czech Republic and authorities of Ostrava for supporting the Vietnamese community. He also showed his hope that the Czech Republic will continue creating favourable conditions for the community to better integrate into the host society and contribute more to the bilateral relationship.
President of the Czech-Vietnamese Friendship Parliamentarians Group Leo Luzar said through such cultural event, he felt the care of Vietnamese for the young generation, adding that he hoped they would cherish this value during the integration into the society in their second homeland – the Czech Republic./.
Thai Binh determined to early complete COVID-19 vaccination campaign
The northern province of Thai Binh is focusing its efforts on implementing a COVID-19 vaccination campaign as part of the biggest-ever national vaccination campaign that was launched in July.
Vaccination, along with strict adherence to the "5K message" given by the Ministry of Health, which are khau trang (facemask), khu khuan (disinfection), khoang cach (distance), khong tu tap (no gathering) and khai bao y te (health declaration), is defined as the solution that Vietnam is applying to reign in the pandemic.
Pham Nam Thai, Vice Director of the provincial Health Department said that Thai Binh is conducting the first phase of the vaccination campaign, which concentrates on injecting COVID-19 vaccines to prioritised groups, including forces working at the frontline in the pandemic fight.
In this first phase, the locality has set up more than 70 vaccination stations in hospitals, medical stations at provincial and district levels as well as private medical facilities. In each district, five medical stations with good infrastructure and personnel are selected to serve vaccination activities. At all vaccination stations, medical workers directly engaging in vaccination activities have been given training on the work. Meanwhile, the provincial General Hospital and all hospitals at district level have been requested to prepare necessary equipment and personnel in order to be ready to give first aids to people suffering severe reactions after injection.
As of September 14, Thai Binh had completed three vaccination phases, during which more than 27,000 people were injected with first vaccine shots, and 24,000 others received full two shots.
Thai said that currently, Thai Binh has about 1.4 million people aging from 18 years old subjected to COVID-19 vaccination. The provincial health sector has coordinated with other sectors as well as cities and districts to ensure suitable vaccination distribution. Basically, the vaccination campaign is on good progress, Thai added.
In order to ensure vaccination safety, all vaccination stations and people directly engaging in the activities have been asked to strictly follow guidelines provided by the Ministry of Health. Emergency teams have been formed in hospitals and medical centres to timely handle any arising incidents during the vaccination process at vaccination stations. Thai affirmed that vaccination activities have been conducted safely in the province, while all post-vaccination issues have been coped with in a timely manner.
Regarding Thai Binh's vaccination plan to April next year, Thai said that the province has issued a plan to implement the campaign with two major goals of ensuring that 90 percent of local residents aging from 18 receive the first shot of COVID-19 vaccines by the end of 2021, and more than 70 percent of the population are fully vaccinated against the pandemic by April 2022.
Under the plan, the vaccination will be conducted in different phases, with up to tens of thousands of COVID-19 vaccine shots administered each day during peak periods. In the first phase, staff members of provincial departments, sectors, agencies, associations and public organisations will be vaccinated against COVID-19, while the second phase will focus on workers in local firms, industrial parks and industrial clusters. In enterprises with more than 200 workers, vaccination activities will be held right on site.
To date, Thai Binh has set up more than 320 vaccination stations across the locality. All medical workers at the stations have been trained in line with guidance from the Ministry of Health. After completing vaccine injection for workers, Thai Binh will concentrate on giving the vaccines to people with underlying diseases, the elderly, and workers in companies having less than 200 workers.
In order to ensure the highest efficiency of the campaign, Thai underlined the significance of careful preparations and the strengthening of the mass media's efforts in popularising the benefits and role of vaccination.
Besides, management agencies, the administration, organisations and enterprises should make accurate list of people subjecting to COVID-19 vaccination, he said, adding that it is crucial to increase the application of information technology in vaccination management./.
Quang Binh's border guard force presents medical supplies to Lao province
The Border Guard Command of Quang Binh province on September 19 presented medical supplies to their counterpart in the Lao border province of Khammouane, to help with the province's efforts to respond to COVID-19.
Colonel Trinh Thanh Binh, Commander of the Quang Binh Border Guard force handed over medicines, COVID-19 rapid test kits, protective clothing and medical masks, which are worth more than 600 million VND, to the Military Command and Public Security of Khammouane.
At the event, the two sides also shared information on border protection coordination and the epidemic situation in their respective countries. They exchanged experience in pandemic prevention and control, and in ensuring the safety of officers and soldiers on duty as well as the people amid the complicated developments of the COVID-19 pandemic./.
Room for tourism development in Thanh Hoa
The emergence of COVID-19 pandemic over the past nearly two years has taken toll on tourism of Vietnam and the central province of Thanh Hoa in particular, forcing localities, especially national tourism landmarks, to focus on domestic market rather than overseas one.
Thanh Hoa is seen as one of the localities with huge potential of developing tourism on the back of its diverse and rich tourism resources, both natural and human.
Known as a "miniature Vietnam", Thanh Hoa has all kinds of terrain, from mountain, midland, to plain and coast, with many beautiful landscapes and valuable historical – cultural vestiges. At the same time, the province also has a system of infrastructure and technical facilities for tourism that is constantly expanding, gradually improving quality, convenience and modernity.
Tourism products are more and more diverse, quality with civilised and polite services. Tourism human resources have been gradually strengthened in both quantity and quality. To effectively tap such resources, Thanh Hoa has invested in and completed key infrastructure projects such as a road linking Tho Xuan airport with Nghi Son Economic Zone, a road connecting mountainous districts in the west together, the National Highway 1A linking with Hai Tien, Hai Hoa, Ben En, Lam Kinh tourist areas.
In particular, the province renewed products-destinations via regularly holding tourism events such as sea tourism, light, love and flower festivals, street carnivals, inaugurated Hai Tien – Dao Ne waterway route, a mural village, a pavement street and night market in Sam Son.
In recent years, Thanh Hoa has become one of the top cities and provinces in terms of tourism growth nationwide. During the 2016-2019 period, the number of tourist arrivals in the province grew by 15.2 percent annually while tourism revenue rose by 31.7 percent year-on-year, contributing to local socio-economic development.
However, the uncertain developments of the pandemic over the past nearly two years has made it hard to achieve tourism growth targets as expected. A number of inbound and outbound tourism stimulus plans and policies became infeasible. Therefore, focusing on intra-provincial tourism development is a necessary solution.
Experts suggested that Thanh Hoa should issue its own tourism stimulus policy, renew products to offer more experience to tourists in the motto "better – newer- faster – cheaper".
The province is creating its image as a safe, friendly and attractive destination. Apart from tourism resources, infrastructure and diverse products, difference is also a highlight, thus prompting visitors to travel to the locality.
Thanh Hoa has set a target of turning tourism into a spearhead economic sector by 2030.
Amid the difficulties posed by COVID-19, the province welcomed 7.3 million visitors in 2020, earning 10.394 trillion VND (over 453.6 million USD), representing 65.5 percent and 50.7 percent of targets, respectively.
Local tourism sector has posted impressive growth in recent years. However, its development is still not commensurate with potential.
The north-central province's Sam Son beach is a familiar destination for many people. It is home to several hidden charms waiting for tourists to explore, including Van Chai ancient fishing village. The village is busy at dawn as fishermen returning shore with catches and those at home coming to help sort out the fish.
Sam Son town was promoted to a city in 2017, in a move which aims to meet the local urbanisation process and develop Sam Son into a national tourist city.
In addition to the renowned Sam Son beach, Thanh Hoa is home to various charming others, namely Hai Tien in Hoang Hoa district; Tien Trang Quang Xuong in Quang Xuong district; Hai Hoa and Hai Thanh in Tinh Gia; Bai Dong (the East Beach); Vinh Son; Quang Nham, and Hai Binh./.
Locally made Agri-PV product introduced
The International Renewable Energy Expert, a local solar power cell producer, has introduced the first made-in-Vietnam Agri-PV (Agriculture photovoltaic module) for dual-use solar energy agriculture projects in domestic and export markets.
IREX Energy joint-stock company said the Agri-PV, which was produced at its Vung Tau city-based plant, is designed with power capacity from 265 to 400 watts each for flexible installation at crop and aquatic farms as well as log farms.
Director of IREX Nguyen Son Truong Giang said the locally-made Agri-PV is eligible for 'green' energy farm projects as solar panels were created with monocrystalline double glass bifacial for better light absorption.
He said a 300sq.m farm can install Agri-PV modules to generate 160kw per hour, while having a balanced temperature and moisture for crops below.
The solar power PV module has been used at a pilot sugar cane and a log farm in central Phu Yen province from 2018.
The southern Vung Tau-based plant, which was launched with total capacity of 350MWp (photo-voltaic cells) solar cells and 500MWp solar panels per year, had to reduce capacity by 30 percent due to the impact of COVID-19 and social distancing regulations.
It said 40 percent of locally made solar cells were exported to European and North American markets from 2018.
The demand for dual-use solar power at agriculture projects in Vietnam is high with 10.23 million hectares of farmland and 15.8 million hectares of forest farm area.
The local solar power manufacturer plans to provide solar cells and PV for one million green roof-top systems in central Vietnam.
It said solar power and wind power products from IREX were used to create renewable energy on islands and technical platforms in the Truong Sa archipelago of Vietnam./.
Photo contest launched to mark Phong Nha-Ke Bang National Park's 20th anniversary
Entries are being invited for a photography contest on Phong Nha–Ke Bang National Park which was held to mark its 20th founding anniversary (2001 – 2021).
Both Vietnamese and foreign photographers aged 18 and above are eligible to take part in the competition, according to the national park's management board that organize the contest.
Entries must be high-resolution photos depicting natural landscapes, forests, caves, native flora and fauna species and people's daily life taken by professional cameras or smartphones inside the Phong Nha–Ke Bang National Park. They must have not been awarded in any other competitions locally or internationally.
They must be submitted to the contest's official website https://anh.phongnhakebang.vn or via the email [email protected] before November 15.
Winners will be announced in November.
Located in the central province of Quang Binh, Phong Nha-Ke Bang is frequently referred to as the "Kingdom of Caves" for the magnificent specimens it hosts.
The 900 sq.km national park, which UNESCO labeled as a global heritage site in 2003, is home to over 300 caves and grottoes that date back 400 million years.
The karst formation of Phong Nha-Ke Bang National Park has evolved since the Paleozoic Era and is the oldest major karst area in Asia, according to TripAdvisor.
Around 30 caves are now open to visitors, which have created a tourism boom and given much-needed revenue to the once war-torn province.
In March, TripAdvisor readers selected Phong Nha-Ke Bang as one of the world's 25 best national parks.
It ranked 15th and was the only national park in Southeast Asia to appear on the list which took into account the quality and number of traveler reviews and ratings published on its website over a 12-month period./.
Youngster restores old works to revive history
Anyone with a passion for history, especially about the late President Ho Chi Minh, may have seen a documentary of him being interviewed in French in 1964. Not many, however, would have seen a colour version of the film until a youngster in Hanoi had decided to engage in the work.
Among the videos and photos Quang has restored, a film with President Ho Chi Minh answering an interview on June 5, 1964 with a reporter from the French Broadcasting Office has received the most views, with 18 million and hundreds of shares.
"The film clip's original version was silent. Maybe there are other versions with audio – I don't know. I had to seek sound effects from foreign sound databases. The more I learned about Uncle Ho, the more I admired the great father of Vietnam," Quang said.
This is the music video "Em duoc nghe chuyen Bac Ho" (I've been told Uncle Ho's story), written by musician Pham Tuyen in 1957. Quang assembled the video from many other works about President Ho Chi Minh at the time the president was in Dinh Hoa, Thai Nguyen province, in 1954. He combined several effects, including the sound of forests, footsteps, and a typewriter, among others, to create a realistic feel for the film.
Besides works on President Ho Chi Minh, Quang has also given new life to historical works on famous Vietnamese figures such as former Prime Minister Pham Van Dong, General Vo Nguyen Giap, former Vice President and talented diplomat Nguyen Thi Binh, Professor and Doctor Ton That Tung, and the first chairman of Hanoi, Dr Tran Duy Hung, among others./.
Female migrant workers in Hanoi receive gifts
As many as 480 female migrant workers living in difficult circumstances received gifts worth 500,000 VND each during a programme held in Hanoi on September 18.
They now temporarily reside in 11 wards in the districts of Hoan Kiem, Ba Dinh and Hoang Mai and Hai Ba Trung.
The activity was co-organised by the Hanoi Women's Union, the Light Community Health Development Institute and Oxfam in Vietnam.
From April 27 to September 15, the Hanoi Women's Union handed over 7,300 gifts valued at more than 2.2 billion VND to female vulnerable workers.
The same day, the union also held a webinar in response to the 2021 campaign "Make the world cleaner".
Participants at the event shared creative models regarding waste treatment and recycling in households, as well as ways to raise public awareness of environmental protection./.
Binh Thuan approves whale-worshipping festival conservation project
In a bit to preserve and promote the unique traditional culture of fishermen while boosting local tourism and contributing to socio-economic development, the People's Committee of the south-central province of Binh Thuan has approved a project on the conservation of the Cau Ngu (whale-worshipping) Festival at Van Thuy Tu Temple in Duc Thang ward, Phan Thiet city.
From 2022 onwards, the annual Cau Ngu Festival will take place during the 6th lunar month and the Phan Thiet City People's Committee will be in charge of its organisation.
The festival is a key part of life in the city's fishing villages and an important spiritual and cultural event, held in the hope of securing the favour of the sea god.
Over the last 10 years, however, the festival has been in danger of disappearing.
In 2019, the Ministry of Culture, Sports and Tourism issued a Decision approving the Cau Ngu Festival as a national intangible heritage./.
More religious volunteers support COVID-19 fight in HCM City
The Vietnam Fatherland Front Committee of Ho Chi Minh City on September 18 held a fare-well ceremony, the sixth of its kind, for religious dignitaries, monks, nuns and followers who are voluntarily joining front-liners in the fight against COVID-19 in the city.
This time, four Buddhist followers and 19 Catholic monks and nuns will support medical staff at Trung Vuong COVID-19 treatment hospital and a temporary COVID-19 treatment hospital in Tan Binh district.
Most Venerable Thich Nhat Tu, permanent deputy head of the Vietnam Buddhist Academy in Ho Chi Minh City and head of the Buddhist volunteers coordinating group, said more eligible Buddhist volunteers will also join the effort in the near future,
Since July 22, 567 religious dignitaries, monks, nuns and followers have voluntarily served at intensive care hospitals No. 10, 12, 16, and other temporary COVID-19 treatment hospitals in the city./.
Khanh Van eliminated from Top 8 of Miss Grand Slam
Nguyen Tran Khanh Van, Miss Universe Vietnam 2019, has bowed out of the Top 8 of Miss Grand Slam 2020, following an announcement by GlobalBeauties.
Van was the only Vietnamese representative to enter the Top 20 of Miss Grand Slam 2020. However, she failed to progress to the Top 8 of the competition, eventually finishing in 19th place in the rankings.
Previously, Ngoc Thao, second runner-up at Miss Vietnam 2020, also ended her journey at the event, finishing 37th.
So far, H'Hen Nie, Huong Giang, and Huyen My have all been named among the Vietnamese beauties who successfully achieved strong results at the Miss Grand Slam beauty competition run by Global Beauties over the past few years.
Huong Giang set the bench mark for Vietnamese beauty by clinching a Top 16 spot back in Miss World 2009.
The most notable finish was achieved by H'Hen Nie, who surprised international audiences by finishing among the Top 5 at Miss Universe 2018.
Huyen My also secured 19th position when participating in Miss Grand Slam 2017.
The Miss Grand Slam Pageant was originally founded by Miss Grand Slam Organization (MGSO) in 2009, aiming to recognise outstanding beauties from all over the world.
Delegates are from the officially-recognised Big Four Pageants, including Miss Universe, Miss International, Miss Earth, and Miss World, along with other pageants such as Miss Intercontinental, Miss Supranational, Miss Hong Kong, Miss Japan, Miss Chinese International, and Miss USA.
Globalbeauties.com will continue to select outstanding contestants for the Top 5, with the winner set to be awarded the Miss Grand Slam title.
Quang Binh's border guard force presents medical supplies to Lao province
At the event, the two sides also shared information on border protection coordination and the epidemic situation in their respective countries. They exchanged experience in pandemic prevention and control, and in ensuring the safety of officers and soldiers on duty as well as the people amid the complicated developments of  the COVID-19 pandemic.
Vice President presents pandemic prevention gifts to An Giang
The Vietnam General Confederation of Labour offered local workers with welfare packages valued at VND4 billion in total, while T&T Group granted 30,000 rapid test kits to An Giang.
At the reception ceremony, Chairman of the provincial People's Committee Nguyen Thanh Binh briefed on the province's COVID-19 situation.
Accordingly, from April 15 to 4pm on September 18, An Giang logged a total of 3,608 infections, including 1,077 detected in concentrated quarantine sites, 1,058 in locked-down areas, 1,298 in the community, and 84 imported cases.
There were 1,389 patients undergoing treatment, with the number of recoveries and deaths standing at 1,975 and 29, respectively.
Applying social distancing measures under the Prime Minister' Directive 16 since July 15, the province is now carrying out the PM's Directive15 along with some intensified measures.
To date, An Giang has received VND161.8 billion worth of donations in both cash and kind for COVID-19 prevention and drought impact alleviation.
Binh took the occasion to express his gratitude for the attention of Party, State and Government leaders and the assistance of ministries, sectors, businesses and philanthropists toward the province's fight against the pandemic.
The visit to An Giang was part of Xuan's trip to encourage COVID-19 prevention and control activities in An Giang, Dong Thap, Tien Giang, Tay Ninh provinces and Can Tho city, presenting nearly VND35 billion worth of donations in total.
Kiên Giang to breed more brackish water shrimp
The Cửu Long (Mekong) Delta province of Kiên Giang is encouraging farmers and companies to boost brackish water shrimp breeding.
It targets output of around 105,000 tonnes this year, up 7,000 tonnes from the target it set earlier this year.
The Ministry of Agriculture and Rural Development has written to major shrimp-breeding provinces and cities asking them to develop the breeding of brackish water shrimp this year.
The impact of COVID-19 has caused a significant decline in output in some major shrimp producing countries, which would cause a supply shortage in the coming months, the ministry said.
The province Department of Agriculture and Rural Development is strengthening advocacy activities to expand the farming of brackish water shrimp.
Quảng Trọng Thao, its deputy director, said the Fisheries Sub-department would co-operate with local authorities to inspect the breeding of shrimp and resolve problems, especially in the supply of breeding animals, feed and inputs for treating wastewater and diseases.
Province authorities would help farmers buy breeding animals to sustain supply chains, especially for seafood export processing plants, he said.
With a long coast of more than 200km, Kiên Giang Province possesses many advantages with regard to breeding brackish water shrimp in coastal areas.
Local farmers bred shrimp on 134,000ha as of the end of last month and harvested more than 73,450 tonnes in the year-to-date, up 11.5 per cent from the same period last year.
They use industrial farming, advanced extensive farming, shrimp – rice farming, and shrimp – forest farming models.
The country's largest rice producer had more than 98,000ha under the shrimp-rice farming model in the first half of the year. Farmers cultivate rice in the rainy season and shrimp in the dry season on the same fields.
It plans to breed a total of 136,000ha of brackish water shrimp this year.
But unfavourable weather conditions and the risk of disease outbreaks pose a threat. The COVID-19 pandemic continues to threaten a disruption in shrimp production and supply chains.
The department has instructed its sub-departments and units to help farmers cope with these problems if they arise.
The Animal Husbandry and Veterinary Sub-department should effectively monitor the water environment and promptly inform farmers about any disadvantages so that they can take measures to respond to them.
It has been told to strengthen the inspection of shrimp diseases to promptly control their spread.
It has been instructed to establish disease-free shrimp breeding areas and persuade farmers to apply bio-safety measures to ward off diseases.
Shrimp seed trading establishments should be carefully inspected to secure the supply of disease-free and high-quality seeds.
Its Agriculture Extension Centre should teach farmers effective breeding techniques and new advanced farming methods to help reduce production costs and improve output value.
The centre is encouraging farmers to join co-operatives and co-operative groups to better manage their shrimp farms and ensure origin traceability and outlets for their produce.
The province plans to grant traceability codes to all households breeding brackish water shrimp by the end of this month to meet the requirements of importers but also manage shrimp farming better.
S ource: VNA/VNS/VOV/VIR/SGT/SGGP/Nhan Dan/Hanoitimes
VIETNAM NEWS HEADLINES SEPTEMBER 20 have 8301 words, post on vietnamnet.vn at September 20, 2021. This is cached page on Business News. If you want remove this page, please contact us.