Animal feed exports see surge in H1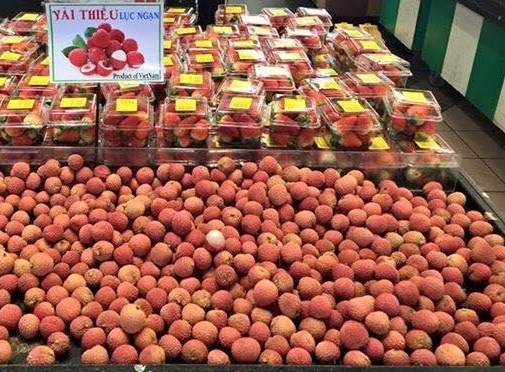 Luc Ngan lychee of Bac Giang province is protected geographical indication in Japan. Vietnamese firms are urged to pay more attention to register for intellectual property protection in foreign markets. (Photo baochinhphu.vn)
Vietnam's animal feed exports hit nearly 523.88 million USD in the first six months of 2021, up 52.7 percent year-on-year, according to the General Department of Customs.
China remains the biggest importer of Vietnam's animal feed, with turnover reaching 188.3 million USD in the reviewed period.
In June alone, China spent 36.62 million USD on importing animal feed from Vietnam, up 47.3 percent from the same period last year.
Vietnamese exports of animal feed to Cambodia in January-June rose 41.7 percent to 74.81 million USD, maintaining Vietnam's second largest importer.
Meanwhile, the US surpassed India to become Vietnam's third biggest importer of livestock feed with turnover hitting 56.42 million USD, up 20.1 percent year-on-year.
Notably, exports of to Thailand reached 15.55 million USD, increasing 100 percent compared to the same period last year.
Last year, Vietnamese exports of animal feed to China topped 211.23 million USD, a yearly increase of 16 percent. Meanwhile, the figures to Cambodia and the US hit 122.3 million USD and 114.5 million USD, year-on-year increases of 23 percent and 125 percent increases, respectively./.
Shares reverse course, foreign investors flee market
Shares settled lower on Wednesday as selling force overweighed bullish sentiment gathering in the previous session. Foreign investors also net sold a great value of shares.
On the Ho Chi Minh Stock Exchange (HoSE), the market benchmark VN-Index fell 0.2 per cent to close on Wednesday at 1,270.79 points.
The index reclaimed nearly 30 points in Tuesday's trade as investors' risk appetite returned. The trend continued in Wednesday's morning trade, then reversed course in the afternoon.
The market's breadth was still positive with 171 stocks declining, while 185 stocks climbed. Meanwhile, the liquidity was weaker as VND16 trillion (over US$694 million) was poured into the market, worth a trading volume of nearly 452 million shares.
The index's reversal was mainly due to losses in many large-cap stocks, mostly in banking, utilities and material sectors. The VN30-Index, which tracks 30 biggest stocks in HoSE, also dropped 0.32 per cent to 1,406.54 points.
Twenty-one of 30 biggest stocks in the VN30 basket plunged while nine rose.
Bank stocks led the downward trend on Wednesday, followed by utilities and material stocks. Of which Vietcombank (VCB) lost the most in market capitalisation, down 1.2 per cent.
PetroVietnam Gas JSC (PVGas, GAS), Hoa Phat Group (HPG), Vietnam Rubber Group (GVR) and Vietinbank (CTG) also posted losses of more than 1 per cent.
The fall was capped by gains in some pillar stocks, especially in real estate sectors. Accordingly, three out of five most influential stocks were in this sector, with Vinhomes being the biggest gainer yesterday, up 1.31 per cent. It was followed by Vingroup JSC (VIC), Techcombank (TCB) and Vincom Retail JSC (VRE) with all rising in a range of 0.97 – 1.62 per cent.
Other stocks supporting the market were Saigon Beer – Alcohol – Beverage Corporation (SAB), Viet Nam National Petroleum Group (Petrolimex, PLX) and Vietnam Airlines JSC (HVN).
On the Ha Noi Stock Exchange (HNX), the HNX-Index also declined by 0.1 per cent to 300.8 points.
During the session, over 62.4 million shares were traded on the northern bourse, worth more than VND1.4 trillion.
In a daily report to customers, analysts from Saigon-Hanoi Securities JSC (SHS) recommended investors take the wait-and-see approach towards market movements.
On the other hand, foreign investors fled from the market again as they net sold a value of nearly VND1.39 trillion on HoSE. Meanwhile they net bought a value of VND9.66 billion on HNX.
US remains potential consumer of Vietnamese fruit
Vietnamese export of fruit and vegetables to the United States increased by 16.6% on-year to US$57.4 million during the four months of the year, according to details provided by the Ministry of Agriculture and Rural Development.
The country has been officially licensed to export six types of fresh fruit to the US market, including mangoe, longan, litchi, dragon fruit, rambutan, and star apple.
Other fruits can also be exported in either frozen or processed forms, while relevant agencies are also in the process of actively negotiating with the US side in order to receive additional licenses for fresh local fruit, with green-skinned pomelo set to be the first in the near future.
According to the Vietnamese trade office in the US, there remains plenty of room for growth in terms of fruit and vegetable exports to the demanding market, largely due to the diversification of the distribution system, along with a large overseas Vietnamese community made up of three million people.
Furthermore, the US market is home to up to 332 million customers with a high per capita income, with fruit and vegetable items being a rising trend.
Last year, despite the adverse range of impacts caused by the COVID-19 pandemic, the US imported fruit worth US$14.1 billion, with the import value projected to reach US$15.1 billion this year.
Along with numerous advantages, the country's fresh fruit exports to the fastidious market continue to face numerous hurdles due to facing fierce competition from products that are grown in US states such as Florida and California, along with items from Mexico, in addition to South American and Asian countries.
Moreover, due to geographical distance, transportation and storage costs remain high, thereby causing difficulties for fruit exports to the demanding market.
Agricultural innovation key to capital's food security
High-value specialty crops and livestock are being developed to meet the increasing consumption needs of domestic consumers, in line with the comparative advantage of each locality, but more needs to be done, Deputy Minister of Agriculture and Rural Development, Trần Thành Nam has said.
"The city needs to continue to identify the unique advantages of each locality, select varieties of plant and livestock that have both high economic value and are sustainable, and put them into production. This will improve the lives of people in rural communities," he said.
Agricultural innovators like, Kiều Văn Lợi, can attest to the benefits of agricultural innovation. He began growing Rose Myrtle in Ba Vì District four years ago. What had previously grown wild with little perceived value has become a profitable enterprise.
The meeting organised by the Hà Nội Department of Agriculture and Rural Development aims to exchange production and consumption between enterprises and longan farmrers in Đại Thanh Commune, Quốc Oai District.
"Growing Sim is not difficult because it attracts fewer pests and diseases, takes less care, and has a much higher value than other crops I've grown before," he says.
It's not only non-traditional crops that are finding a place among Việt Nam's agricultural industry. Alternative business models are also flourishing.
In Hoài Đức District, Nguyễn Như Hảo, together with several other local farmers, established the Quế Dương Safe Pomelo Growing Cooperative. The cooperative provides technical and seed support to members, finds stable markets to sell to, and makes it possible to sign orders for large quantities.
With an average price of VNĐ35,000-40,000/fruit, the pomelo growers are earning profits from VNĐ500 million to VNĐ700 million per hectare per year. This is much more than they would earn selling rice which currently sells for around VNĐ13,000/ per kilogram.
Nguyễn Quốc Quân in Đường Lâm Commune, said he was breeding 300 Mía chickens in the garden.
Mía chicken is a breed of chicken known for its beautiful appearance, and firm and delicious meat.
It has been recognised by the Ministry of Agriculture and Rural Development as a national original breed and granted brand protection certificate by the National Office of Intellectual Property.
Mía chicken's earn Quân VNĐ150 million every year.
"This is a high income for farming households in this commune," Quân says.
Currently, the commune has more than 20 households raising Mía chickens to supply chicken meat and baby chicks as livestock for farmers in the township. Notably these chickens are raised free-range breeding and fed rice as opposed to industrially produced chicken feed.
Deputy Chief of the Coordination Office for the New Rural Development Programme in Hà Nội, Nguyễn Văn Chí, said that the city has developed models of planting trees and raising poultry unique to the conditions of each area.
"By focusing on growing crops best suited to the weather, terrain, and skill sets of particular localities, high economic efficiency can be achieved," he said.
"This approach has contributed to an increase the average income in rural areas to VNĐ55 million per person per year," he said.
Director of the Hà Nội Department of Agriculture and Rural Development, Chu Phú Mỹ, said that to improve efficiency, the agriculture sector has been coordinating with local communities to select a number of key fruit trees to develop. It has also expanded concentrated production areas and invested in infrastructure like irrigation, water pipes, electricity systems, and rural roads.
In recent years, for example, Quốc Oai District has converted hundreds of hectares of inefficient rice land into crops and livestock with a higher economic value.
In Đại Thanh Commune, the district has approved the conversion of all of their agricultural land to growing longan berries.
The city agricultural department in co-ordination with Quốc Oai District authorities have supported the development of new technology according to the Vietnamese Good Agricultural Practices (VietGAP). These are regulations on good agricultural production practices for agricultural and aquatic products in Vietnam.
The output of longan reached 2,500 tonnes with revenue of more than VNĐ50 billion (US$2.17 million) in 2020.
Ha Noi gives support to businesses amid pandemic
According to a survey conducted by the Ha Noi Association of Small and Medium Enterprises (Hanoisme) among 1,500 of its member businesses, 57 per cent of them are operating moderately and 38 per cent are at normal operation levels. Enterprises that are temporarily suspending operations or waiting for dissolution accounted for 2.6 per cent, while only 1.4 per cent are seeing good performance.
Those enterprises faced difficulties in capital and production due to having to comply with pandemic prevention regulations, said the association.
Hanoisme Vice Chairman and General Secretary, Mac Quoc Anh said that to support small and medium-sized enterprises (SMEs), the association has organised trade promotion programmes and is pushing for greater networking among enterprises.
The association has also organised seminars on digital transformation, helping SMEs to change their business models to the new COVID-19-driven move to digital.
In addition, Anh has proposed that Ha Noi exempt enterprises from land use tax for six months of 2021 to compensate for periods of suspended production in 2020 and 2021 due to COVID-19.
Anh also flagged reducing administrative procedures for businesses to make it easier for them to attract investment. In particular, red tape obstructing the construction of production facilities.
Meanwhile, industry and trade associations have been asked to conduct surveys of enterprises and business households regarding their ability to access capital and commercial leases.
The surveys, requested by the Ha Noi Department of Industry and Trade, will be used to make recommendations to the Ha Noi People's Committee on ways to support those enterprises and business households as well as their employees during the COVID-19 pandemic, said Tran Thi Phuong Lan, the department's Acting Director.
Due to negative impacts from COVID-19, the Ha Noi Department of Transport has proposed the People's Committee to approve the adjustment of capacity and revenue targets in public passenger transport by buses in 2021; and support in loan interest of 2021 for investment projects of replacing buses to improve service quality.
The transport department noted that inter-provincial passenger transport of the city in May only reached 47 per cent of capacity compared to April and decreased by 28.7 per cent over the same period in 2020. Of which, bus transport decreased by 30 per cent in capacity year on year and 41.5 per cent month on month. The revenue from bus transport also dropped by 40 per cent and 51.2 per cent, respectively.
The revenue of the transport companies has decreased, while they must pay large expenses such as interest on bank loans, taxes, land rent, road usage fees, parking fees and salaries for workers.
The Ha Noi People's Committee passed a Directive on supporting small and medium-sized enterprises in the city back in December 2020.
The aim of this Directive was to maintain an average growth rate of new businesses at 10 per cent per year (or about 30,000 enterprises); and creation of about 1.5 million new jobs. SMEs will contribute 25 per cent to total export turnover, 40 per cent to the city's GDP and 30 per cent to the city's budget, reported Vietnam News Agency.
CAAV asks MoT to deny new air cargo carrier
"This action [to deny the request] is one measure to minimise the possible imbalance in the supply and demand, in the local market and the sustainable development of Vietnam's aviation industry, as a result of the COVID-19 pandemic," CAAV's deputy director Dinh Viet Son said it documents submitted to the ministry.
CAAV said that at present, local airlines were carrying out cargo flights to make up for the low demand for passenger air-transport due to the pandemic.
As of June 28, 2021, local airlines have removed the seats of passenger aircraft to carry cargo. This includes five planes belonging to the national carrier, Vietnam Airlines, and four belonging to VietJet Air. Some aircraft have also been allowed to carry goods in the cabin without removing the seats as long as they have no passengers on the same flight.
According to CAAV, the proportion of revenue from freight transport, as part of total revenue from air transport, during the pandemic, increased three-fold.
Last month, the Import-Export Pan Pacific Group (IPPG), chaired by Johnathan Hanh Nguyen, asked for permission to establish the country's first cargo airline at a total cost of VND2.4 trillion (US$100 million). This cargo carrier would serve to meet the increasing demand for air transport in the Southeast Asian nation.
A representative for IPPG said local logistics firms have not yet reached their full potential. There are 30,000 logistics enterprises operating in Viet Nam and that accounted for less than 20 percent of the market. The remaining 80 per cent is held by just 30 foreign companies.
The representative added that Viet Nam has no carrier specialising in air-cargo. They said that 88 percent of the market is in the hands of international cargo airlines such as UPS, FedEx, DHL, Cathay Cargo and Airbridge Cargo. The cost of transporting goods in Viet Nam is much higher than the global average, which leads to low competitiveness.
If IPPG's proposal is accepted the company hopes to transport about 115,000 tonnes of cargo, generating revenue of US$71 million in its first year. It aims to turn a profit by its fourth year of operation.
In April 2020, the International Air Transport Association (IATA) forecast market demand would decrease by 80 percent in the near future, threatening 25 million jobs in the aviation sector.
According to the most optimistic scenario, the Vietnamese air transport market in 2022 could only equal the numbers recorded in 2019.
CAAV affirmed it would continue to monitor the market and the impact of the pandemic and report to MoT on the possibility of establishing a new airline in the future.
Bac Giang industrial parks to cover 7,840 hectares by 2030
A goal has also been set for the gross regional domestic product (GRDP) to grow by 19 per cent annually from 2021 to 2030 and for its value to exceed VND652.15 trillion (US$28.3 billion) by 2025, hitting VND2.2 quadrillion by 2030.
Meanwhile, 29 new industrial clusters will be established and three others expanded, covering a total area of 1,853 hectares. By 2030, Bac Giang hopes to house 66 clusters spanning 3,209 hectares.
The local IP development follows a model that consists of an IP and an urban-service area with modern technical and social infrastructure. Prioritised industries include mechanics and manufacturing, farm produce and food processing. Attracting investment, high-quality human resources development, and the transfer and application of new technology are key focal points.
According to the provincial Department of Industry and Trade, to date, Bac Giang has six IPs covering 1,322 hectares. Five of them have become operational. They have attracted 409 projects from domestic and foreign investors worth VND9.4 trillion and nearly $6 billion, respectively.
In 2020, budget collection from the IPs reached over VND2.2 trillion, or 11 per cent of the provincial budget.
Profits soar for Vietnamese securities traders
Everest Securities Joint Stock Company (EVS) has just announced second-quarter revenue of more than VND252 billion (US$11 million), up three-fold over the same period last year. Pre-tax profit was VND128.6 billion, up 6.7 times.
EVS leaders attributed the strong increase in business results in the second quarter to the outstanding growth of the stock market in both prices and liquidity.
In the first 6 months of 2021, EVS's revenue reached nearly VND378 billion, up more than double compared to the first half of last year. Profit before tax increased nearly 24 times over the same period last year, reaching more than VND221 billion.
In 2021, EVS had targeted revenue of VND238.4 billion and pre-tax profit of VND81.2 billion. Thus, with the above business results, EVS has achieved 158 per cent and 272 per cent, respectively, of the revenue and profit targets for the whole year.
Viet Dragon Securities Joint Stock Company also announced that it exceeded 70 per cent of its profit target for the whole year of 2021 after only six months.
The company's total revenue of the first 6 months of 2021 reached more than VND530 billion, meeting their yearly target, and up by 311 per cent compared to the first 6 months of 2020.
Revenue from its major businesses, brokerage and investment banking, almost all completed and exceeded their targets for the year.
Its profit before tax was estimated at more than VND306 billion. Profit after tax was more than VND245 billion, equaling 170 per cent of the 2021 plan, 18.6 times higher than the same period in 2020. This is also the highest profit the company has achieved to date.
Viet Dragon attributed the impressive results to the company's prioritising the interests of its customers and extensive efforts to perfect its services.
The positive business results were also attributed to Rong Viet's ability to quickly make good use of new opportunities on the Vietnamese stock market in the first half of 2021.
In the second quarter of 2021 alone, Techcombank Securities JSC (TCBS) reported revenue of VND1.3 trillion, up 52 per cent year-on-year and pre-tax profit reached VND1 trillion, up 32 per cent over last year.
In the first six months of this year, its revenue and pre-tax profit were VND2.32 trillion and VND1.84 trillion, respectively, up 56 per cent and 45 per cent over the same period last year.
After six months, TCBS has been in the list of the top securities companies with the highest margin balance, reaching VND8.6 trillion, up 238 per cent over the same period last year.
At the end of last month, Agribank Securities Company also announced six-month pre-tax profit of about VND160 billion, up by three times over the same period in 2020.
In a recent report on the securities industry outlook for the second half of 2021, SSI estimated that the six-month profit before tax of the four largest listed securities companies would grow by 155.3 per cent from last year. These four companies were SSI Securities Joint Stock Company, Ho Chi Minh City Securities Corporation, Viet Capital Securities Joint Stock Company and VNDirect Securities Joint Stock Company.
On the stock market, the benchmark VN-Index surpassed 1,400 in June. Since the beginning of this year, the VN-Index has recorded an increase of 27.6 per cent, making Viet Nam's stock market one of the strongest gainers in the world.
In the second half of 2021 and 2022, the main revenue growth driver of securities companies will be loosening monetary policy, new cash flow from individual investors, capital flow from foreign investors, investment banking services and capital raising of securities companies.
Although their revenue is expected to continue to grow until 2022, SSI experts believe that the current market dynamics may decelerate in the second half of 2021 after a strong increase in the first half of the year.
SSI estimates that profit growth for these four companies will return to normal at 7.7 per cent in the second half of 2021. Estimated profit growth is 66.8 per cent for the whole year of 2021 and will stay at a 21.4 per cent increase in 2022.
The main risk of the securities industry is falling profit margins for core businesses, including lending and securities brokerage, due to intense competitive pressure. Rising inflation, rising interest rates, and falling stock prices can lead to lower market liquidity and lower profits, SSI said.
Sizeable wholesale market greenlit for investment study in Danang
The central city of Danang has approved the VND800 billion ($34.8 million) Hoa Phuoc wholesale market project to look for an appropriate investment scheme.
A recent meeting of top leaders in Danang have agreed to the proposal of the local Department of Planning and Investment (DPI) on allowing privately-held company Proton Co., Ltd. – a member of World Union of Wholesale Market that covers a network of more than 3,000 active wholesale markets in 46 countries – to study the planning and invest in the Hoa Phuoc wholesale market project in Hoa Vang district.
Hoa Phuoc wholesale market would help distribute agricultural products and food from the central and Central Highlands regions to Danang's residents.
Approved to run under the private-public partnership (PPP) form in 2019, the project was halted by Danang People's Council due to a clash with the Law on PPP Investment that came into effect on January 1 this year.
The new law stipulates that commercial infrastructure projects cannot be constructed under the PPP format, prompting the province to study an appropriate alternative investment form for the Hoa Phuoc wholesale market.
The Hoa Phuoc wholesale market is a key project to alleviate overload at the Hoa Cuong wholesale market and traffic jams in the inner city area. It would also help distribute agricultural products and food from the central and Central Highlands regions to Danang's residents.
Hai Duong to bolster efficiency of five-year medium-term public investment plan
Hai Duong People's Council has just greenlit the province's proposal to allocate funds within the medium-term public investment plan for the next five years.
Accordingly, during the 5-year period, the province would source more than VND23.2 trillion ($1 billion) from the state budget. Of which, over VND3.6 trillion ($158.3 million) will come from the central budget, and over VND19.5 trillion ($850.2 million) from the local budget.
As for the central budget allocation, Hai Duong aims to spend VND26 billion ($1.13 million) on two projects in agriculture, forestry, and fisheries, and more than VND510 billion ($22.1 million) on one project in transportation. The latter covers the construction of the East-West axis road, with a total investment capital surpassing VND1.5 trillion ($65.2 million).
For the new project, the total capital volume surpassing VND1.94 trillion ($84.2 million) will be allocated to nine projects, including four in agriculture, forestry, irrigation, and fisheries with an amount exceeding VND353 billion ($15.3 million), as well as five transport projects with capital surpassing VND1.58 trillion ($68.8 million).
Hai Duong People's Committee mandates to urgently review the entire list of public investment projects and develop a transparent capital allocation scheme in the direction of minimising the division of funds for small, insignificant projects.
The five transport projects include the extension of road No.396, the section connecting DT391 to the intersection of the Hanoi-Haiphong highway valued at VND550 billion ($23.9 million); the Dong Viet bridge and its connecting road with an investment of VND270 billion ($11.7 million). Moreover, the projects include the An Dong bridge and its connecting road valued at VND200 billion ($8.7 million); the route from Trieu bridge to provincial road No.389 valued at more than VND200 billion ($8.7 million); and the construction of a bypass to provincial road No.398B between National Highway 18 and Ben Tam lake valued at VND250 billion ($10.8 million).
Hai Duong plans to spend official development assistance (ODA) on two projects within the previous investment plan, which have already had their loan agreements signed. The projects are part of a project to increase the capacity for fire, rescue, and police forces, funded by ODA of the Japanese government.
Details in local and provincial budget allocation will be carried out in accordance with the Law on Public Investment and current regulations after the National Assembly and the prime minister have decided on the assignment of the medium-term investment plan that uses state budget in the next five years.
Pham Xuan Thang, Secretary of Hai Duong Party Committee and Chairman of Hai Duong People's Council asked the local committee to urgently direct relevant agencies and speed up site clearances, especially for projects which have been allocated capital, concentrating the resources on completing key projects.
"Hai Duong only allocates capital to projects that have completed investment procedures by competent authorities and following the Law on Public Investment. New projects have to ensure that the timeframe for the implementation of Group A projects must not exceed six years, for Group B projects not more than four years, and for Group C projects not longer than three years," said Thang.
Hai Duong will continue to prioritise resources for dynamic and inter-regional works which could create new added value. Hai Duong People's Committee is also urgently directing to review the entire list of public investment projects and develop a transparent capital allocation scheme in the direction of minimising the division of funds for small, insignificant projects.
As for governance, Trieu The Hung, Chairman of Hai Duong People's Committee, asserted the importance of all levels and branches to prepare detailed and specific disbursement plans for each project as well as establish task force groups to regularly inspect and settle delays in implementation.
"Until the end of the year, Hai Duong will resolutely transfer capital from undisbursed projects to those with a construction volume able to accelerate the disbursement of capital as well as consider the investor's responsibility in undisbursed projects," said Hung.
Con Dao Airport upgrade proposed to welcome two million passengers a year
A proposal has been forwarded to relevant management authorities, seeking to upgrade Con Dao Airport in the southern province of Ba Ria-Vung Tau to be able to welcome modern Airbus 320 aircraft and increase capacity to two million passengers a year.
The Civil Aviation Authority of Vietnam (CAAV) has just submitted a proposal to the Ministry of Transport (MoT) to adjust the planning of Con Dao Airport in the period to 2030.
Accordingly, Con Dao Airport in Con Dao district in Ba Ria-Vung Tau will be adjusted to 4C airport standards of the International Civil Aviation Organization (ICAO) and grade II military airport standards.
Under the plan, the passenger transport output would reach two million passengers a year and freight output 4,400 tonnes a year.
To realise these targets, the CAAV proposed a plan to expand and upgrade the existing runway and build a new apron for aircraft. At the same time, land would be reserved for the expansion of the parking lot when needed.
To ensure flight operations, the CAAV proposed building a new air traffic control tower to the east of the passenger terminal and installing a synchronous airport beacon system.
Since the approval of the master plan in 2006 up to now, efforts were made to invest in the construction of Con Dao Airport's basic work items according to the approved master plan.
After the adjustment, the airport will be able to handle new-generation jets such as A319neo, A320neo, A321neo, and equivalents to operate on domestic routes.
The CAAV also proposed building a new passenger terminal to the southeast of the existing one to be able to meet the exploitation capacity of two million passengers a year as well as building a cargo terminal to the west of the passenger terminal to expand capacity to 4,400 tonnes of cargo a year on an area of ​​4,315 square metres.
In the proposal to adjust the planning of Con Dao Airport, the CAAV also proposed building a 13,950sq.m airline catering facility to the east of the passenger terminal when there is a need.
Altoghether, Con Dao Airport would need 181,745 hectaresof land for its expansion, including 104,604ha of the existing airport and an additional 76,908ha, including 32,266ha sea surface.
The total investment capital for the construction of Con Dao Airport in the period to 2030 is estimated at VND5.436 trillion($236.3 million), including an estimated VND76.4 billion ($3.32 million) for site clearance and around VND5.360 trillion ($233 million) for construction.
Con Dao Airport's master plan was approved by the Minister of Transport in Decision No.1060/QD-BGTVT dated May 15, 2006.
Since the approval of the master plan in 2006, efforts were made to invest in the construction of Con Dao Airport's basic construction items, according to the approved master plan.
At the same time, the airport has been operating effectively, ensuring the safety of flights and contributing to the socioeconomic development of Ba Ria-Vung Tau province.
In recent years, the growth rate of passengers through Con Dao Airport has exceeded the forecast in the approved planning which stated that by 2025 the airport would only welcome 500,000 passengers a year. However, in 2020 the number of passengers already reached 447,750.
According to the approved plan, Con Dao Airport is a level 3C airport based on ICAO standards and can only accommodate ATR-72 and equivalent aircraft. In the forthcoming years, airlines will gradually phase out ATR-72 aircraft and the A320, A321 aircraft currently in operation will also be gradually replaced by newer generation models such as A319neo, A320neo, A321neo, and equivalent to exploit domestic routes, necessitating the expansion and upgrade of the airport.
How much does it take to be in top 1 per cent of Vietnam's richest?
By 2025, Vietnam will have 511 ultra-high-net-worth individuals (UHNWI) with a net worth of over $30 million including their primary residence, according to Knight Frank.
Specifically, in 2020, Vietnam had 19,419 high-net-worth individuals with a net worth of over $1 million, including their primary residence.
This figure is 6 per cent lower than that of 2019.
Vietnam, accordingly, ranked fourth in the Southeast Asian region, behind Singapore, Indonesia, and Thailand.
Furthermore, in terms of ultra-high-net-worth individuals (UHNWI – those with a net worth of over $30 million including their primary residence) Vietnam ranked sixth in the ASEAN-6 countries, with 390 individuals in 2020.
Knight Frank predicts the country will have 511 UHNWI by 2025 due to its impressive economic growth.
According to Forbes, as of July 1, Vietnam had six USD billionaires with total assets of up to $19.2 billion, also ranking sixth in Southeast Asia. Topping the list of Vietnamese dollar billionaires is Pham Nhat Vuong, chairman of the Board of Directors of Vingroup with a fortune of $8.1 billion.
Knight Frank also estimates that Vietnam's HNWI growth rate in the 2020-2025 period will be 32 per cent, while the growth rate of UHNWI will be 31 per cent.
To make it into the group of the top 1 per cent in terms of wealth in Vietnam, according to Knight Frank, Vietnamese people need to own $160,000. This figure is $2.9 million in Singapore; $540,000 in Malaysia; and $60,000 in Indonesia and the Philippines.
Elsewhere, Monaco has the world's densest population of the super rich. The entry point for the principality's 1 per cent club – the world's most exclusive – is $7.9 million.
"In second place comes the home of private banks, Switzerland, where $5.1 million gains you access, followed by the US, which has the highest number of UHNWI residents. Here, $4.4 million is your ticket to 1 per cent status," the report said. "The Chinese Mainland is also forecast to see its 1 per cent threshold rise by almost 70 per cent from $850,000 in 2020. This reflects rising wealth but, as elsewhere, growth is not uniform. Wealth inequality has become starker within countries and globally, particularly as a result of the COVID-19 pandemic, and this is likely to become a point of growing contention."
Singapore, in fourth place, is Asia's highest entry, marginally ahead of Hong Kong, with the level of wealth required being $2.9 million and $2.8 million, respectively.
"New Zealand sets a $2.8 million barrier – $80,000 more than you would need in neighbouring Australia," Knight Frank noted.
Private sector to foster as key propellant for 2021-2025 economic growth
With an average annual growth rate of 6.5-7% set for the 2021-2025 period, Vietnam will apply a range of solutions including the creation of new spaces for private businesses to operate as one of the most important pillars of economic growth.
The government has just sent to the National Assembly a report on an expected plan for socioeconomic development in the 2021-2025 period. In which it is expected that the annual economic growth will hit 6.5-7%, and Vietnam will become a higher middle income country by 2025.
In order to realise this ambitious plan, the government said that one of the key solutions will be to further develop the private sector, which includes private domestically-invested and foreign-invested enterprises, and household businesses as well.
"Big private groups are to be established and developed, with big strengths able to compete in the regional and international markets," said a draft resolution on socioeconomic development during 2021-2025. "Greater efforts must be made to create 1.5 million operational enterprises by 2025, with private businesses to generate 55% of GDP."
According to the political report – the most important document debated by the Central Party Committee at the 13th National Party Congress held in early this year, the private economic sector "is to be encouraged for development in all sectors not banned by the law, especially in the areas of production, business, and services. The sector is supported in developing privately-owned big companies and groups with high competitiveness."
"Private enterprises are encouraged to cooperate with state-owned enterprises (SOEs), cooperatives, and households; and to develop joint stock companies with large participation of all entities. Foreign investment is an important part of the national economy, playing a big role in mobilising investment capital, technology, and modern management methods, and expanding export markets," read the Party report.
Also, according to the governmental report, the private sector will be developed into "a really important impetus of the economy" in the 2021-2025 period.
"The development of the private sector must be encouraged vigorously, especially in the fields of manufacturing and processing, digital technology, and IT, with the formation of local and international supply chains and value chains," the governmental report read. "A number of key telecommunications and IT firms will be developed to lead the country's 4.0 technological development, laying a firm foundation for the development of a digital government, digital economy, and digital society."
The government stated that the best conditions are to be created for the private sector to flourish in terms of both quantity and quality.
In Vietnam, the private sector creates up to 42% of GDP, and more than 50% of economic growth, 30% of the state budget revenue and 85% of the labour force.
According to the General Statistics Office, by late last year, Vietnam had nearly 800,000 operational enterprises, of which about 98% are of small and medium size. Within the last year, there were 134,900 newly established enterprises, with total registered capital of over VND2.23 quadrillion (US$96.96 billion), employing more than one million labourers. This was down 2.3% in the number of registered enterprises, but represented a year-on-year increase of 29.25% in registered capital.
In the first six months of this year, Vietnam saw 67,100 newly established enterprises, with total registered capital of VND942.6 trillion (US$41 billion) and employing 484.300 new labourers, up 8.1% in the number of enterprises and 34.3% in registered capital.
If another VND1.15 quadrillion (US$50 billion) which was registered by 23,700 operational enterprises is included, the total capital inserted into the Vietnamese economy in the first half of this year will be as much as VND2.095 quadrillion (US$91 billion). Moreover, 26,100 enterprises also resumed their operations, up 3.6% year-on-year.
In the first six months of 2021, the total number of enterprises newly established and resuming operations hit 93,200, up 6.9% year-on-year. The average registered capital of each enterprise reached VND14.1 billion (US$613,000), a year-on-year rise of 24.2%.
The Party stated that from now until 2025, in order to further facilitate private sector development, "all SOEs will continue to be reshuffled, investing only in key fields of the economy, and in geographical areas important in security and defence, and in the fields not invested by other economic sectors."
"The reshuffle of SOEs must be open and transparent, especially in equitisation and divestment. By 2025, SOE reshuffle must be completed, with loss-making groups and corporations to be addressed fully."
The state will exclusively invest in only four fields, including provision of indispensable products and services for the society; service of defence and security; natural monopoly; and large-scale high-tech application with big investment creating momentum for rapid development of the economy's other fields.
Raymond Mallon, senior economic expert living in Vietnam for over 20 years, said that SOE reforms are needed to accelerate national productivity growth and thus to increase incomes and living standards.
"Conflicts of interest arise if the state is both the owner and the regulator. And conflicts of interest generate inefficiencies. As has been seen in Vietnam and globally, such conflicts of interests lead to pressures for a state owning agency to regulate in a manner that is not in the nation's interest," Mallon said.
For example, by imposing business conditions or other restrictions on new businesses, the state agency can reduce the competition faced by SOEs. Policies and institutional structures that constrain competition are not in the nation's interest. While constraints to competition can make individual SOEs more profitable, the resulting lack of competition stifles innovation and productivity growth.
"This hurts consumers because of higher costs and less innovation and variety; workers because reduced productivity growth means reduced growth in wages; other investors whose firms are being constrained; and the government because of increased opportunity for corruption," Mallon explained.
According to Mallon, such reforms can reduce opportunities for misuse of state resources. Substantial state management capacity is needed to effectively exercise state ownership rights in even a limited number of SOEs. It is important that limited state capacity be focused on effectively governing institutions that provide essential public services such as health, education, water supply and sanitation, environmental protection, energy, and roads.
Recently, slow progress in equitisation and divestment of SOEs has been attributable to COVID 19 – but the pandemic is only a recent cause. More fundamental causes are overpricing of shares, reluctance of local management to act, and bureaucratic inertia. Schedules have been set, and deadlines missed. Most recently, many SOEs missed 2020 deadlines contained in Decision No.26/2019/QD-TTg of the prime minister and deadlines have been reset to 2021.
According to the report of the Ministry of Finance's Department of Corporate Finance, up to May 2021, the accumulated value of divested state capital is VND286.6 billion (US$12.46 million). From that the state budget is said to have realised over VND2.16 trillion (US$93.9 million). Remarkable divestment could occur in Vietnam Rubber Group, Viettel, Vietnam Education Publishing House, Vietnam Posts and Telecommunications Group, some of which are government icons.
In the first five months of this year, the amount collected from equitisation and divestment was VND228 billion (US$9.9 million). But the expected revenue to the state budget in 2021 is VND40 trillion (US$1.74 billion), all according to projections in the prime minister's Decision No.1950/QD-TTg dated November 28, 2020,.
Vietnam and other Asian nations work towards sustainability of food and agriculture systems
Leaders of the agriculture sector in Vietnam, Japan, Singapore, the Philippines, Laos and Cambodia adopted a joint statement on sustainable food and agricultural production systems during their virtual meeting on July 19.
The event aimed to prepare for a preparatory session for the forthcoming United Nations Food Systems Summit 2021.
Representing Vietnam at the meeting, Deputy Minister of Agriculture and Rural Development Le Quoc Doanh noted that the world is facing multiple difficulties and challenges as the COVID-19 pandemic has been causing severe losses in terms of health, economy and social security on a global scale.
Resources for agricultural production have been increasingly scarce, while the negative impacts of climate change have become more and more severe, thus posing tough challenges to ensuring food and nutrition security for a global population of about 7.9 billion, he said.
"Vietnam welcomes and highly appreciates the initiative to adopt a joint statement on sustainable food and agricultural production systems between Japan and ASEAN countries to guide and coordinate efforts to achieve the Sustainable Development Goals by 2030," Doanh affirmed.
The official added that Vietnam is deeply aware of the need for close collaboration among the parties concerned, both bilaterally and multilaterally, in sustainable food and agriculture systems through cooperation in science and technology innovation, digital transformation, development of farmer organisations, improvement of agricultural infrastructure, adaptation to climate change, and environmental protection to trigger extensive changes for the whole systems.
"The initiative will help to better implement the work of reducing poverty and ensuring food and nutrition security for rural areas, ethnic minorities and vulnerable groups. This is also an opportunity to connect and develop Vietnam's agricultural value chain towards transparency, responsibility and sustainability," he continued.
"With its roles and responsibilities, the Vietnamese Ministry of Agriculture and Rural Development agrees to adopt the joint statement on sustainable food and agriculture systems, as proposed by the Japanese Ministry of Agriculture, Forestry and Fisheries," Doanh affirmed.
According to the official, the joint statement embraces the similar geographical features of the participating countries such as high humidity and temperature, along with abundant rice fields and high proportion of small and medium farmers.
Therefore, countries will do their best to achieve sustainable food and agricultural production systems, he said, expressing his belief that innovation in agriculture and related industries is the key to this goal.
Govt assigns Hanoi to take charge of Belt Road No. 4 project
The Government has agreed to allow the Hanoi government to take charge of the execution of the elevated Belt Road No. 4 project, which requires an estimated investment of VND105-135 trillion.
At a meeting on the execution of some road projects in the 2021-2025 period, Deputy Prime Minister Le Van Thanh said the assignment of the project to the Hanoi government had been supported by the governments of Hung Yen, Bac Ninh, Bac Giang and Vinh Phuc. The Hanoi government must work with the Ministry of Transport to complete dossiers for the project and report the results to the prime minister, Tien Phong newspaper reported.
In May, Hanoi City and Hung Yen, Bac Ninh, Bac Giang and Vinh Phuc provinces have sent the prime minister a proposal to build the belt road. They agreed that Hanoi City will take the leading role in implementing the project.
According to the five localities' proposal, the Belt Road No. 4 project will start at an intersection with the Noi Bai-Lao Cai Expressway in Thanh Xuan Commune of Hanoi's Soc Son District and end at an intersection with the Noi Bai-Halong Expressway in Cam Son Commune of Soc Son District.
The belt road will be 98 kilometers long— 54 kilometers in Hanoi, 23 kilometers in Hung Yen and 21 kilometers in Bac Ninh.
To mobilize capital for the project, the Hanoi government will execute the project under the public-private-partnership model with a build-operate-transfer contract.
VASEP expects to earn US$12 billion worth of fishery exports in 2025
The Vietnam Association of Seafood Exporters and Producers (VASEP) expects Vietnam to export fishery products worth US$12 billion in 2025 given the positive results over the past few years.
VASEP General Secretary Truong Dinh Hoe said in a report sent to the Ministry of Agriculture and Rural Development on July 16 that between 2016 and 2020, Vietnam's average growth of fishery exports was 5%.
The country exported fishery products worth US$8.4 billion in 2020, with the export revenue of shrimp, tra fish and seafood amounting to US$3.7 billion, US$1.5 billion and US$3.2 billion, respectively.
As such, VASEP expected the country's fishery exports in 2025 to rise by US$3.6 billion against the 2020 figure. With the target of US$12 billion, Vietnam's fishery export will post an average revenue growth at 7% in the 2021-2025 period.
Specifically, the export revenue of shrimp is expected to reach US$5.5 billion in 2025, while exports of tra fish and seafood are targeted to bring back US$2.2 billion and US$4.2 billion, respectively.
The key factor behind the high target is the country's stable source of fishery products and high processing capacity, said VASEP.
Besides, Vietnamese firms are ramping up imports of materials for processing, optimizing the processing capacity and raising the supply of fishery products in the global market.
In addition, infrastructure serving fishery production and export activities, including bridges, seaports and cold warehouses, will see investment and upgradation work in the coming time.
Moreover, several free trade agreements and trade promotion programs will smoothen the path for Vietnam's fishery exports.
16 firms at SHTP likely to close over Covid concern
The Saigon Hi-Tech Park (SHTP) authority in HCMC's Thu Duc City has told 16 firms at the park to suspend their operations as they cannot meet the anti-Covid-19 requirements.
The HCMC government on July 13 issued a decision stating that the city will shut down businesses that do not comply with the anti-Covid-19 measures, including arranging shuttle buses, accommodation and meals for staff at work. Since the decision took effect on July 15, the SHTP authority has reviewed and checked compliance with the anti-virus regulations at the businesses operating at the park.
Sixteen firms have been found to not meet the safety requirements, so they have been requested to halt production pending a final decision by the HCMC Department of Health.
They have not been able to present a list of employees who volunteer to stay at their campuses after work and who have negative Covid-19 test result.
Earlier on July 6, the SHTP authority issued a dispatch asking firms active in the park to strengthen safety measures to prevent the spread of Covid as coronavirus infections at businesses outside and inside industrial and hi-tech parks are running high.
Finance Ministry says has spent VND21.5 trillion on Covid-19 fight
Vietnam has spent VND21.5 trillion from the State budget to deal with Covid-19 since the pandemic broke out early last year, the Ministry of Finance announced at a meeting on July 16.
In the first half of this year alone, the Government spent VND4.65 trillion on Covid-19 infection prevention and control activities.
Among the total spending of VND21.5 trillion on the Covid-19 fight, VND8.4 trillion was used for the purchase of Covid-19 vaccines and medical equipment, covering quarantine costs and supporting frontline forces. Meanwhile, VND13.1 trillion was used to provide relief and financial support for people affected by the pandemic following the Government's resolutions No. 42 and No. 154.
To accelerate the purchase of Covid-19 vaccines and the Covid-19 vaccination campaign, the ministry has proposed the Government allocate VND1,237 billion from the State budget's standby fund in 2021 for the Ministry of Health to buy Covid-19 vaccines and carry out vaccinations.
The ministry has also proposed the National Assembly Standing Committee allocate VND13.3 trillion from the State budget savings in 2020 to buy Covid-19 vaccines.
Moreover, the Government has established the Covid-19 vaccine fund to mobilize legal sources of capital, together with the State budget, to buy Covid-19 vaccines for local residents. Up to now, the fund has mobilized approximately VND8 trillion.
On June 30, Prime Minister Pham Minh Chinh signed a decision to spend an additional VND7.65 trillion on the purchase of 61 million doses of Covid-19 vaccines.
The additional fund will also be earmarked for the transport, distribution and storage of vaccines sourced from the COVAX Facility and foreign funding and sponsorship.
According to the Ministry of Finance, the Government has asked all ministries, departments and localities to cut convention expenses by at least 50% and regular expenditures by at least 10%, thus increasing the spending on development and Covid-19 containment.
Australia further delays final report on anti-dumping probe into Vietnam's precision pipes, tubes
Australia's Anti-Dumping Commission (ADC) has announced the fifth extension of time granted to issue the final report of the investigation into alleged dumping and subsidisation of precision pipe and tube steel imported from Vietnam, China, the Republic of Korea and Taiwan (China).
The report is now due to be released on or before August 27, 2021, the Ministry of Industry and Trade's Trade Remedies Authority of Vietnam (TRAV) quoted the ADC as saying in its new statement.
The ADC on June 1 issued the Preliminary Affirmative Determination on the probe, saying there appear to be insufficient grounds for the publication of a dumping duty notice and a countervailing duty notice in respect of precision pipes and tubes exported from Vietnam.
It found no evidence of significantly different prices for raw materials in Vietnam compared to other Asian countries nor official Government plans to control or otherwise influence Vietnam's steel industry.
The ADC said it was also unaware of any intervention by the Vietnamese Government affecting the normal value of the product.
There exists no evidence of a continuing impact from steel master plans developed by the Vietnamese Government as these plans have been invalid since 2019, according to the findings.
Dumping margins were found to range from -12.2 percent to -6.5 percent among Vietnamese exporters while subsidy margins were determined at only 0 – 0.1 percent. Therefore, it is not necessary for Australia to require and take securities on the products exported from Vietnam.
According to statistics from the General Department of Vietnam Customs, the export turnover of Vietnamese precision steel pipes to Australia in 2019 topped 15 million USD./.
Six priority strategies of banks amid COVID-19 pandemic
Domestic banks will continue striving to ensure business performance and deliver on commitments to investors while supporting clients amid difficulties this year.
A survey conducted by Vietnam Report JSC pointed out six priority strategies of domestic banks at present, including accelerating digital transformation; diversifying products and expanding markets; increasing charter capital; changing operating structure; enhancing risk management; and promoting human resources training to adapt to digital transformation.
General Director of the Vietnam Report JSC Vu Dang Vinh said amid the fourth wave of COVID-19 infections, banks were forced to cut lending rates, resulting in reduction in net profits. To maintain business performance, they will increase non-credit incomes, restructure capital by cutting costs and attracting more demand deposits.
This year, banks will race to cut inter-bank money transfer fees to draw demand deposits. With an additional registered capital of nearly 82 trillion VND, there will be more room to propel credit growth and develop the securities market, he said.
According to the survey, several banks began expanding markets in rural areas and agriculture, and linking with partners and customers in ecological system.
Experts suggested that the Government and the State Bank of Vietnam should continue assisting credit organisations in supplying capital to clients hit by the pandemic, and make it easier for them to hike capital to meet Basel II standards.
At the same time, it is necessary to perfect legal mechanisms with new business models, upgrade infrastructure, payment and data systems.
In a survey carried out by Vietnam Report in June, 75 percent of banks said the national data system has yet to be completed, which needs the Government's support to speed up digitalisation./.
Vietnam Report announces top 10 prestigious technology firms in 2021
The Vietnam Report JSC (Vietnam Report) on July 20 announced its top 10 prestigious technology companies of Vietnam in 2021, which is led by the Military Industry and Telecoms Group (Viettel).
FPT Group comes second in the list, which also includes Mobifone, Vinaphone, CMC Corp, VNG, HANEL, Vietnam Technology & Telecommunication JSC (VNTT) and Hanoi Telecom.
The evaluation of the firms was based on assessments on their financial conditions and reputation using Media coding method and feedback from relevant parties.
On the occasion, Vietnam Report also announced the top 10 ICT companies and top 10 software service and solution providers of Vietnam in 2021.
According to VN Report General Director Vu Dang Vinh, COVID-19 has driven businesses' needs and efforts in digital transformation as well as investment in technology, thus creating great chances for technology companies.
He held that digital transformation may take place more strongly when customers realise the benefit from the process in reducing cost and increasing productivity.
Vinh cited a survey by Vietnam Report in March 2021, which showed ICT is among the top seven sectors with highest growth potential in the next three years.
Regarding challenges for local ICT companies, he pointed to market saturation, as reflected in statistics from the Vietnam Telecommunication Administration under the Ministry of Information and Communications, which showed in 2019, Vietnam had 125.7 million mobile subscribers, with each person owning 1.3 mobile subscribers averagely. Limited conditions for R&D, a shortage of quality human resources and a lack of support policies and regulations are other problems./.
Ha Noi ensures sufficient supply of essential goods
The announcement came after local residents flocked to supermarkets and stores late last week to buy groceries and essential items ahead of beefed-up social distancing measures introduced across the city.
Addressing a meeting in Ha Noi on Monday, Tran Thi Phuong Lan, Acting Director of the department, said the city's industry and trade sector had worked out five scenarios for preparing goods supply since the start of the pandemic in 2020.
The department calculated the monthly need among locals of 17 essential items, with a total estimated value of VND21 trillion (over US$900 million), and since the beginning of this year has suggested businesses triple their supply volume of essentials to about VND194 trillion, Lan said.
Amid the complex development of the virus over the past seven months, goods supplies in the city have remained sufficient with no sudden increase in prices recorded, as businesses have been well prepared to meet customers' demand for essential goods. There have also been an adequate number of employees for goods delivery and online sales.
In his speech at the meeting, Vice Chairman of the city People's Committee Nguyen Manh Quyen emphasised the importance of reviewing and listing all markets, trade centres, convenience stores and price-stabilisation points to effectively distribute goods if needed while securing supply chains in the north and diversifying supply areas to better meet local needs.
Quyen also proposed that the city's transport sector help businesses bring goods from supply areas in other provinces to stores throughout the city.
Ha Noi is home to many stores, including 459 traditional markets, 123 supermarkets, 1,800 convenience stores and tens of thousands of grocery stores.
In case of an exponential surge in demand, another 2,000 stores will be set up across the city, the department said, adding that it would also launch 236 mobile stores in trucks to deliver goods in districts and towns.
Accordingly, it has advised people against stockpiling goods and gathering at supermarkets and stores.
Ha Noi-based BRG Retail said that it had built a plan on stocking and supplying essential goods at stable prices for its 77 branded supermarkets and convenience stores in northern provinces and cities, including Ha Noi, Hai Phong, Hung Yen, Hai Duong and Quang Ninh, as well as the two southern localities of HCM City and Ba Ria-Vung Tau.
The company said on its website that it had worked with suppliers to increase the stock of essentials by 300 per cent at each store and by ten times at its central warehouse.
Khuc Tien Ha, Northern Region Director of VinMart supermarket chain, said the retailer would ensure sufficient supplies of goods to the capital. It has also worked with major suppliers to increase the volume of stock by three times to ensure adequate essentials on the shelves at all points of sale.
VN sixth-largest supplier of bananas to RoK
The country exported 2,900 tonnes of banana worth US$2.3 million, an annual increase of 13.6 per cent in volume and 48.3 per cent in value, the Voice of Viet Nam (VOV) has said citing KITA's figures.
The RoK imported a total of 155,300 tonnes of bananas valued at $131.5 million throughout the period, up 3.4 per cent in volume and 8 per cent in value year-on-year.
Bananas remain a popular fruit in the RoK, although they must be imported due to unfavourable local farming conditions.
Over 425 million tonnes of cargo handled at seaports in seven months
Of the figure, export cargo hit over 106 million tonnes, a year-on-year increase of 9 per cent, while import cargo stood at roughly 133 million tonnes, up 2 per cent. The handling of domestic goods neared 184 million tonnes, up 7 per cent year-on-year.
In particular, the volume of container goods handled at seaports reached about 14.7 million twenty-foot equivalent units (TEUs), a 21-per cent year-on-year increase.
VMA statistics also showed a sharp rise in the volume of cargo through ports in Thai Binh Province (up 65 per cent), Dong Thap (up 56 per cent), Quang Ngai (up 38 per cent), Hai Phong (up nearly 16 per cent), and HCM City (up nearly 9 per cent).
Strong growth was also seen in the volume of container goods through seaports in Vung Tau (up 41 per cent), HCM City (up 16.46 per cent), and Hai Phong (up over 19.8 per cent).
Source: VNA/VNS/VOV/VIR/SGT/SGGP/Nhan Dan/Hanoitimes
VIETNAM BUSINESS NEWS JULY 22 have 9752 words, post on vietnamnet.vn at July 22, 2021. This is cached page on Business News. If you want remove this page, please contact us.