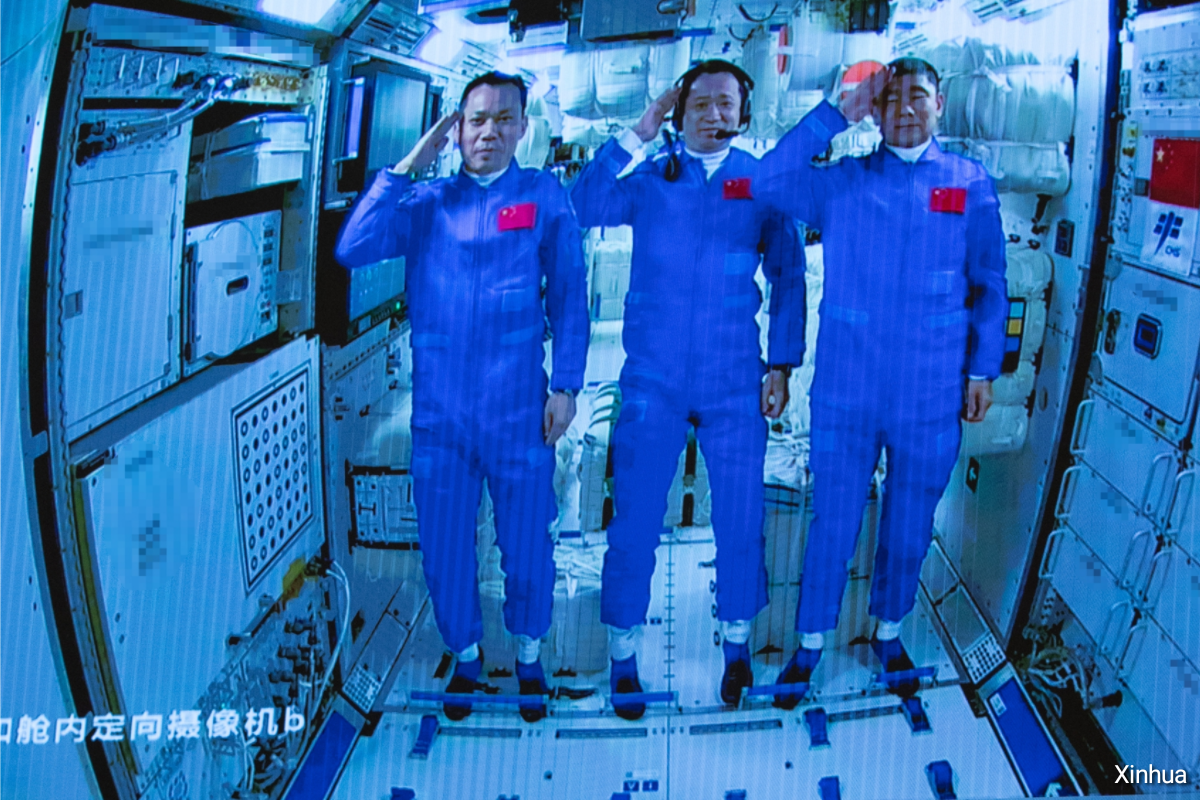 Three Shenzhou-12 astronauts, Tang Hongbo, Nie Haisheng and Liu Boming (from left) salute after entering the Tianhe core module on Thursday. Photo: Xinhua
(June 18): As the three astronauts of the Shenzhou-12 manned spacecraft crew successfully moved into the Tianhe space core module at 6:48 pm Thursday, following the epic rendezvous and docking with the orbiting destination in a rapid and automated fashion, Chinese people have entered its own space station for the first time in history, Global Times reported.
It was a much shorter and more enjoyable ride for Chinese veteran astronaut Nie Haisheng when he embarked on his third space trip on Thursday morning.
The Shenzhou-12 manned spacecraft, in which Nie and his two fellow crew members were traveling, pulled off the country's first-ever automated rapid rendezvous and docking for a manned spacecraft with the orbiting Tianhe space station core module at 3:54 pm on Thursday, just 6.5 hours after the former was launched Thursday morning on the Long March-2F Y12 carrier rocket from the Jiuquan Satellite Launch Center in Northwest China's Gansu Province, the Global Times learned from the China Manned Space Agency (CMSA) on Thursday.
Unlike China's previous Shenzhou craft, which returned to Earth from an orbit of fixed altitude, Shenzhou-12 will be able to return from a range of orbital locations, a design that is aimed to enhance the craft's adaptability and reliability for its journey back to the Earth, and it would also mark a first in China's space industry, Global Times reported.
China's space station core module receives first group of residents - Global Times have 432 words, post on www.theedgemarkets.com at June 18, 2021. This is cached page on Business News. If you want remove this page, please contact us.