Children all over Vietnam are out of school and excited about the summer holiday. How are they going to spend their free time?
Urban parents already looking for summer classes for children Long summer for kids Vietnamese parents rush to register children for summer camps
Huynh Phong Son, a 12-year-old student from HCM City's Hoc Mon District, says his parents want him to spend time on physical activities this summer. But that's not all.
He's taking English and singing classes as well.
"I play football with my neighbours every afternoon, and I swim with my cousins and friends on the weekends," Son says.
Though his family plans to travel this summer, he prefers to take part in summer camps and activities at cultural houses. "I can meet new friends and learn new things through fun activities."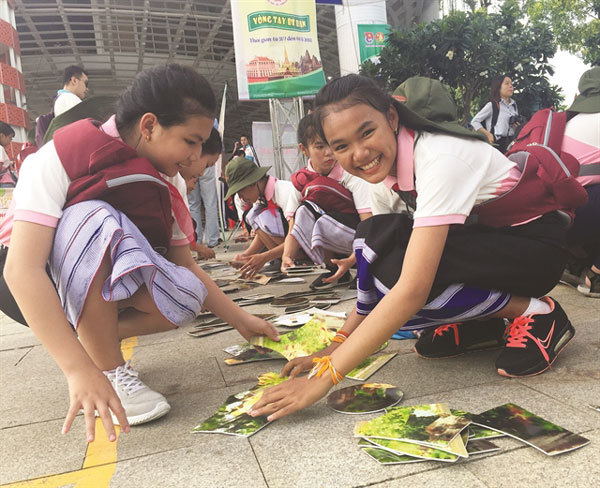 Children play games at a summer camp at the HCM City's Childen Cultural House. VNS Photo by Ngoc Diep
To meet children's needs, cultural houses, theatres and amusement parks in the city are preparing many kinds of programmes to welcome Children's Day on June 1 and the summer vacation.
The art courses include painting and musical instruments, while the more physical courses are football, volleyball, basketball, table tennis, martial arts and dance.
Courses in English and soft skills, as well as remedial courses in Vietnamese language and mathematics, will also be offered.
The cultural house has also opened 10 semi-boarding classes from Monday to Friday to support working parents who have no time to take care of their children during the day. The classes are so popular they are already full.
Last year, as many as 6,900 children took part in the cultural house's classes during the summer break.
Reading is another activity that has been promoted in recent years. The HCM City Book Distribution Corporation (FAHASA) has launched a summer book fair for children in the outlying districts of Hoc Mon and Cu Chi until June 9.
The fair is selling thousands of copies of children's books, reference books, and stationery at discounts of 10-50 per cent.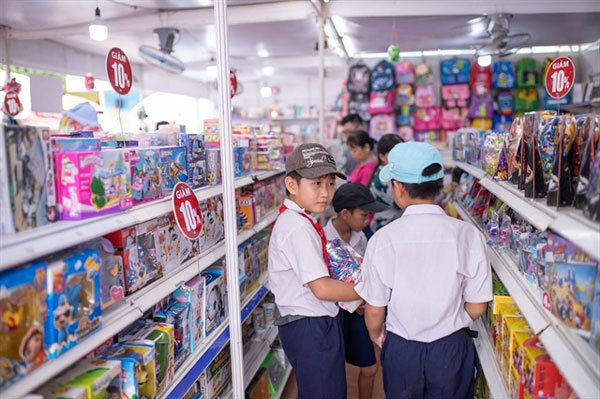 Children read books at FAHASA's summer book fair for kids in the outlying district of Hoc Mon in HCM City. Photo courtesy of FAHASA
Theme parks
At the city's leading theme park, Dam Sen Park in District 11, the "Amazing Summer 2019" event will feature performances of internationally acclaimed bubble artist Fan Yang at 10am, 12pm and 5pm on June 22 and 23.
Yang, who holds 11 world records in bubble artistry, has performed at TV shows in the US, Italy, Germany, Japan, South Korea, China, and Singapore.
"It's the first time that Fan Yang has come to the park. All profits from his performances on two days will be given to disadvantaged children," says Du Huu Danh, the park's director.
Dam Sen will also stage a new musical play called Aladdin Lạc Vào Xứ Sở Đầm Sen (Aladdin Lost in Dam Sen) on June 1, featuring popular artists. The play will be offered every Saturday and Sunday until the end of July. After every show, children will have a chance to meet and take photos with their favourite actors.
The park will also offer activities like water puppetry and laser shows during the summer.
New plays
IDECAF Stage, a leading private drama troupe in the city, is staging the new musical play Truy Tìm Thủy Long Kiếm (Finding Water-Dragon Sword) at Ben Thanh Theatre in District 1 until June 30.
IDECAF Stage presents the new musical play Truy Tìm Thủy Long Kiếm (Finding Water-Dragon Sword) at Ben Thanh Theatre in District 1 until June 30. Photo courtesy of IDECAF
Directed by Vu Minh, the play tells the stories and adventures of the Princess of the Sea, her children and her husband, who is a poor man living in a fishing village, all of whom are looking for a water-dragon sword.
The play features young talents such as Tuan Khoi and Huong Giang, graduates of the HCM City University of Theatre and Cinematography.
At another theatre, District 3-based Hong Hac, the play Thiên Thần Nhỏ Của Tôi (My Little Angel), based on a novel of the same name by best-selling author Nguyen Nhat Anh, will be staged on June 1.
The play is written and directed by veteran film director Viet Linh, the theatre's owner.
Child actors aged six to nine will star in the play about the life discoveries of Kha, a 10-year-old boy, and his closest friend, an 8-year-old girl named Hong Hoa.
"We hope the play will satisfy both children and parents from the city as well as neighbouring provinces," Linh says.
Many parents who are busy working, however, simply don't have time to take their kids to fun activities.
Nguyen Thi Thu, a mother of a first and a third grader at Hung Vuong Primary School in District 5, says that as a fashion shop owner, she has a "flexible schedule, so I can take my children to different classes during summer".
Thu plans to take them to martial arts, basketball, volleyball, chess and swimming classes at the Children's Cultural House in District 5, and to prepare for the new school year, to English, Vietnamese and mathematics classes.
Nguyen Minh Son, head of the training unit at the city's Children's Cultural House, says that some working parents have no spare time to take their children to outdoor activities. Their kids have to stay at home with their grandparents and play games and watch TV.
"That's too bad. Summer activities help kids improve their health, make friends, and stay away from electronic devices."
Keeping children safe
Along with fun activities, several child-protection programmes have been launched for the summer season, including swimming lessons.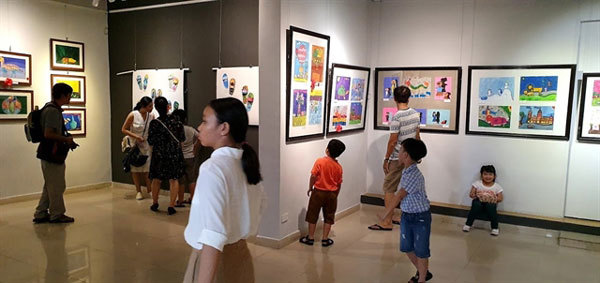 Children and their parents visit an exhibition featuring kids' paintings at the HCM City Fine Arts Association. Photo courtesy of the association
The number of children and teenagers dying from drowning in the country has reached alarming levels. In fact, the top cause of death among children in Vietnam is drowning.
According to the Ministry of Labour, Invalids and Social Affairs, around 2,000 children die of water-related accidents in the country every year.
To reduce the number of water-related accidents in the City, the municipal People's Committee will launch a campaign on the importance of swimming lessons at the Phu Tho Swimming Club in District 11 on June 1. Its purpose is to improve the health of Vietnamese children.
The People's Committee has asked district authorities to provide educational activities about drowning at agencies and households, and encourage parents to enrol their children in swimming classes.
Le Quang Luan, deputy head of Nguyen Tri Phuong Swimming Club in District 10, says the club will offer a free class for 200 disadvantaged children in the district.
"This summer, the club will focus not only on swimming skills but also survival skills for kids if they find themselves in a situation where they fear they could drown." VNS
Phuong Mai-San Ha-Ngoc Diep
What do Vietnamese kids want to do this summer? have 1374 words, post on vietnamnet.vn at June 3, 2019. This is cached page on Business News. If you want remove this page, please contact us.