Dinesh Kalidoss & Prathyusha V
Is gamification only about building a game within business applications? Not really! It is about creating the emotions associated with a game in real world situations.
Gamification is the concept of applying game-like elements and techniques to real-world business problems. There have been proven cases of large organizations that have used gamification to boost business performance.
Gamification, typically, can be applied by an organisation both internally and externally. Internal implementations primarily target employees, paving the path to learning, productivity enhancements, behavior changes and idea generation.
External implementations help organisations do better in their sales, marketing, and customer engagement initiatives, thereby, positively impacting their business.
Creating a gamification Framework
Gamification, in our opinion, enables the creation of an emotional attachment for participants in business processes. The emotional attachment is derived by creating a sense of competition, achievement and an element of fun.
Thus, gamification framework is centered around emotions, and
additionally contains goals that need to be accomplished, stakeholders who have to be targeted, business processes to be impacted, rewards to be structured and resultant business outcome.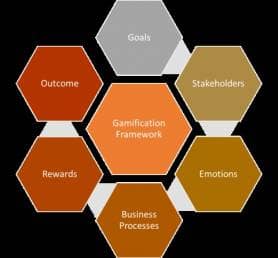 Since emotions are at the center of this framework, it is important to understand the common emotions used in gamification:
Accomplishment

Progression

Comparison / Competition

Real-life Simulation

Social Recognition
The goals of introducing a game could be creating awareness, promoting compliance, promoting brand recall, increasing sales, simplifying complex processes and promoting innovative business models.
The emotional blocks can be designed as a game with business contexts supported by reward structures.
Elements such as points, badges and level unlocking, provide a sense of achievement or accomplishment. The setting of goals, levels, and tracking of completeness provide a sense of progress to the player. Leaderboards facilitate comparison with fellow players giving a sense of competition.
Transforming a real-world situation, especially a less practical one into a simulation, creates a thrill and fun experience for the participants.
To bring some real-life flavor to the discussion, let us discuss through a few references.
Many of us are familiar with profile completeness that LinkedIn had some time back. This is an example of creating a sense of progression which has an effect on motivating users to complete the profile.
Popular examples of comparison are Amazon, Netflix, and eBay. They created the "people like you" comparisons.
Fitbit introduced accomplishment against competition and in this case competing against friends and relatives.
Financial portfolio management companies simulate the real-world experience by enabling access to virtual portfolios.
Many games publish leaderboards, thus providing social recognition among peers. Typical stakeholders in this gamification exercise would be customers, employees, and sales teams. Some of the popular business scenarios are customer engagement, customer education, employee
collaboration, sales targets and marketing campaigns.
Some key governing factors that need to be considered for gamification adoption are a clear definition of business KRAs architecture, the platform
that allows for flexibility in design, localization and security and consideration for legal and regulatory implications.
Gamifying insurance
Insurance has always been an industry which has thrived on human engagement and connects in critical processes. Digitization has tended to change the level of engagement between insurance companies and
policyholders. For continued success in the world of IOTs and bots, insurers need to find ways of humanising digital engagements.
The best way to do that is bringing in the emotional aspect of connection even in digital interactions. All technologies that humanize engagement between man and machine will have a significant role to play in the insurance industry.
Thus, the concept of gamification has a key role in the insurance industry that demands emotional connect with stakeholders even in this
era of digitization.
Let us take the buying process in insurance as an example to explain the application of gamification.
While customers have a varying degree of success across different lines of business in insurance, one limiting factor has been the awareness about which product to buy. This is a place where agents and brokers come in to help customers determine their risks and which products to consider.
So how does gamification help overcome this?
Consider a situation where customers can compare what risks customers like they are covering for and the loss events their proximate risk segments are exposed to.
This is a very credible data-driven insight for customers to compare and buy. Similarly, creating a goal post by letting them know how much of the
identified risk is covered for and what is not.
Insurance being a business of covering large numbers of people with similar needs, comparisons have a big role to play in creating awareness.
Gamification examples in insurance industry
Below is a table representing stakeholders, processes, and benefits of a few game ideas that can be envisaged for various insurance LOBs across the value chain.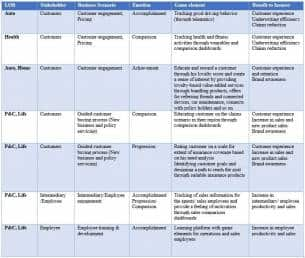 Gamification adopted by insurers
Here are a few real examples of gamification adoption in the insurance industry: Farmers leveraged a game called Farmville that revolves around the concept of virtual crop insurance to promote its brand name, American Family Insurance created the iAMFAM simulation on Facebook where users can create avatars and manage life activities such as buying a house and planning career, helping them decide which insurance to purchase at what point in time.
United Healthcare created an app that tracks and rewards daily physical activities to promote a healthy lifestyle.
SunLife Financial launched an online platform to engage and educate young customers on retirement and investment planning with levels, challenges, and social interaction.
(The authors are General Manager and Head, Insurance Practice, Mindtree and Associate Consultant – Insurance Practice, Mindtree)
Download your money calendar for 2022-23 here and keep your dates with your moneybox, investments, taxes
Gamification's role in the insurance domain have 1153 words, post on www.moneycontrol.com at September 25, 2018. This is cached page on Business News. If you want remove this page, please contact us.