Among the 5,000 people present at Russian President Vladmir Putin's inauguration on Monday, one guest literally stood out from the rest — former German Chancellor and Social Democrat (SPD) politician Gerhard Schröder .
Live broadcasts of the Kremlin ceremony showed Schröder standing in the front row, shoulder to shoulder with the Russian Orthodox Church Patriarch Kirill and Russian Prime Minister Dmitry Medvedev.
Read more : Putin 4.0: What to expect from the Russian president's next term
He was also the second person to receive a handshake from the newly-inaugurated Russian leader — coming in before Medvedev.
Last year, Schröder became the chairman of Russia's state oil company Rosneft. He's also one of the most prominent voices in the West calling for an end to sanctions against Moscow.
US action film star and current Russian citizen Steven Seagal was also in attendance, but was located further back, a few rows away from Russian Foreign Minister Sergey Lavrov, who was placed less prominently in the third or fourth row.
Read more – Putin's new limousine out of the blue?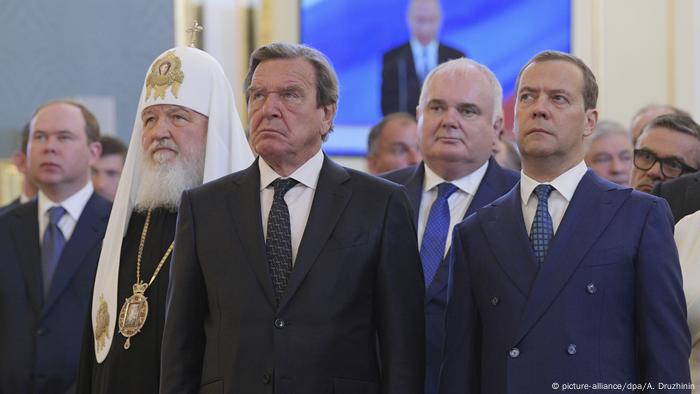 Standing behind Schröder was fellow German Matthias Warnig — a former Stasi officer and current Nord Stream AG managing director
SPD 'must be ashamed'
Images of Schröder and Putin's handshake quickly circulated on social media, with many criticizing the former chancellor's participation in the event.
Vassili Golod, a journalist with German local public broadcaster WDR wrote on Twitter that it makes sense from now on "to label him as a Russian lobbyist" in guest articles and on TV.
Swedish liberal MP Maria Weimer, who was born in Germany, called Schröder's appearance at the inauguration a "disgrace" writing that "German Social Democrats must be ashamed."
Neither German Chancellor Angela Merkel 's conservatives nor the SPD immediately reacted to Schröder's appearance in Moscow on Monday.
Green Party co-head Annalena Baerbock strongly criticized the former chancellor, saying that he needs to "clearly and noticeably" address Russia's democracy deficiencies "instead of sitting in the front row as a claqueur." A claqueur is someone who is paid for their applause.
Taking a different route, the head of the business-friendly Free Democrats (FDP) Christian Lindner, advocated for a different approach to dealing with Moscow.
"Putin and Trump are realities — and for several more years. It's time for Germany and Europe to develop new dialogue strategies," Lindner wrote on Twitter.
Vladimir Putin: The road to power

KGB cadet

Born in St.Petersburg in 1952, Putin signed up with the Soviet intelligence agency the KGB right out of law school in 1975. His first assignment was to monitor foreign nationals and consulate employees in his home city, then called Leningrad. He was then assigned to Dresden, East Germany. He reportedly burned hundreds of KGB files after the fall of the Berlin Wall.

Vladimir Putin: The road to power

Political mentor

Putin was one of the deputies to St Petersburg Mayor Anatoly Sobchak from 1991 to 1996. Sobchak met Putin at Leningrad State University and the two men were close until Sobchak's death in 2000. Despite accusations of corruption, Sobchak was never charged.

Vladimir Putin: The road to power

Meteoric rise

Putin quickly leapt from St.Petersburg to Moscow. In 1997, President Boris Yeltsin gave Putin a mid-level position on his staff — a position Putin would use to cultivate important political friendships that would serve him in the decades to come.

Vladimir Putin: The road to power

Death of a friend

Putin was deeply affected by Anatoly Sobchak's death in 2000. After the apprentice outstripped his teacher politically, Sobchak became a vocal early proponent of Putin's bid for the presidency. A year earlier, Putin used his political connections to have fraud allegations against Sobchak dropped, the beginning of a pattern for friends of the former spy.

Vladimir Putin: The road to power

Temporary president

In June 2000, Boris Yeltsin stepped down, leaving his prime minister to become interim leader. As he was running for his successful presidential campaign, corruption allegations from his time on the city government in St.Petersburg resurfaced. Marina Salye, the lawmaker who brought up the claims, was silenced and forced to leave the city.

Vladimir Putin: The road to power

Tandemocracy

When Putin was constitutionally barred from running for a third consecutive term in 2008, his Prime Minister Dmitry Medvedev ran in his stead. When Medvedev was elected, he appointed Putin as premier. This led to criticism of a "tandemocracy," in Moscow, with many people believing that Medvedev was Putin's puppet.

Vladimir Putin: The road to power

Victory

In March 2018, Vladimir Putin was elected to his fourth term as president. Because the presidential term has been extended, this means Putin will be in power for the next six years. However, the election was marred by a lack of opposition to the incumbent, as well as allegations of vote tampering and ballot-stuffing.

Vladimir Putin: The road to power

Putin pushes for constitutional reform

Less than two years after his latest election victory, Putin unexpectedly announced sweeping constitutional changes that prompted his most loyal ally, Dmitry Medvedev, to resign. He was replaced by little-known Mikhail Mishustin (R). Soon after that, Putin hinted he was willing to run again when his current term expires in 2024.

Author: Elizabeth Schumacher
Nord Stream 2 pipeline front and center
Schröder wasn't the only German to have a prominent place at Putin's inauguration. Matthias Warnig, a former officer with the East German secret police known as the Stasi, stood right behind the former chancellor.
Warnig is currently the managing director for Nord Stream AG, the company in charge of constructing the so-called Nord Stream 2 pipeline to bring Russian gas directly to Central Europe via Germany. Schröder is also the chairman of the shareholders' committee for the pipeline.
Merkel's government has strongly supported sanctions against Russia ever since Moscow annexed Ukraine's Crimea region four years ago.
Read more : Russia-Ukraine gas dispute: Is Europe under threat?
Despite pushback from Ukrainian officials, Germany gave its final approval for the Nord Stream pipeline expansion earlier this year.
Schröder, who served as Germany's chancellor from 1998 to 2005, has faced a backlash at home for his close relationship with Putin.
Each evening at 1830 UTC, DW's editors send out a selection of the day's hard news and quality feature journalism. You can sign up to receive it directly here.
Putin's inauguration: Ex-German chancellor's front row seat sparks criticism have 1395 words, post on www.dw.com at January 7, 2018. This is cached page on Business News. If you want remove this page, please contact us.