Here's your weekly digest of the craziest and funniest stories from around the world.
1) This Australian sheep is unofficially the world's woolliest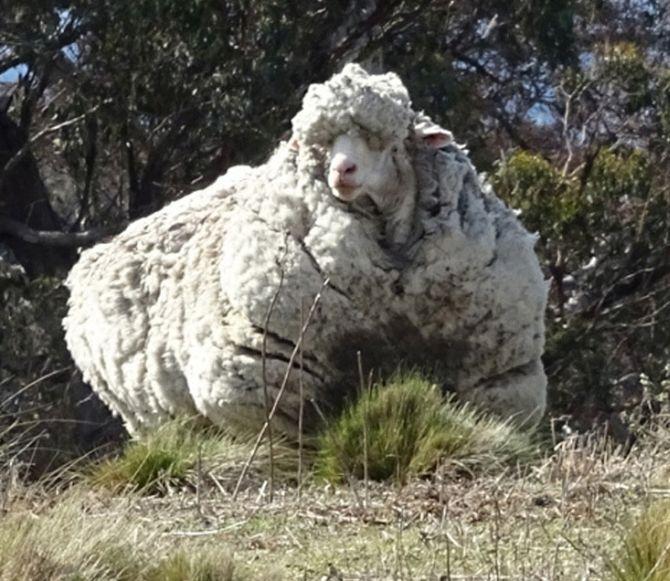 Around 40 kg of wool has been sheared from a sheep found near Australia's capital, an animal charity said, making him unofficially the world''s woolliest.
The animal, named Chris by his rescuers, was discovered on the northern outskirts of Canberra on Wednesday and was said to be struggling to walk under the weight of his coat.
The 40.2 kg of wool removed from Chris means that he was unofficially the carrier of the world's heaviest fleece, possibly shattering the current record set by New Zealand sheep Big Ben, found to be carrying nearly 29 kg of wool in 2014.
---
2) Porn star metro cards quickly sold out in Taiwan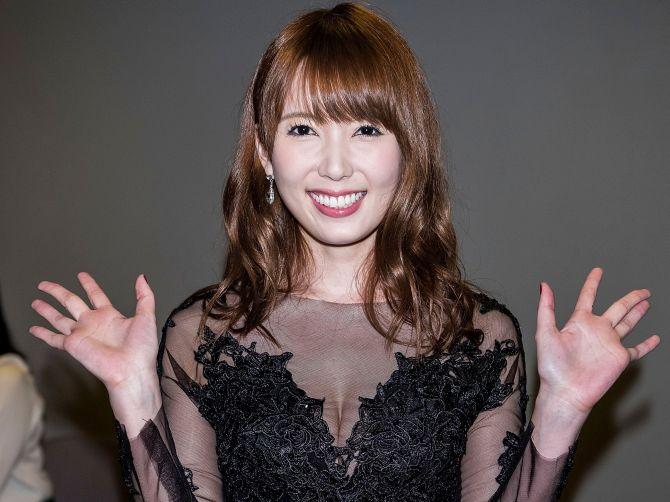 Pre-pay public transport cards come in plain blue in London, but one city in the world has decided to release some featuring a well-known face — a porn star.
The EasyCard, used in Taipei, Taiwan, will offer the smiling visage of popular Japanese porn star Yui Hatano.
Online images of the "angel" card shows Yui smiling, dressed in white. The "devil" version shows her dressed in black and shooting a sultry gaze at the camera.
---
3) Gravy wrestlers battle it out for world title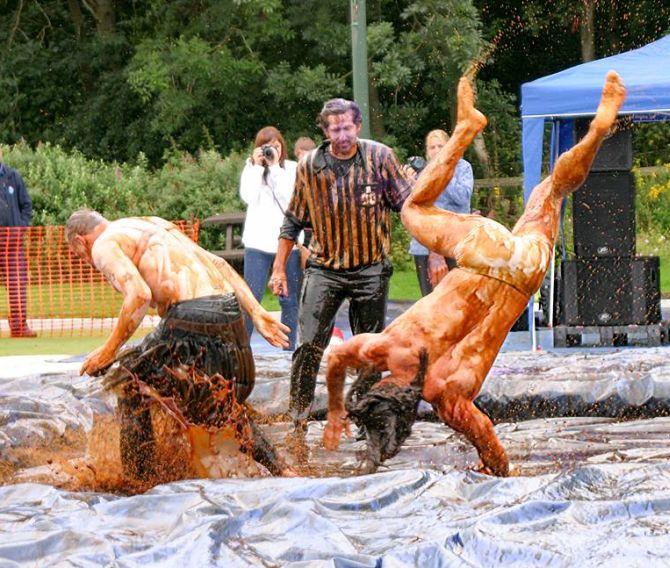 The Spanish have bullfighting, the Japanese have samurais. In Lancashire, they wrestle in gravy.
The world gravy wrestling championships , billed as 'one of the world's craziest culinary competitions', challenges contestants to wrestle in a pool of gravy for two minutes with points awarded for the best audience response.
It was held at the Rose n Bowl pub in Rossendale, Lancashire. Joel Hicks, who was dressed as Gandalf of Lord of the Rings, was crowned the male champion and the female winner was Nicole Taylor, who was dressed as a cow.
---
4) Woman who works with dead bodies becomes zombie in spare time
A woman who spends her days pouring over human remains beats stress by transforming herself into a zombie. In the evening Cal Davenport, 34, throws off her lab coat and splatters her face with blood.
Then, dressed up as the living dead, she races after men and women playing zombie chase game 2.8 Hours Later.
The game involves players trying to complete missions set out across town while avoiding hordes of zombies hiding in the shadows.
Cal has travelled around the country to indulge her nightmarish passion, with events held over two weekends a month in different cities including Bristol, Manchester and Sheffield.
---
5) Plastic shopping bags are Taiwan's hottest new summer fashion staple
A new bizarre fashion trend suggests you may have been overlooking the ultimate clothing item, despite unwittingly bringing it home with you after every shopping trip.
People are stripping naked and posting photos of themselves wearing nothing but a plastic bag, as part of the latest social media sensation in Taiwan.
Men and women alike are thrilled with their latest garment, although the transparent bags leave absolutely nothing to the imagination. It is particularly 'cool' to be seen flaunting a grocery bag from convenience store 7-Eleven, which seems to be a popular brand among plastic bag fans.
---
6) Student is so fed up with landlords that she chooses to live on a train'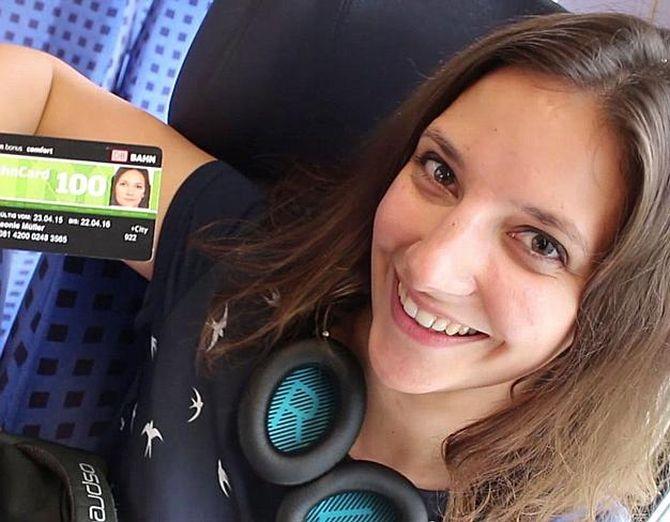 A German student was so fed up with landlords she decided to live on a train.
Leonie Müller, 23, gave up her permanent abode in spring. "It all started with a dispute I had with my landlord," Müller said. "I instantly decided I didn't want to live there any more – and then I realised: actually, I didn't want to live anywhere any more."
Müller pays £240 (Rs 24,279) for a nationwide monthly season ticket on the railways, whereas her last apartment cost £290 (Rs 29,342).
She carries all her possessions — clothes, tablet computer, studying material and a sanitary bag — in a backpack and washes her hair in the on-board bathroom.
---
7) World's first unmeltable ice cream is unveiled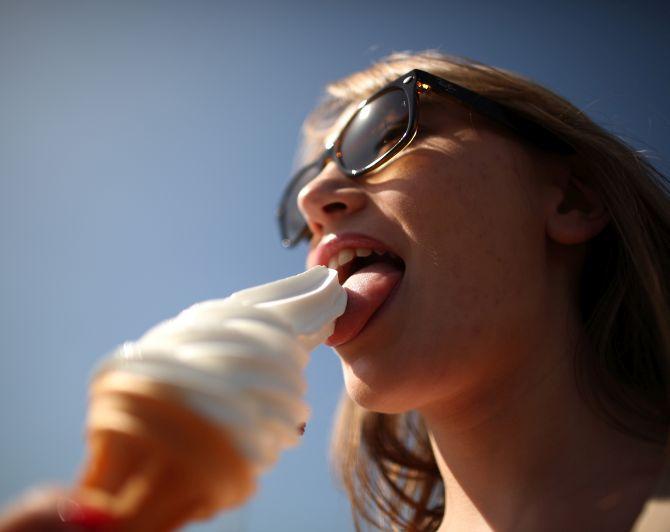 The world's first unmeltable ice cream has been created in Staffordshire, UK.
Boffins at the theme park AltonTowers are claiming to have created the first ice cream that simply won't melt — even in the hottest temperatures.
Gill Riley, from AltonTowers, said: "We've had great responses from guests of all ages who have tried the unmeltable ice cream.
"You simply can't beat an ice cream in the summer sun — which is why we wanted to create one that our guests could enjoy all day long."
---
8 ) Man dresses bins as Minions in UK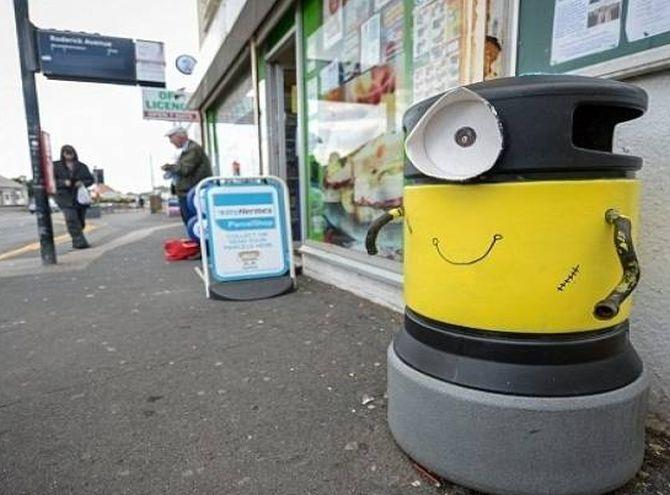 In a funny act, a town in the UK has been converted into 'Binions', by a mystery prankster painting dustbins as yellow and blue so they look just like the ten Despicable Me characters.
The bins have been placed outside shops and bus stops in in Peacehaven, East Sussex, and people have been rushing around the town trying to spot them all.
Locals have got no idea who painted the bins to look like Minions – and even attached trademark goggle-eyes and arms. The rubbish bins, dubbed 'Binions', have been spotted everywhere from outside shops to park benches and bus stops. The cheeky characters were painted the distinctive Minion yellow faces and blue dungarees.
WTF News! It's Weird, True and Funny have 1184 words, post on www.rediff.com at September 4, 2015. This is cached page on Business News. If you want remove this page, please contact us.